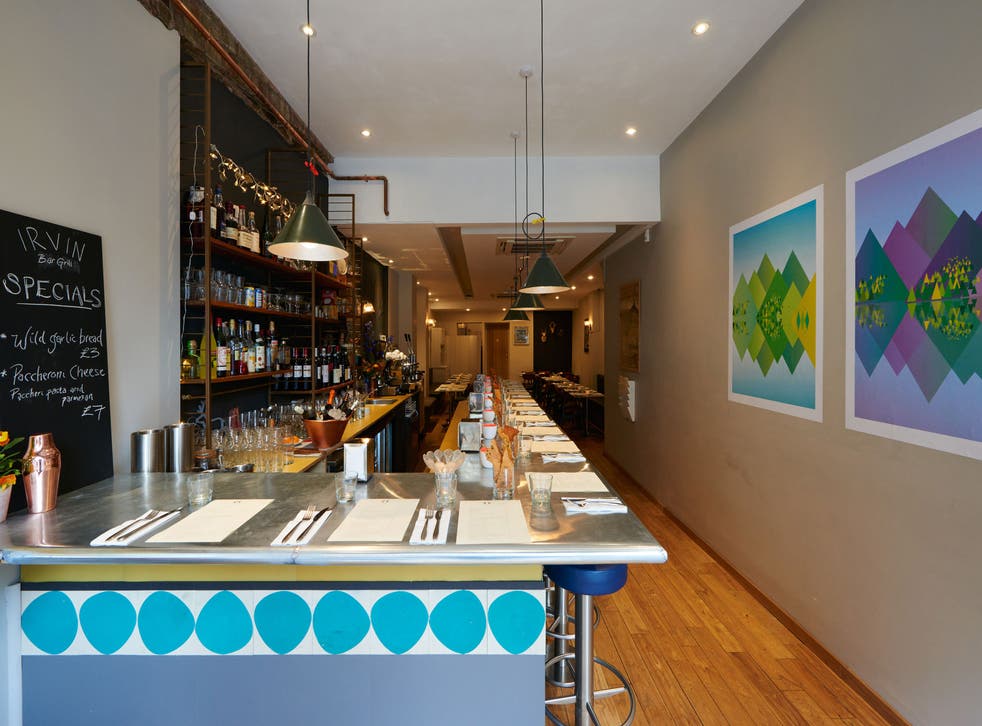 Irvin Bar Grill, restaurant review: 'Trading a musical career for a restaurant isn't easy'
43 Topsfield Parade, London, N8 8PT (020 8347 6667)
When singer Kinky Friedman diversified from country music into writing detective fiction, he said he was looking for "a lifestyle that doesn't require my presence." It's the holy grail for most jobbing musicians, or at least those who aren't raking in the royalties: to get off the road and spend quality time, rather than the occasional Skype call, with the family.
Trading a musical career for owning your own neighbourhood restaurant is one way of doing it. But it certainly isn't the easy option. Chefs and restaurateurs work long, gruelling hours, unlike touring musicians, whose working life was memorably summarised by Charlie Watts as "five years of playing and 20 years of waiting around".
The owner of this week's venue is, as you may have guessed, a veteran musician. Or at least, he's a drummer (sorry, no more drummer jokes, I promise). Stephen Irvine was a member of Lloyd Cole and the Commotions during their 1980s heyday, going on to work as a session player, producer and composer for ads and TV. After 30-odd years behind a kit or a mixing desk, he has taken up a new position behind the bar, as the owner of a cosy little modern Italian diner in Crouch End, one of north London's artsier enclaves, famous among rock fans as the place where Bob Dylan once dropped into a local restaurant for a burger.
His new release is Irvin Bar Grill – Irvine seems to have dropped an "e" somewhere along the line, but hey, it was the 80s, everyone was at it. That "Bar Grill" is misleading; there's nothing brash or American about Irvin. It's a tiny storefront holding a handful of tables, with counter seating at the bar for drop-ins. The all-grey décor is Scandi-sober, but the menu is Italian-ish, with a side order of Scottish produce, in tribute to the gaffer's Glaswegian roots.
When we turn up, on the tip-off of a friend, for an early Saturday night dinner, Irvine himself is behind the bar, mixing drinks. The deafening crashing and thumping he produces when attacking ice demonstrates that old habits haven't completely died. But other than that, he's a discreet presence, staying in the background – as ever – while a team of charmers handle front-of-house duties.
The small-plates menu reads well; grilled squid with gremolata; treacle-cured salmon; stone bass, samphire and dill. And with most dishes in the £5 -£10 bracket, it's priced to make you order like a maniac. We do just that, not realising that everything will arrive at once, and very quickly. Our tiny table is soon covered with boards heaped with charcuterie and bruschetta, as well as a host of rapidly cooling hot dishes. The owner's a drummer, for goodness sake – you'd think he'd have more of an idea about timing.
Pretty much everything is good, though, from granary bread with whipped butter, to bruschetta piled with nduja so fiery it feels like having our cheeks slapped from the inside. Smoky chargrilled squid comes with a clean, grassy gremolata, as does crisp-skinned chicken, punched up with the sharpness of capers and caperberries. Vegetables get careful treatment: tenderstem broccoli is grilled and vamped with chilli and garlic oil, new potatoes roasted to a burnished crunch. Plates are colourful, often heaped with filigreed vegetable shavings. "Someone's got a spiraliser," says Harry, making possibly the least rock'n'roll remark of his career. Salmon, on a sharp bed of shaved fennel and blistered orange, has been expertly cooked, leaving it with – YES! – perfect skin.
Prices look good until you see the size of some of the plates; they describe their offerings as "cicchetti", yes – but still, a bit of a chiz. Puddings include a dinner party-ish pistachio cake and a fine chocolate delice – plus, with good espressos, a naughty extra order of tablet, that super-sweet Scottish confection which has contributed so much to the dental problems of a nation.
We're done and dusted in under an hour, unlike the savvy locals who are packed in, staggering their food orders and working their way through the Italian wine list. They're mainly picturesque thirtysomethings who all seem to know each other; parents, we surmise, from the enviable, tiny-catchment-area local schools, though there are some vintage groovers at the bar who look like they may still have their vinyl copies of Rattlesnakes. Not only do I want this to be my local, I want these people to be my friends.
Irvine is chatting with his very happy-looking new customers as we leave. Still hiding behind his kit, keeping everything swinging along, just as he's always done. His new venture may not offer him the elusive lifestyle that doesn't require his presence, but he looks like he's going to enjoy it.
Food ***
Ambience ****
Service ****
Irvin Bar Grill, 43 Topsfield Parade, London, N8 8PT (020 8347 6667). Around £30 a head before wine and service
Join our new commenting forum
Join thought-provoking conversations, follow other Independent readers and see their replies