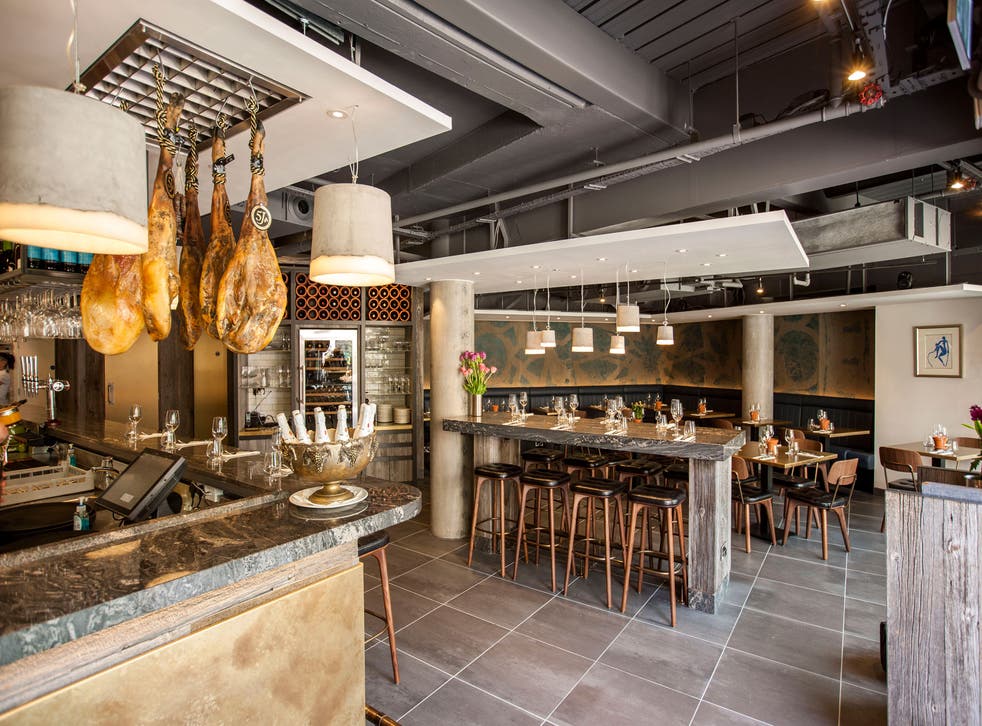 José Pizarro, restaurant review: The small dishes make the biggest impact at this new City place
36, Broadgate Circle, London EC2, www.josepizarro.com
Full disclosure: I know José Pizarro, owner of this week's restaurant. We rode together across Rajasthan last autumn to raise money for Action Against Hunger and he was the most wonderful companion – cheery, energetic and deeply committed.
All of which is lovely, of course, but doesn't mean his food is any good. So I've ducked into his new (third) restaurant quietly at 6pm on a Monday night to try it without being noticed. Pizarro's first two places are both in Bermondsey, east London, and are intimate and buzzy; expanding into large, brand-new premises in shiny, City-boy-central Broadgate Circle, although risky, could mean much bigger returns.
And so it will prove, if my visit is anything to go by. I've inadvertently arrived on the last day of "soft opening", when the food is half-price as the kitchen gets up to speed. It's not traditional to review during this period but it's my only chance – and the only glitch I can detect is the lack of music due to speaker malfunction.
Apparently, at lunch, two suit-clad diners were told they'd get 50 per cent off their bill. "Oh, we don't care," they said. "The bank's paying for it." There are certainly some big-ticket dishes and bottles to satisfy the expense-account diners, such as a plate laden with acorn-fed Ibérico jamon at £23 and a dish of Ibérico presa (the pork version of Wagyu beef, unutterably tender and served very pink, sold by weight, from £13.50 for 100g). And from a terrific list compiled by master of wine Annette Scarfe, comprising both classics and unknowns, all from Spain, they could drop £150 on a stunning Rioja – but after a glass of pale-gold Manzanilla Pasada Pastrana (£4.50), we take manager Victor Calvente's recommendation of an unfamiliar but well-rounded fruity red 2010 Syrah from Cadiz called Taberner (£23.50 for a carafe).
Yes, it is possible and pleasurable to eat and drink on your own dime here and still feel spoilt. And Pizarro's personal generosity is also visible on every plate.
Mr M and I start with a couple of pica pica (or snacks). Croquetas "caseras" (£6.50) are rich little globes, crispy fried with unctuous filling – béchamel and spinach and flecks of red pepper. But next comes a showstopper that threatens to throw shade over everything that follows. Prawn fritters with saffron aioli and pimentón are, for £8.50, worth entering this anodyne glass and steel "circle" of otherwise-generic chain restaurants.
A favourite epithet of mine (and this paper) is "all killer, no filler". Boy, are these fritters the epitome of that. Tightly packed prawns that have been marinated with lime, coriander and chilli glisten with oily pan juices and manage to be both meaty and tender.
Resisting the temptation to order two more dishes of fritters, we move on. There are some large dishes on the menu – grilled turbot with pan con tomate and a green salad sounds like bliss, or that presa – but so many of the small dishes command our attention.
Of these, the pan-fried chicken livers with garlic, shallots and dry sherry (£7) stands out; the shallots cooked low and slow, capers on top cutting through the irony richness.
Grilled octopus with baby potatoes, pimentón and oil made from treasured Arbequina olives (£10) is a demonstration of four flavours at the height of their powers.
I'd probably not bother again with sautéed heritage root vegetables with Monte Enebro cheese and black-olive dressing (£7). Big chunks of parsnip and carrot jar with the rest of the menu – though a dinky whole red onion slips off its jacket and goes well with the melting goat's cheese. A better veggie dish is grilled asparagus with a fried duck egg, manchego and a romesco sauce (£7.50).
José arrives just as I guiltily polish off "chocolate with olive oil and salt, on toast" (£6). He beams: "That's based on my grandma giving me Nutella on bread." Based on, maybe, but stratospherically elevated.
Finally, a word about the décor, a smart iteration of a Spanish restaurant – tiles, a long bar, hams and jars of olives on display. The twists are in stylish, part-upholstered chairs, a raised long table for big parties and a section of wall clad in decorated concrete. Nothing to frighten the bankers – and a great deal to appeal to anyone who loves bold flavours prepared with love. It's all looking rosy for José (sorry).
8/10
36, Broadgate Circle, London EC2, www.josepizarro.com. £80 for two with drinks
Four more foodie notes from the past week
Coconut water
I've never really bought into this sugary-water stuff, but the actually nutty taste of Innocent's new version might sway me.
Beyond burgers
Had some excellent dishes at the first heat of the British Street Food awards. Next up, Cardiff, 6/7 June.Tickets at britishstreetfood.co.uk.
Bill Granger
I don't often get the chance to eat Bill's food (other than via his fab recipes), so his dishes at Monocle's election dinner were a real treat.
Recipe testing
Trying out dishes from a huge array of new cookbooks for work. Vegetarians are in for a treat - so many great new titles.
Join our new commenting forum
Join thought-provoking conversations, follow other Independent readers and see their replies