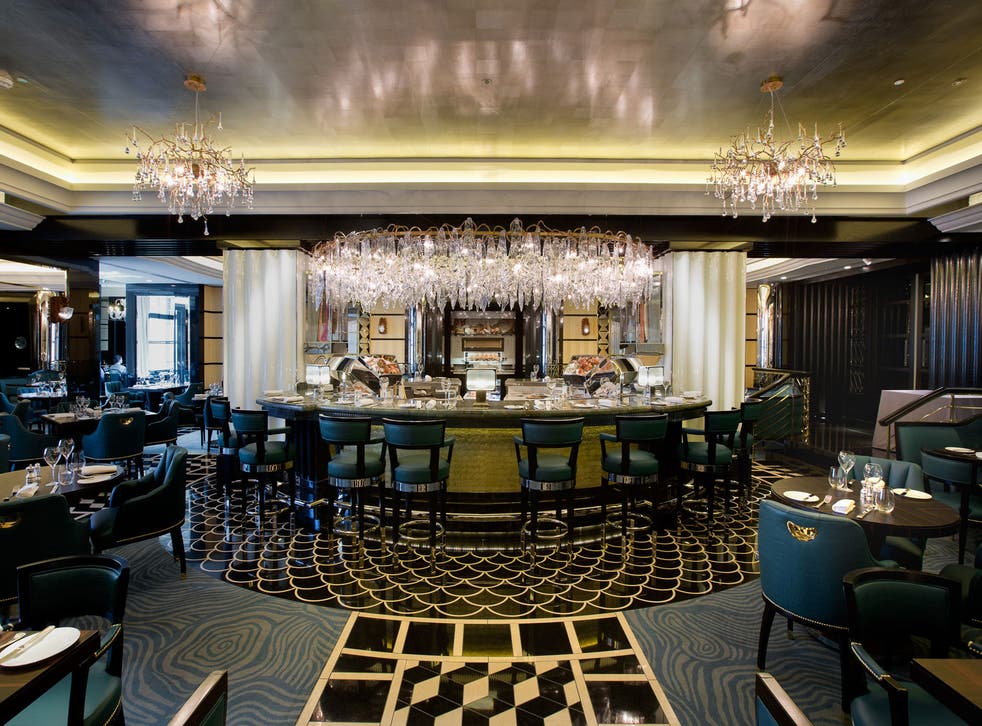 Kaspar's Seafood Bar & Grill, The Savoy, London
The scene opens with a man and woman, smart of suit and high of heel, sashaying through the marbled lobby of the Savoy. Giddy with fun on this special night, our golden couple trips past the winter garden gazebo, swerving around blocky Americans and gossamer-haired dowagers, to reach their destination, the famous riverside restaurant.
A manager stands, tapping at a plinth-mounted iPad, like a synth-pop artist on a late-Seventies edition of Top of the Pops. He looks up briefly, then returns to his screen with renewed focus. What can he be doing? Sending an email? Updating Facebook? Bashing out the instrumental break to "Vienna"? Finally, reluctantly, he tears his eyes from the screen to deal with the couple, who no longer feel like Fred and Ginger, but more like Fred and Rosemary West.
And so begins our dinner at Kaspar's, which should be one of the best restaurants in London, but barely manages to be the best restaurant in the Savoy. Moving into the Thames-side space once occupied by the famous River Restaurant, Kaspar's is the recently refurbished hotel's attempt to align itself with modern dining trends.
Unfortunately, whoever was behind the relaunch hasn't decided which trend they want to go with. So they've gone with a few at once. There's a raw fish bar and artisan cheese counter, making a claim for produce-led simplicity. But there's also caviar and lobster, and seafood cocktails served in smoke-filled jars. There are grills and chopped salads on the lengthy menu, and comfort food from round the world – wiener schnitzel, boeuf bourguignon, lobster club sandwich with fries. And there's a burger. Of course there's a burger. Who doesn't think, "I fancy a burger – I'll go to the Savoy!"? Forget Escoffier; the revolution will be grilled and served in a bun with gherkins.
The room, too, has been destarched and democratised to incoherent effect. The faux-casual affectations – all-day dining, kids' menu, no tablecloths – are at odds with the high-sheen of the Twenties-inspired décor.
The central feature, a circular seafood counter, is garlanded with eye-hurty crystal sculptures, possibly intended to suggest drying kippers. Where once couples glided around the dancefloor, beefy young chefs now stomp about, pin-boning and shucking. Whatever happened to that whole upstairs/downstairs thing? When you come to the Savoy, you don't want to watch someone else working, unless they're a pianist or a barman.
Disoriented by the menu, we ordered like nervous young fillies being wined and dined by a lascivious admirer. How else to explain our choice of main courses: smoked salmon sausage with apple sauerkraut, and Thai green seafood curry with cashews? In fact, both were pretty good dishes. The 'sausage', a moussey, chive-scented boudin served with a jug of horseradish emulsion, stood up well to the rather clamorous apple sauerkraut. The curry, featuring generous slabs of lightly-grilled salmon and plaice in a sauce blousy with coriander, was unorthodox, but actually benefited from such uncanonical additions as mussels, water chestnuts and cherry tomatoes.
A starter of roasted scallops (two of them for £16) showed a delicate touch, but the grace notes – shelled baby broad beans, a fine-woven potato galette – were clobbered by a shudderingly sweet tomato verbena jam. From the seafood bar, a duo of smoked eel and beetroot-cured halibut was just dull, and at £14, worked out at about £2 a mouthful.
Loosening things up does seem to have brought in a younger crowd, though we noticed plenty of grand old-timers, too. The Savoy has apparently relaxed its no-jeans policy. Unfortunately it hasn't enforced a no-assholes policy. Our meal was accompanied by an unignorable barrage of self-regarding complaints from the giant American blowhard at the next table. A good manager would have realised what was happening and neutralised this awkward customer with charm and a complimentary digestif. Instead he was allowed to wind himself up to the peevish parting shot: "You'll be seeing a lot of me. You should take better care of me".
Some well-kept cheese, and a new take on peach Melba which presented the Savoy's classic dessert as a Ryvita, jam and ice-cream sandwich, brought our bill to £100 for food and service. We weren't charged for the wine – probably because they'd marked me as a reviewer. Although if that was the case, why did three managers then go on to have a long and intense discussion right in front of us without a glance in our direction? I could have borrowed a line from our neighbour-from-hell to throw at them. But I'm afraid that even if they had taken better care of me, they wouldn't be seeing a lot of me… Fred and Rosemary have left the building.
Food ***
Ambience ***
Service ***
Kaspar's Seafood Bar & Grill, The Savoy, Strand, London WC2 (020-7420 2111)
Join our new commenting forum
Join thought-provoking conversations, follow other Independent readers and see their replies