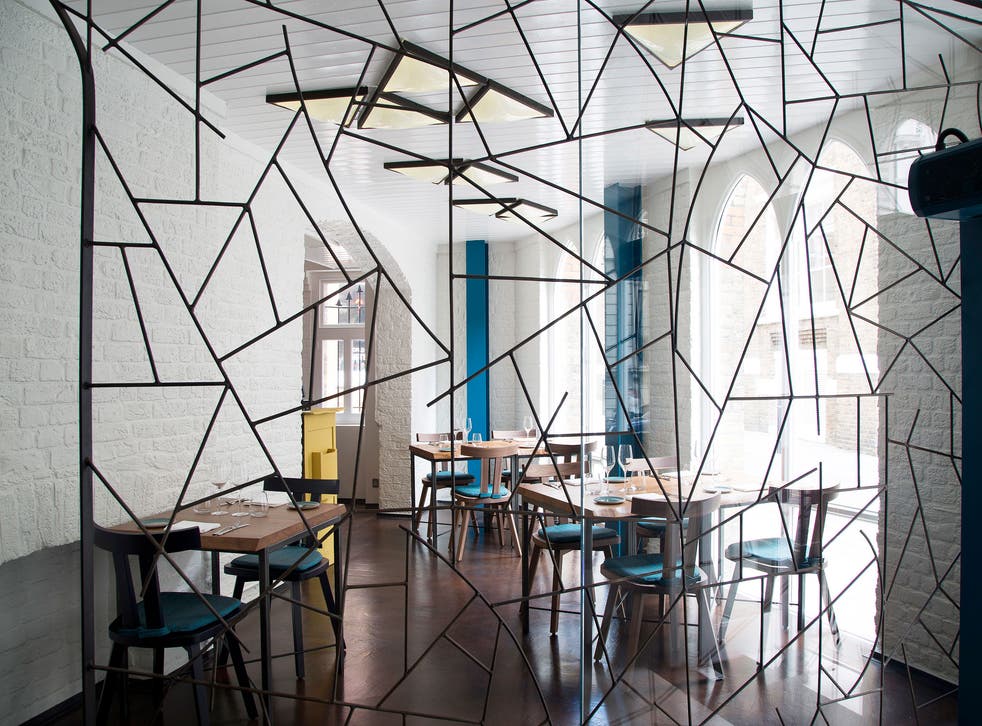 Lima Floral, restaurant review: Does Martinez's sister venture have the same wow factor?
14 Garrick Street, London WC2 (020-7240 5778). £45 per head, without wine
Two years ago, Virgilio Martinez, Peru's version of Gordon Ramsay, opened Lima in London's Rathbone Place. It was part of a small wave of nouveau-Peruveau restaurants in the metropolis, and was by popular vote the best. I reviewed it when it opened and was bowled over by the density of its flavours, the zing of its sauces, and the visual magic of many dishes, like a series of gorgeous Dufy watercolours.
Last year it picked up a Michelin star, the first Peruvian eaterie to do so, and suddenly everyone was talking about Mr Martinez and his energetic Venezuelan backers, Gabriel and Jose Luis Gonzalez. Lima cuisine was on the map and stupid jokes about guinea-pig casserole were off the menu.
Now they've opened a sister restaurant in Floral Street, hence the name. Arrivals are directed to the downstairs bar where a speakeasy-like atmosphere greets you. The ceiling's low and black, the lighting is discreet and the bar glows with colours that bounce off the jars of pisco infusions. Chilli, pineapple and raisins have all been pressed into service in the grappa-like Peruvian national drink; one jar seemed to feature a yellow Marigold washing-up glove, though it might have been a carambola.
The pisco sours – salty, limey and frothy – were excellent; I remembered how Kipling rhapsodised about them being "compounded of cherub's wings, the glory of a tropical dawn, the red clouds of sunset and the fragments of lost epics by dead masters". Lucky he never tried pisco diabolo, chilli-infused pisco with orange liqueur, strawberry and lime, a stunning concoction – he wouldn't have approved of the raw chillis sticking out from the glass like devil's horns.
The dining room is smaller than Lima's, but just as appealing, with the same Inca blue on chairs and pillars, a whitewashed brick wall and a huge glowing mural. What the room gains in intimacy it loses in acoustics; the hubbub of conversation was, for a while, so loud, my wife and daughter and I had to shout. But that may just mean it's popular and trendy. I noticed the queen of rock chicks, Pattie Boyd, for whom Eric Clapton wrote "Layla", in a quartet at a corner table.
The Floral menu doesn't, I noticed, stick slavishly to that of the Fitzrovian mothership. There's no sign of Lima's famous suckling pig or octopus dishes, but there's far more fish, and a lot more evocative names: sea asparagus, onion ashes, crazy pea. My daughter, a slave to greed despite her slender figure, ordered two starters. Crudo Mar was the softest imaginable raw salmon on a pea purée, both balancing on a brown sphere of blue potato mash. A weird sight, but a heavenly smooth taste. Leche de tigre introduced a dish that turned up all over the menu: tiger's milk is a tart confusion of lemon juice, lime juice, garlic, celery, ginger and onion with mayonnaise. It formed the (frankly unnecessary) sauce beneath crunchy asparagus tempura, and the delicious accompaniment to sea bream ceviche with avocado.
My escabeche of beef was simple folded roundels of rare beef with algarrobo syrup, a Peruvian speciality derived from the fruit of the algarrobo tree, which, our lovely Bulgarian waitress explained, isn't comparable to any other fruit. Actually, it tastes like ratatouille chutney, and goes fine with the beef. My wife's butterfish tiradito (somewhere between sashimi and carpaccio) came with a lick of Amazonian tomato, an amazingly pretty dish in which only the tomato seeds were used, along with Yuca powder and celery cress, to form a pink-white-green-yellow palette. "It looks," she said, "like fish in custard, but it tastes divine."
Main-course lamb rump was gratifyingly simple, the meat blitzed and charred on the outside, juicy as Lucy inside, accompanied by 'eco dry' potato (which was actually neither dry nor ecologically challenged) and black quinoa arrayed like ashes – an unusual but more-ish combination. A sculpture of crispy sweet potato stuck into a dome of pale blue queso fresco cheese seemed more of an ethnic artwork than a convincing taste addition.
Clementine's beef sudado turned out to be tender chunks of steak, lightly seared but otherwise pink as a piglet's armpit, balancing, slightly awkwardly, on a stew of onions and white quinoa. The meat was utterly fab – but why serve it on a stew if you're not cooking it in the stew? Angie had the day's special, hot ceviche of prawns with tiger milk, pronounced them lovely (and full-sized) and announced that she'd had quite enough citric and chilli items for one evening.
We swerved the pudding dish of blue potato with coffee ice-cream, but shared a perfectly nice dulce de leche with chilli-flecked meringues and reflected that, although Lima Floral doesn't have the same wow factor as Lima, it's a terrific little cabinet of curiosities, startling new tastes, flavours – and terrific cocktails.
Food ***
Ambience ***
Service ****
14 Garrick Street, London WC2 (020-7240 5778). £45 per head, without wine
Join our new commenting forum
Join thought-provoking conversations, follow other Independent readers and see their replies