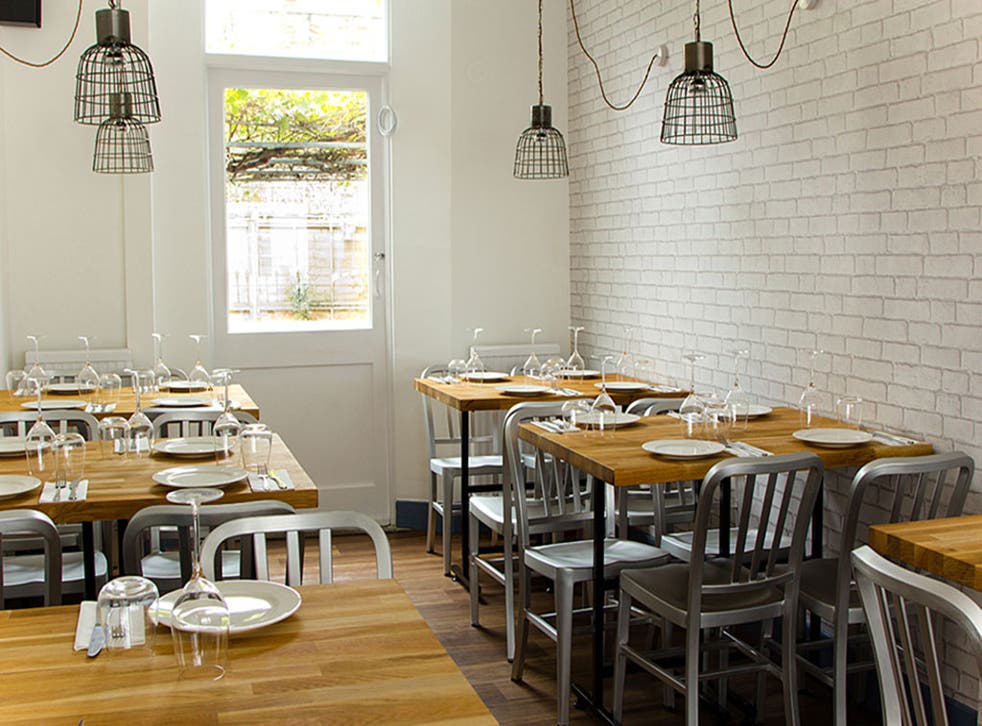 Mazi, 12-14 Hillgate Street, London W8
So Greece votes against departing from the eurozone and embracing devaluation hell. Hurrah. Holidaymakers can return to Paxos or Lindos, safe in the knowledge that the currency won't go all funny while they're in mid-bouzouki dance. Foodies can explore Greek suppers again without wondering if dolmades and feta exports are going to dry up.
But where can you get authentic Greek food? Travellers know how hard it is to locate taramasalata and tzatziki – apparent staples of every Greek menu – anywhere in Athens. Londoners have wondered how much the souvla or stifado dishes in Charlotte Street are the food of Homer and Socrates rather than their Balkan neighbours. Now here's a restaurant which claims to be the only authentikos eaterie in England.
Mazi (which means 'together') stands in a street behind the Coronet cinema, on the site of Costas Grill, one of London's first Greek restaurants which opened its doors in 1957. A popular feature over the years was its back courtyard and abundant vine – both of which survive in the new incarnation. The 60-year-old vine overhangs Aegean-blue metal chairs. The place was full, after only two weeks. Lots of the clientele were Greek, possibly due to the presence nearby of the Greek Embassy at No 1, Holland Park.
It's a young person's place, the brainchild of Thessaloniki-born Christina Mouratoglou and her French husband, Adrien Carre. Both are purists to a striking degree. When I asked why there was no sign of hummus or pitta on the menu, Adrien briskly replied, "Because we're a Greek restaurant, not a Cypriot". (Did you know hummus was exclusively Cypriot? Me neither.) They've hired a brilliant chef called Athinagoras Kostakos, twice named 'Best Greek Chef' by Condé Nast Traveller, if you please, and a cook determined to make Greek cuisine rival that of anywhere in Europe.
Mazi suffers from a slight confusion about whether it's a tapas joint or a showcase of cheffiness. Our waiter told us "most of the dishes are meant to be shared" but some looked so exquisite, only a philistine would dream of sharing them. More shareable are the 'cold jars' – feta spread with caramelised nuts, beetroot, goat's cheese and a grape reduction, a fava-bean purée with pearl onions and Vin Santo syrup. Their version of taramasalata is 'fish-roe mousse' – a stunningly light, just-frothed-up cream of fish eggs, breadcrumbs and olive oil came with ribbons of lemon confit and vanished leaving a light kiss on the taste buds. Spanakopita is a mélange of spinach and feta, crushed against thin wafers of filo pastry; the triple texture's a delight.
From the hot starters we had Grand Mama's meatballs, served on sliced cucumber. They looked overcooked but exploded with flavour, heightened by a mint and sesame dip. As evidence of the care they take in the kitchen, some accompanying crisps turned out to be delicious, chicken-skin crackling.
The main courses, sorry, the More Substantial Hot Plates, included fish soup with scallops, grouper fillet with monks'-beard fricassée and slow-cooked pork belly with cèpe purée. Angie's lobster was flavoured with basil and a slug of Metaxa, the tourist-destroying Greek brandy (luckily this was the 12-year-old version). The lobster was juicy and tender, but what made the dish was the accompanying pasta: orzo, like soft, plump grains of rice, playing weird tricks with your tongue. In a sauce combining the brandy, basil, lobster bisque and tomato sauce, it was heavenly.
My saddle of lamb was a picture: on a black slate, the lamb was crusted with mint until it resembled AstroTurf. On either side stood a chunk of caramelised potato and a baklava filled with shredded lamb shoulder. Glistening broad beans and smears of lamb jus completed the picture. It was imaginative, original and delicious. Mr Kostakos should win a prize for it.
Baklava re-surfaced at the pudding stage, but there was lots of experiment with it. Tsoureki soufflé – a light sponge from which leaked out melted white chocolate with cherry-stone spice and black sesame seeds – was truly a Homeric pud. Angel hair – a sort of deconstructed Shredded Wheat with almond custard and sweet syrup – was less successful, being both too sweet and too close to eating hay.
Along with the other new experiences of dinner chez Mazi, I was happy to be introduced to Mastiha, a liqueur from Chios, from a tree that weeps crystal 'tears' which you crush and add to alcohol. It tastes of pine air freshener and Cointreau, and you could get addicted. Another new experience was seeing how many courtyard diners lit cigarettes after dinner, without objections from neighbours or the management. Is this the start of a relaxed approach to al fresco smoking? I hope so. But that shouldn't be the USP of Mazi. You must try it for its artful cooking, that honours the cuisine of Hellas while putting before the happy diner a succession of tastes that are blissfully new.
Mazi, 12-14 Hillgate Street, London W8 (020-7229 3794)
About £110 for two, with Ouzo, wine, Metaxa brandy, mastiha...
Food ****
Ambience ****
Service ****
Tipping policy: "Service charge is 12.5 per cent discretionary, of which 100 per cent goes to the staff; all tips go to the staff"
Side orders: Hellenic heroes
The Olive Tree
A platter of fresh swordfish, salmon, deep-fried calamari, king prawns and sardines will set you back £16.95 at this award-winning local restaurant.
55 Rodley Lane, Rodley, Leeds (0113 256 9283)
Retsina
Sleek, modern restaurant serving impeccable Greek cuisine – the milk-fed shoulder of lamb for two people is a house speciality.
48-50 Belsize Lane, London NW3 (020-7431 5855)
The Greek
Afelia (tender pork cooked in red wine and flavoured with coriander seeds) costs just £10.25 at this restaurant in a Grade II-listed building.
4 Queensway, Hemel Hempstead, Hertfordshire (01442 234057)
Join our new commenting forum
Join thought-provoking conversations, follow other Independent readers and see their replies