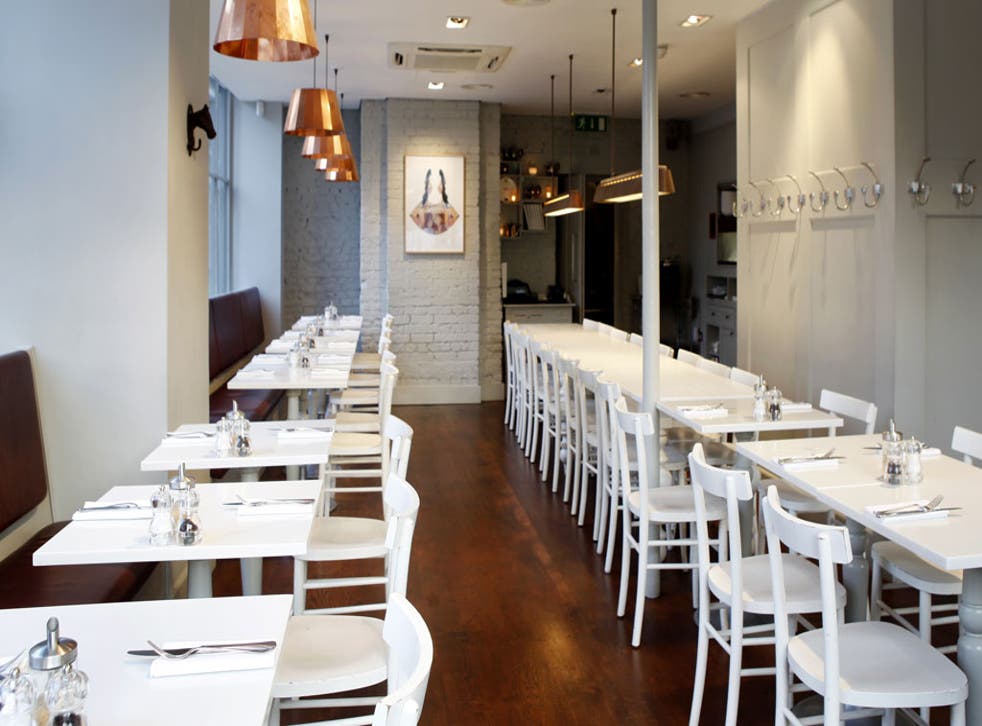 The Modern Pantry, 47-48 St John's Square, London, EC1
Our reviewer heads to freshly MBE'd Anna Hansen's The Modern Pantry
I know myself well enough not even to attempt a New Year regimen; but after all the festive indulgences, I'm craving crisp, fresh produce and zingy flavours to blow away the cobwebs. Hence The Modern Pantry. The London restaurant/café run by Anna Hansen has, over the past couple of years, established itself as A Good Thing, spawning an excellent cookbook. In fact, Hansen has been awarded an MBE in the New Year Honours list for her services to the restaurant industry.
Her style of global inspiration and clever ingredients (signature dish: sugar-cured prawn omelette with green chilli, spring onion, coriander and smoked-chilli sambal) is what I crave.
When I worked in Clerkenwell many moons ago, there was just a scruffy warehouse on the square where The Modern Pantry now sits. It thrums with folk either entering Hansen's place, the Zetter Townhouse or Bistrot Bruno Loubet (both of which are ace). The quiet, elegant façade has a wide glass door on to the square. On this blustery January evening, though, the door is locked and we're sent to a little side door, to enter the ground-floor café through the back.
Fair enough – a constantly swinging door probably makes it too cold for those sitting near the front. But the maître'd approaches us with a rather grumpy manner, before marching us to the front desk to check our reservation, then marching us back to our first position. He then loftily gestures towards a table. Not exactly the most effusive of welcomes...
Reading the menu is more positive; everywhere are relishes, salsas, dressings and sauces to titillate even the mostjaded post-Christmas tastebuds. I like the sound of the perky "prescursor" – a cocktail made with Kammerlings, a ginseng spirit that's new to me, with elderflower and pink grapefruit (£9).
I feel the urgent need for a smartphone as I read on – it certainly helps to be able to Google the further reaches of the culinary line-up. From a list where every dish has at least one puzzling component and whose finished appearance can only be guessed at (say seared urfa and sesame beef tataki, cocoa chilli crumbs, chocolate balsamic dressing), my choice is straightforward, but no less delightful for it. Cornish crab, avocado and cress salad with beetroot carpaccio and yuzu soy dressing starter is prettily arranged and well judged – there are flecks of chilli to excite, and plenty of crab to soothe. It's also good value for its £8.20 price tag.
Mr M chooses seared king scallops with Jerusalem artichoke mash, keta, sorrel and a shallot and Cabernet Sauvignon vinaigrette; it is a stellar combination of textures and flavours. By now, he's well stuck into a carafe of beautifully fragrant white Greco di Tufo 2010 from southern Italy and feeling full of bonhomie. His main course of roast cod with amchur-fried cauliflower, braised macadamia nuts and XO sauce is, again, a triumph. Piquant flavours, beautifully pearly, fresh fish and a mouth-puckering, heavenly sauce.
I, on the other hand, have my back to a plate-glass wall and am feeling chilly and cranky... It's probably my own fault, for dressing wrong, sitting wrong and – then – ordering wrong. My main course is disappointingly mis-sold, I think. Beef featherblade, miso and Chantenay carrot stew, winter greens, toasted poppyseed and buttermilk dressing sounds soft, unctuous and hearty, but what arrives is a ginormous chunk of beef in a little dab of sauce, with separately cooked carrots on the side, and a drizzle of dressing. The beef is top-quality, but needs hewing apart with a knife, as it's dry. I need more gravy and less meat, which isn't often a complaint with a stew. If it hadn't been billed as such I might have been a bit less grouchy (though still miffed at the black blotches in my pink-fir potato side dish).
Mr M finishes with a brandied cherry fondant with sour-cherry sauce, and clove and rye-crumb ice-cream (£7.50). It is delicious, the scented clove giving a kick to the back of the throat coated with rich chocolate.
I know I'll come back to The Modern Pantry – Hansen (not in the kitchen on our visit) is a real talent – but tonight feels an ill-fated date. And that maître'd needs to have a good think about not letting his boss down on the whole "services to the restaurant industry" thing.
7/10
Scores: 1-3 stay home and cook, 4 needs help, 5 does the job, 6 flashes of promise, 7 good, 8 special, can't wait to go back, 9-10 as good as it gets
The Modern Pantry 47-48 St John's Square, London EC1, tel: 020 7553 9210 The café and first-floor restaurant have varying opening hours; see themodern pantry.co.uk for details. About £100 for two, including wine
The honours list
Café Spice Namaste
16 Prescot Street, London E1, tel: 020 7488 9242
Practically every meal at Cyrus Todiwala OBE's quirky East End HQ is a delight, thanks to innovative Indian-fusion cuisine that's superb
The Ritz Restaurant, The Ritz
150 Piccadilly, London W1, tel: 020 7493 8181
The Louis XVI chamber is incomparable for romance, and nowadays the food lives up to it thanks to executive chef John Williams MBE
Terravina
Hotel Terravina, 74 Woodlands Road, Southampton, tel: 023 8029 3784
With George Basset OBE, the world's top sommelier, in charge, it's no surprise it's the UK's best wine list that headlines here; the food is subtle and carefully executed
Reviews extracted from 'Harden's London and UK Restaurant Guides 2012' www.hardens.com
Join our new commenting forum
Join thought-provoking conversations, follow other Independent readers and see their replies