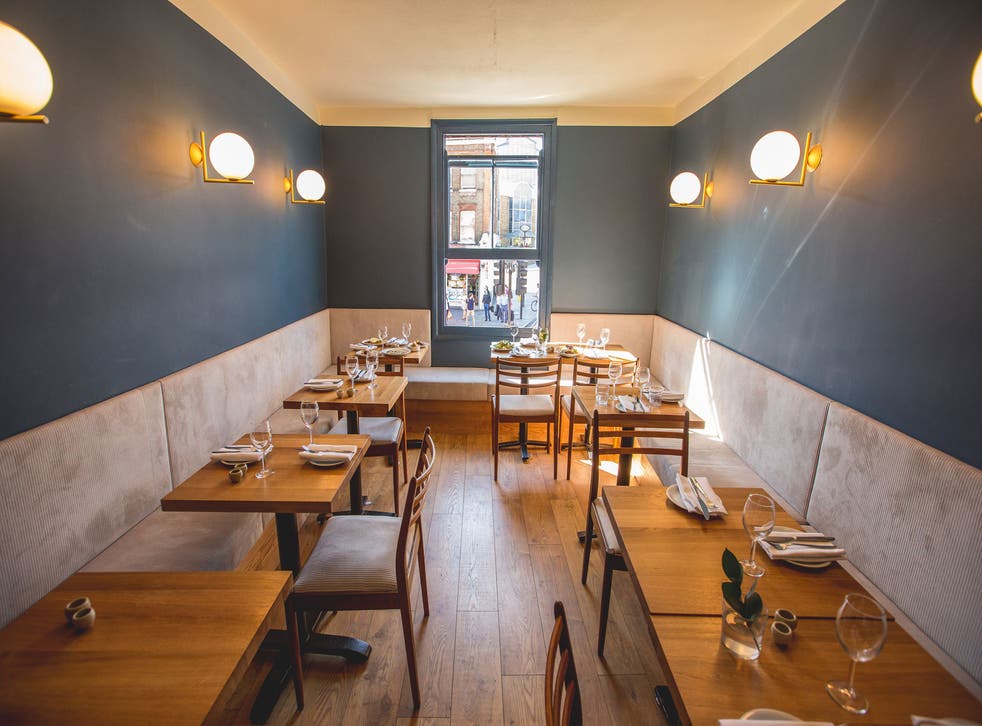 Oldroyd, restaurant review: 'A dining space is almost as tiny as the kitchen - but a big future'
344 Upper Street, London N1, Tel: 020 8617 901
If you think having a tiny kitchen is the only thing holding you back from culinary greatness, maybe don't visit Oldroyd. The food that comes out of a space no larger than a cupboard under the stairs is very good indeed. Better start working on a new excuse…
Tom Oldroyd was the chef for the Polpo group. Most things there were small, too – the bijoux rooms, the brisk menus and the small plates. After leaving the Russell Norman empire, Oldroyd has taken the small is beautiful ethos and created a cool, calm little haven in north London.
Yet while the space is small, the kitchen smaller and the menu and wine list tiny, the ambition is big. It needs to be for this part of the capital, which has a handful of excellent pubs serving food, one or two distinguished restaurants and plenty of serviceable popular joints. (And that's before the arrival of a star at either end of the spectrum – Corbin and King are opening here, and there's a MeatLiquor outpost coming.)
We arrive on a Monday night a few days after Oldroyd's opening, to find the upper, main dining room booked out by a group. Downstairs are just three tables, and we are lucky to get one – through the evening, quite a few locals, enthusiastic for a new place on their main strip, come in with hope of a table.
There is no chance of my sneaking in under the radar in such a small space (I got to know the chef from his days at Polpo), but equally there's none of that "smart seats for critics, Siberia for civilians", either. Oldroyd has assembled a team of enthusiastic, charming staff, too, who work the two floors with gusto and advise on the dishes, which vary from the very small to the hearty, with prices from £4 to £15. Yes, that's right, a terrific menu from a renowned chef at bargain prices.
I have a lovely white peach-and-crémant Bellini; the teenager (after a half-hearted attempt at getting one for herself) adores her cucumber-and-peppermint iced tea while we decide how to play this menu. There are 12 dishes, which change daily, and three of us, so we're able to give much of it a work-out.
The first two snacky offerings – a medley of different radishes atop a thick slick of smoked cod's roe, and smoked pork belly and pea croquettas with truffle mayonnaise – are terrific, perfect curtain-raisers (£4 each).
Next, a bowl of clams with chilli chorizo and thyme (£7.50), which requires extra bread to mop up the deliciously savoury, oily juices. It's not a pretty ensemble, but just what you want to guzzle with a napkin tucked under the chin. The three of us pause to snatch a lamb-and-almond meatball each (Miss T having shown her grabbing skills with the croquettas), three in a pool of rich, potent romesco sauce. They're a sloppy, tender delight, with shards of almond to add crunch and – along with a crab tagliarini – leave us splattered with more sauce. The pasta dish (£9) has a pool of rich brown-crab rouille that has us begging for yet more bread, for mopping. Entirely extraneous, a bowl of zucchini fries (£3.50) that are a salty, crisp, soft tangle of delicousness.
I'm not as charmed by the squid, confit rabbit and broad bean paella (£11) as Mr M (and several other visitors, I note from social media). It's not quite as unctuous as it might be – but then I am addicted to the Barrafina version, which is (to my mind) perfection.
I quite wish I'd ordered the whole roast monkfish with braised fennel and tapenade I can see our table-neighbours demolishing. Next time…
A word about drinks: Tom Oldroyd has been a fixture on the London foodie party scene for a while and his seven whammo cocktails show extensive research and development, such as a wax-sealed Negroni, and an Oldroyd Mary – well played! There are just five each of white and red wines with nothing above £45 a bottle – well played again!
By pudding, we're gnashing our teeth that there's nowhere like this near where we live – and wondering how we can persuade Tom O to open a second branch.
But from his intense concentration in the tiny open kitchen and charming connection with guests, it looks as if he is exactly where he wants to be, working at a scale that suits him. Once the opening furore has died down, one imagines he'll be able to finesse the plating, but that's a small niggle. Oldroyd has "hit" written all over its teeny, tiny room.
8/10
344 Upper Street, London N1, Tel: 020 8617 9010. £60 for two, with drinks
Four more foodie notes from the past week
Coco Mylk Ombar
This "live cultures, no dairy, raw cacao" chocolate bar is – despite my #eatclean reservations – deliciously toasty and creamy.
Scream for Pizza
Up to Newcastle for latest heat of the British Street Food awards; this van turning out "Our Margaret" pizzas was an all-round winner.
'Indian Kitchen'
Thrilled to have breakfast – lamb mince and spiced scrambled eggs – made by Maunika Gowardhan, author of the above, which I adore.
Fay Maschler
The doyenne of food critics held the party of 2015 for her birthday: wall-to-wall culinary stars paying tribute and a room full of Martinis!
Oldroyd
Join our new commenting forum
Join thought-provoking conversations, follow other Independent readers and see their replies