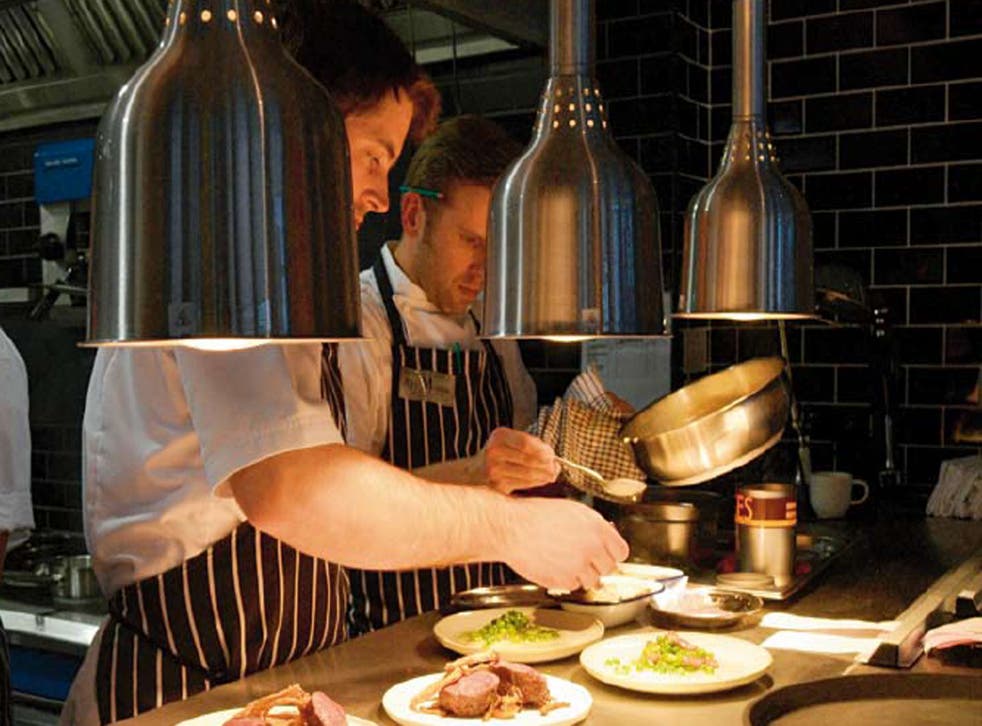 Ox & Finch, restaurant review: The McLaren racing team's former head chef is Glasgow's new pace-setter
920 Sauchiehall Street, Glasgow, Tel: 0141 339 8627
The party conference season offers few enough consolations for the weary hack. If you're not careful, there can be a lot of doughy sandwiches and squatting on stools in crowded hotel lobbies, feigning interest in barely perceptible deviations from the party line.
So roll on the evening, when the hard-pressed journo can escape the conference centre with the promise of a decent meal on expenses, when the political stays are far more likely to be loosened. The problem is that in Brighton, Bournemouth, Manchester, Birmingham and Glasgow, the chances are your competitors will be on the next table, so tried-and-tested are the acceptable venues. So hurrah for a new discovery at last month's Liberal Democrat get-together in Glasgow, Ox and Finch, where I found precisely no politicos, an anxious-to-please staff and food lively and interesting enough to stimulate the most travel-weary journalist.
An airy, part-rustic, part ultra-urban 60-seater on Sauchiehall Street in Glasgow's Kelvingrove, this is the first venture into the restaurant world of Jonathan MacDonald, formerly head chef with the McLaren racing team (no, nor did I). A graduate in hospitality management at Strathclyde Business School, he spent several years whizzing round what he calls "the world's larder" (Australia, China, Malaysia, Singapore, America, Brazil and Europe), sampling local markets and feeding the likes of Lewis Hamilton. "I like the South-east Asian zen approach to balancing salty with sweet, crunchy with soft, opposing tastes and flavours," he has said. "It seems so simple and obvious but it's so central to great dishes."
After his stint with McLaren, he founded an upmarket street-food firm, and now this – and after five months, it's a huge hit. If you want to go on a Saturday, you'll need to book a month in advance. Weekday lunchtimes, they can still just about do.
From a see-everything kitchen (no skimping on staff there) come modishly tapas-esque dishes (mercifully not too modishly small). It arrives when it's ready, again according to current custom, which means before too long we are assailed by an excess of deliciousness.
Seemingly in a restaurant review, one is not supposed to use the word delicious, but this is a tall order here. The blow-torched miso salmon tataki, sesame, ginger and pickles is exquisite, even if the miso is barely perceptible. The clever bit: grains of freeze-dried wasabi – mild and nutty, that titivate the salmon. Next up, a marvellously executed chickpea and prawns in spicy tomato sauce with feta. Both prawns (impeccably local) and chickpeas are juicy, well cooked and flavoursome, and the feta does a deft job of taking the edge off the tangy tomato sauce. (The other word we're at risk of overusing about the food is "balance".)
More stunningly fresh still, though, is Uist crab and avocado, comfort food of plutocrats, with pomelo, a white citrus less tart than grapefruit. This is probably my favourite dish, a respectful acknowledgement that ingredients this good don't need tarting up. This and a glass of something fizzy would see off any hangover, I suspect.
Still the wonders come. We manage, between us and with difficulty, to find (small) fault with the roast rump of lamb with bulgar wheat, spiced aubergine and tahini yogurt, sprinkled with sumac. "It could have been a bit pinker," says my friend, but I'm not quibbling: it still dissolves on the tongue, as does the baked beetroot, (ultra-creamy) goat's curd and toasted seeds.
A side order of broccoli, anchovies, almonds and poached egg is also near-perfect, the anchovies being potent but not overpowering.
Being modest types, we drink a mere glass of Bordon Blanco Rioja and a bottle of Brewdog Punk IPA, all the way from Fraserburgh. Had we longer… oh dear.
My tarte tatin is astonishingly good, even to someone who finds it unturndownable. The peanut parfait with cherry sorbet is described by my refined friend as "sharp and very well balanced" (there's that word again), but she seems to be being a bit measured, a little too polite, which is not the point of a review at all.
I ask if there is anything else our readers should be told. And out it comes. "Well, if I'm going to be Gregg Wallace about it, I could eat a vat of this." Nuff said.
9/10
Ox & Finch, 920 Sauchiehall Street, Glasgow, Tel: 0141 339 8627. £60 for two
Four more foodie notes from the past week
Seafood chowder
On a bracing Saturday in Hay-on-Wye, Jonathan Williams of the Pembrokeshire Beach Food Company was offering a sample. Awesome.
Hay's Smallfarms
The beef from this organic butcher – fabulously tender, from happy cattle raised on species-rich grassland. Everyone's a winner.
Doctor Espresso
The coffee at this cafeteria opposite Putney Bridge Tube, accompanied by its carefully chosen blues music, makes any day faceable.
Squash
I thought I could take or leave squash, but my friend Kiloran Buckler's version, with Gorgonzola, beef, beans and herb dumplings, is magnificent.
Join our new commenting forum
Join thought-provoking conversations, follow other Independent readers and see their replies