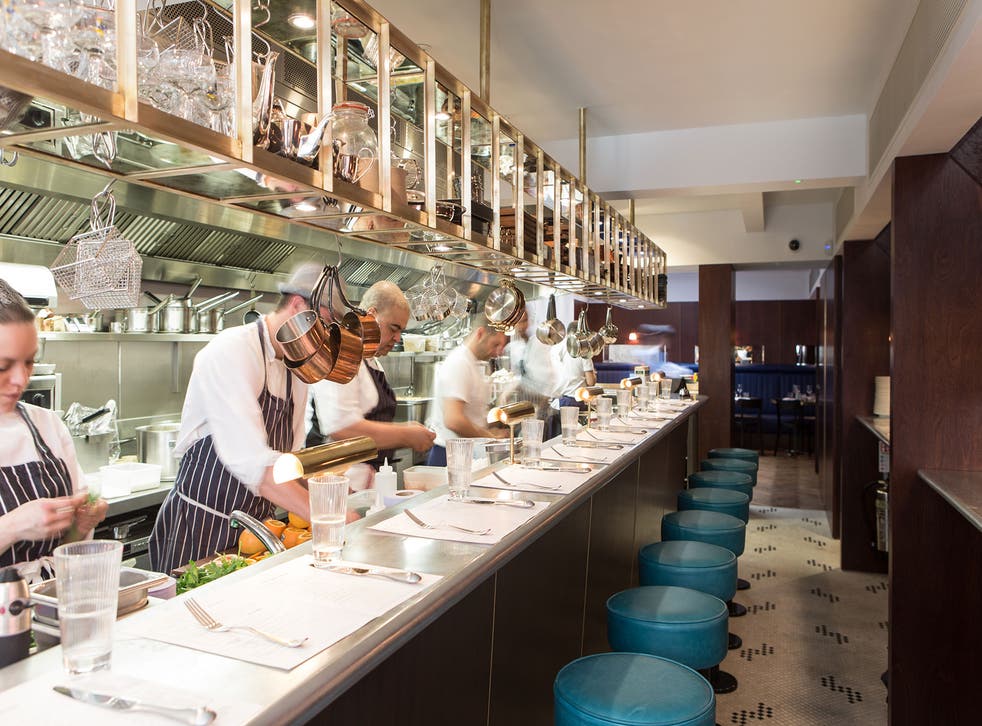 The Palomar, restaurant review: I took the precaution of inviting Yotam Ottolenghi
The Palomar, 34 Rupert Street London W1 (020-7439 8777)
Here's something the jaded critic doesn't get to say very often. I've been to a new restaurant, and it's different. A curious, crazy one-off, where the chefs and owners are having as much fun as the customers, the menu brims with bountiful Middle Eastern maximalism, and the music rocks nearly as hard as the food. A modern-Sephardic hipster nightclub diner. I know – it sounds unbearable. But please, stow your cynicism in an overhead locker, and buckle up for a trip to The Palomar.
This Soho newcomer has its roots in Jerusalem. Three chefs in that most orthodox of cities broke all the rules to launch a very different kind of restaurant, Machneyuda. In a party atmosphere, with chefs downing shots, singing and dancing, it showcases local produce in fusion dishes which draw inspiration from Jewish, Arabic and Mediterranean traditions.
For this London venture, Machneyuda's founders have teamed up with two London siblings who used to run a nightclub called The End. The result is a Jewish restaurant which is unorthodox in every sense.
When I arrive at The Palomar for dinner, there's already a febrile atmosphere. A queue snakes out into the rain-lashed street, and every seat at the walk-up counter is filled. To the rear of the slimline bar area, the compact, plainish dining room is also packed. I squeeze myself into a corner to wait and keep an eye on the chefs. None of them is singing, though there's a lot of sweating and some quirky hats. A ministerial-looking gent sidles up to me, and without explanation, starts spoon-feeding me polenta. So far, so Shirley Valentine.
The menu is equally disorientating, a pinball ride around the Fertile Crescent, which only glancingly lands on any vaguely recognisable dish; onglet steak with latkes, say, or Persian oxtail stew. It isn't, needless to say, kosher; the kitchen not only mixes meat and milk, but serves shellfish and even pork. Some elements will be familiar to disciples of Ottolenghi. But for every freekeh or fattoush, there's a mz'uz'im, shakshukit or kubenia.
Thankfully I've taken the precaution of inviting the actual Yotam Ottolenghi, whose arrival, with business partner Noam Bar, has roughly the same effect on the already overheated atmosphere as a walkabout by Pelé at the Rio carnival.
Hugs exchanged (my feeder is one of Machneyuda's chef-proprietors, it turns out), the food starts arriving; dish after thrilling dish. The traditional mezze selection is served here as the Daily 6, six small bowls filled with good things – Swiss chard scattered with nubbles of feta and candied almonds; sharply-dressed fried aubergine with pomegranate seeds; a cloud of labneh floating in za'atar-spiked olive oil.
We coo over slow-baked Yemeni bread, kubaneh, puffy and dense as a brioche, served with vivid tomato sauce and tahini paste. From the raw bar, kubenia, a take on steak tartare; chopped beef, spiked with bulgur and anointed with tahini and pomegranate seeds. A salad of octopus, yogurt and chickpeas shimmers with chilli heat. From Morocco, there's a sharp-sweet red pepper and tomato salad, matbucha, piled on to griddled toast with cured sardines. Chopped liver pâté gets a nod too, in a celestial union with honeyed quince jam and a sheaf of hazelnut crispbreads.
Some of the mains get lost in the mix; notably the over-heavy sweetbread and aubergine bourekas. We prefer the Persian oxtail stew, its richness cut by sour little turnips, under a crumble of spiced dried lentils. Shakshukit, described as a 'deconstructed kebab' – something I've occasionally stepped over in Soho – is a grower; ground beef fried with harissa and pinenuts, and heaped on to yogurt, with a puffy pita crouton. The developing flavour, from salty, to sour, to sharp, sends Yotam into a reverie. "Preserved lemon...fenugreek... amba," he murmurs, like a talking version of the Google toolbar.
Our lovely waitress doesn't seem too thrown by serving the UK's foremost exponent of modern Israeli cooking. "If you have any questions about the menu..." she begins, then tails off with, "Well, you won't, will you." Under the circumstances, it's no surprise we get excellent service. But generally, there seems to be an almost recklessly high ratio of staff to customers. No outbreaks of dancing, happily, but the room has a hectic, clubbish feel, and even after they lower the soundtrack, it's still pretty full-on. If your idea of dining out is a murmured conversation over three courses and a nice bottle of house red, The Palomar is not for you.
They don't do background music, and they certainly don't do background food; these are dishes that demand to be shared, talked about, Instagrammed and fought over. Clamorous, cramped and exciting, The Palomar comes from a place where sharing and breaking down barriers between Jewish and Arabic food is a more profoundly meaningful business than it is here. But in a city that thinks it's seen it all, we'll still be queuing for a taste of the New Jerusalem.
Food ****
Ambience (if you like loud music) ****
Service *****
The Palomar, 34 Rupert Street London W1 (020-7439 8777). Around £20 a head for mezze, £50 for three courses
Join our new commenting forum
Join thought-provoking conversations, follow other Independent readers and see their replies