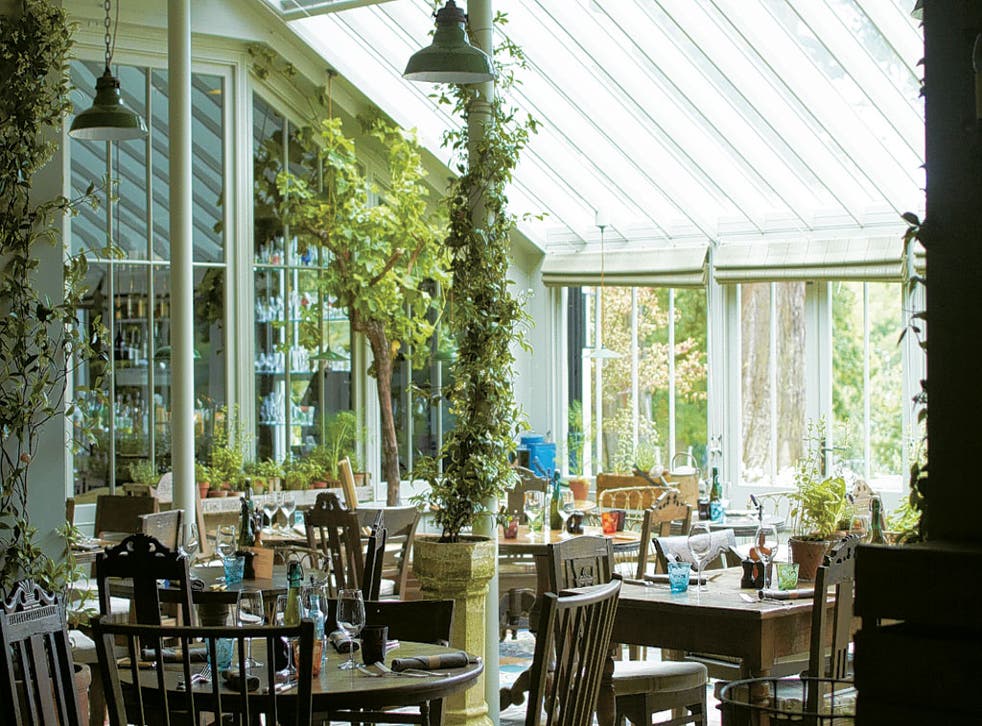 The Pig Hotel, Beaulieu Road, Brockenhurst, New Forest, Hampshire
Announcing its presence on a sign with a brass silhouette of a cheerful porker, The Pig Hotel sits in the heart of the New Forest.
"Welcome to the Forest," says the short, extremely pretty girl at Reception, giving you the key to the Tamworth Room (many of the rooms are named after pigs) and you soon feel like you've stepped back to a calmer, simpler, more rustic life. The bedrooms are in the country house's old stable yard. They have wooden floors. A key design feature is the hefty log pile in a rectangular wall-space. An old-style telephone, the kind you dial with your finger, sits beside the bed. The bath is old and claw-footed. An old-style leather-clad Roberts radio is tuned to Radio 4 (of course). It's wonderful. This hotel room is the accommodation equivalent of comfort-eating. It's newly and beautifully renovated but it feels at least 50 years old.
It takes a while to put your finger on the prevailing influence. The Pig is a sister restaurant of Lime Wood in Hampshire and both are deeply in thrall to the shabby-chic, traditional-with-a-twist style of Daylesford. The restaurant is a conservatory bolted on to the old house, but it's been done up as a Gardeners' Question Time dream of a greenhouse. The glass roof slopes down to a long window. Led to your seat by another short, amazingly pretty girl, your eye is drawn by a hundred details of watering cans, climbing plants, wooden trugs, wooden crates, terracotta pots of thyme and rosemary. It's set-dressing of a comprehensive kind. No greenhouse in history ever had such a patchwork floor of Moorish tiles. No garden shed ever boasted such a giant pine dresser or such a vast, UFO-like chandelier.
The menu is rather archly divided into six sections. 'Piggy Bits' are pre-starter snacks, 'Starters and Small Plates (Or Bigger!)' are more substantial hors d'oeuvres, 'Literally Picked This Morning' are foraged dishes, fresh eggs and fish, 'Forest and Solent' are the main courses, including The Pie @ The Pig (steak and Old Thumper ale with bubble'n'squeak), The Pig's Hampshire bacon chop and Dorset cockles and Cornish mussels. 'Garden Sides' offer greens, onions, pumpkins and potatoes from The Pig's much-vaunted walled garden of home-grown produce. It crosses your mind that they're trying to emulate the vegetable garden at Le Manoir aux Quat' Saisons, plus the restaurant-in-a-greenhouse that is Petersham Nurseries plus Mrs Patmore's kitchen in Downton Abbey...
Offered "some piggy bits while you're waiting" by another short, devastatingly pretty waitress (is there some height restriction and good-looks requirement for waiting staff?), Angie and I said yeah, sure, without thinking and returned to the menu. When a moment later we contemplated the plate of crackling with apple sauce and the wood platter with skewers of sausage before us, we knew we'd have to pace ourselves. The crackling was delicious and the sausages pitched me back to childhood, when sausages tasted completely different, nubbed and beefy. After four of them, Angie announced that she'd now no need of a starter. Knowing I was duty-bound to order one, I chose home-smoked haddock salad with hen's egg and it was terrific; the salad was peppery, the fish smoked just right.
Pan-roasted South Coast cod was a big event: it looked beautiful, darkly crisp on top, creamily white below like the cliffs of Dover. "Look at those great white flakes of fish," said Angie in raptures. Atlantic prawns were an inspired accompaniment, a few dozen capers perhaps less so. (But then I can take only one caper per dish, usually on a pizza.) My Beaulieu pheasant with yellow leg mushrooms was a triumph. James Golding, head chef at The Pig, has a sure touch with game as well as fish. The pheasant breast was perfectly cooked, pink, tightly-textured and heftily flavoured, the skin perfectly seasoned. Baby chestnuts and sliced white sprouts (just in season now) rocked along like a hot rhythm section, lubricated by a yummy mushroom sauce that complemented the gamey tang without smothering it. A bottle of old vine grenache from the Aussie McLaren Vale made everything zip along. A warm poached pear with wild sloe-berry syrup and ginger ice-cream was fine, though I couldn't see what the role of the madeleine cake under the pear might be.
At 10pm on a Thursday evening in November, The Pig was packed. Fifty or 60 punters, sitting in a mocked-up Daylesford greenhouse on wrought-iron chairs at non-matching tables, eating traditional English pig, venison, faggots, steak and Dorset russet apple tartlet, and glancing up now and again at the magnificent dresser, lit up like a high altar – it could hardly have been a more English sight if the Earl of Grantham had suddenly strode in, clasped your hand and said, "My dear fellow...". If you don't mind feeling you're on a bit of a stage set, you'll have a lovely time at The Pig.
The Pig Hotel, Beaulieu Road, Brockenhurst, New Forest, Hampshire (01590 622354)
Food ****
Ambience *****
Service ****
About £100 for two, with wine
Tipping policy
"Service charge is 12.5 per cent discretionary, of which 100 per cent goes to the staff; all tips go to the staff"
Side Orders: Hampshire haunts
Fat Olives
Roast hake with courgettes, curly kale, lemon, caper and brown shrimp (£15.95) is a typical dish at this popular eaterie.
Station House, North St, Havant (01243 377914)
The Black Rat
The impeccable food at this Michelin-starred restaurant includes a game terrine with pickled samphire and walnut bread.
88 Chesil St, Winchester (01962 844465)
The Purefoy Arms
Spiced Iberico pork cheeks with Judion white beans and pata negra sauce will set you back just £15 at this lovely country pub.
Preston Candover (01256 389 777)
Join our new commenting forum
Join thought-provoking conversations, follow other Independent readers and see their replies