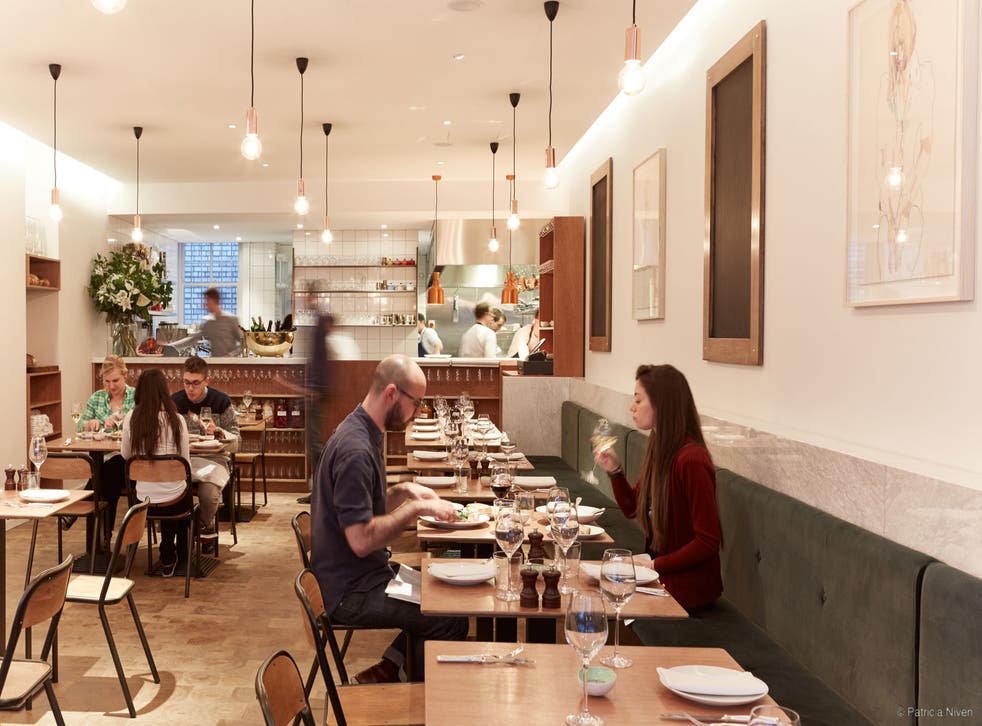 Portland, restaurant review: This venue gets the prize for the most-photographed dish of 2015
113 Great Portland Street, London W1, tel: 020 7436 3261
I know it's only three weeks since I said Kitty Fisher's Galician beef was probably going to be "dish of the year". Well, hold the hyperbole, because there's another contender already: the wild-game pithivier at Portland.
This neat little pastry parcel could start its own Instagram account, so often has it been photographed and shared on social media. And the way the restaurant serves it helps; it is brought to the table in its baking tray, golden and glistening, for the first shot. Then taken away and brought back, sliced – the big reveal! Click. Filter. Share.
It is served this way as it is designed for two, though on my first visit to Portland I misunderstand the significance of the dish and order fish, because I'm trying not to eat so much meat. My date is a little put out (even more so later, when a solo diner at a nearby table has a pithivier all to himself). And so we return a week later and eat it; it is stunning – crisp, melting pastry, a thick wodge of venison (on this occasion – it varies according to which game is good and available) and a rich mulchy layer of livery, mushroomy pâté. Strewn with black-truffle shavings, it comes with a silver jug of game sauce. At £18 per person, it's irresistible.
But back to that first visit.
The arrival of Portland in the slightly bland stretch north of London's Oxford Street is cheering news and with its pedigree, it's an opening I relish. In fact, the first visit is on day one of full service and I'm spotted straight away by patron Will Lander, who must have his antennae tuned for critics. He's one of the chaps behind the Quality Chop House – a restaurant so charming and delicious that I recommend it more than almost any other.
Lander – son of wine doyenne Jancis Robinson and food writer Nicholas Lander – has created a spare yet welcoming space. The room has one or two paintings and soft lighting, but a bustling open kitchen adds a frisson of youthful energy – chef Merlin Labron-Johnson's fresh face belying his experience as sous chef in Belgium's celebrated In De Wulf. Both are too young to remember when metal tube/wood veneer chairs were less chic, more canteen. It's a place you can imagine execs from the nearby BBC HQ block-booking, though whether Alan Yentob will be back after twice being unable to get a table is unclear…
The wine list is, of course, fab, divided into "textbook", "leftfield" and "special", with almost all available by the glass; Lander's enthusiasm is clear, and he's a terrific guide. With our starters – lamb tartare with anchovy mayo, radicchio and grated egg yolk, and heritage carrots with Mimolette vieille and granola, both £7 – there's a Labet Chardonnay, described as an "Alpine version of white burgundy" (£11). It's the perfect foil for the rich dishes – the cheese beneath the dainty carrot stalks a creamy, salty purée, and the tangy mayonnaise with the lamb a force to be reckoned with. A side note: some say lamb is not as successful raw as cow, and the beef tartare dish at Kitty Fisher's is a stunner. But I'd argue that this is its equal, lamb having a more rewarding texture.
J's roast Crediton chicken with parsnip, ginger and roasting juices (£16) is the only less-than-stellar dish; although well executed, it's a tad small and neat for such a phwoar billing. I have pollock with baked Roscoff onion and cider because its billing is so very hum-ho – and the rather beige dish that arrives looks indeed a bit hum-ho. But the pearlescent fish is wonderful (just touched with heat then rested above the oven to gently warm though, Merlin explains later), and a darling little pan brimming with warming cider sauce adds much – onions cooked from strident into soft tang. This is a rather marvellous choice if you're eschewing gamey excesses.
I ruin my abstemious stance with pudding: a hazelnut éclair (why can I never resist an éclair?) is the equal of the finest Parisienne pâtisserie, and J's chocolate bar with peanut-butter praline and peanut ice cream is a sexy Snickers for snobs. With these, a "dry, moreish" Zinfandel at £5 a glass.
The pithivier might be the show-stopper but almost everything, from mouth-puckering snacks of pickled shiitake mushrooms to thick-sliced scallops in an earthy Jerusalem artichoke velouté, should make you smile. And not just for the camera.
8.5/10
Portland, 113 Great Portland Street, London W1, tel: 020 7436 3261. £110 for two, with wine
Four more foodie notes from the past week
Crumbs & Doilies
Outrageously good salted-caramel pretzel cake at this adorable new Soho bakery from YouTube baking star Jemma Wilson.
Grasshoppers
Delicious Oaxacan cuisine at Wahaca, courtesy of Mexican chef Alejandro Ruiz and Thomasina Miers. Stunning mescal, too.
Koffmann's
Creamy smoked haddock and poached duck eggs for breakfast at the elegant Berkeley hotel: an ideal mix of healthy and indulgent.
Chicken
Testing recipes from Diana Henry's new A Bird in the Hand cookbook for a review. This is no hardship: I could eat chicken every day.
Join our new commenting forum
Join thought-provoking conversations, follow other Independent readers and see their replies