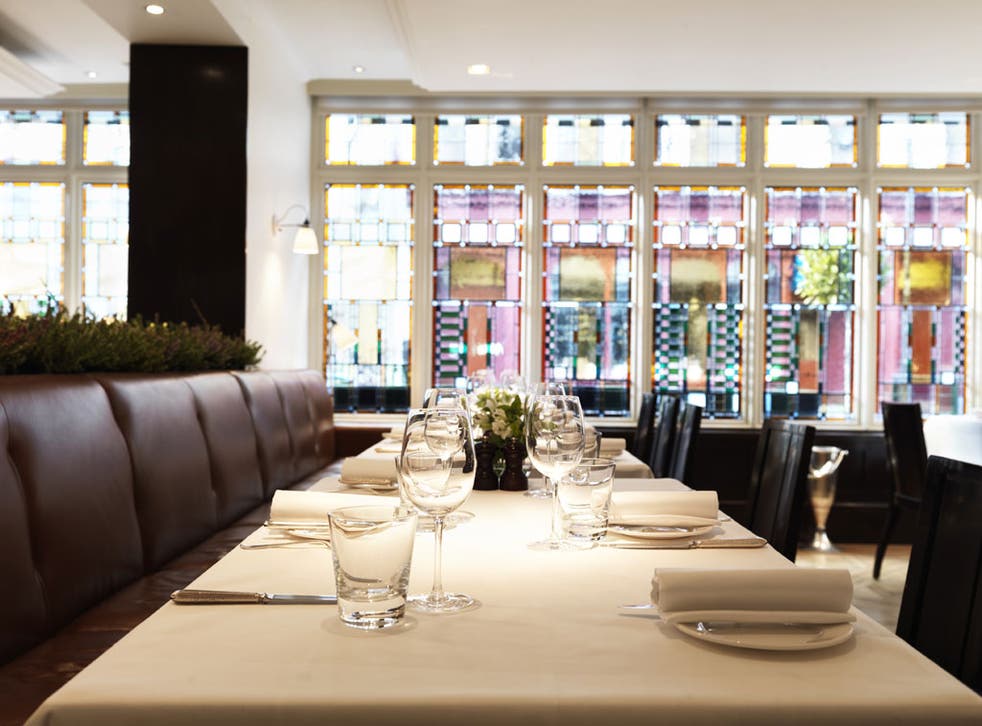 Quo Vadis, 26-29 Dean Street, London W1
Soho institution Quo Vadis undergoes an unfussy makeover to get tongues wagging.
There's a certain scene when a new restaurant opens, or when a lauded chef finds a new berth. The foodie cognoscenti descend and the place is abuzz with bloggers and critics, chefs and PRs, taking pictures, comparing notes and getting love bombs from the staff.
All of which could be rather irritating for the paying customers, I imagine. I've been at new openings when civilians were practically pushed aside in the rush to bestow free extra dishes and glasses of champagne on the favoured few.
The restaurant that's got the foodies in a froth this week is Quo Vadis, a beauteous Soho establishment that has passed through various stellar owners over the years. It's now in the care of Sam and Eddie Hart, whose Fino and Barrafina are brilliant and unfussy.
After three years they have handed over the kitchen to Jeremy Lee, a star in his own right from 16 years at The Blueprint Café at Tower Bridge – a paean to minimal deliciousness.
The buzz about Lee's move is almost deafening when I arrive. (I don't have any great desire to be one of the first through the door, but January has brought me two birthdays, one anniversary and a lot of parent/teacher action to attend to, so opportunities for dining out are scarce.)
Lee, Eddie Hart and maître'd Jon Spiteri (champion host, late of St John) are all working the series of rooms. Quo Vadis, with its stained-glass windows and airy feel, has simply been pared down further from its already quiet elegance, the art on the walls removed and the crisp white tablecloths brought back.
To one side of the table that Mr M and I occupy are a couple of foodie scenesters; on the other, two well-known bon viveurs. There are so many Campari, orange and pomegranate cocktails flying past that it takes a few minutes to flag down a waiter.
A note about the menu. It's so fashionable to have dim lighting and brown on cream 10pt text that I often feel unsure of what I'm ordering. No such problem here. The clear, beautiful fonts are worth celebrating; and the menus are enhanced by charming illustrations by John Broadley. There's also a jaunty little daily weather report.
Today's "bright & crisp" could apply to the mood and the service as much as the outdoor climate. Our waiter works around the love-in to deliver us an exemplary vodka Martini and fresh-lime soda (two good tests of a barman), excellent bread baked in-house and some baked salsify with Parmesan (£3.50, scrumptious) while we decide what else to have.
It's a short menu, boxed into sections: bites, today's pie, the oysters, the grill, and the starters and mains proper. There's also a terrific-looking set theatre menu, which is a steal at £20 for three courses – and it's available all day.
My salt duck with pickled prunes and watercress (£6.50), followed by sea bass with artichokes and gremolata (£19.50) have only one less-than-perfect component – some slightly tough, bitter artichoke slices – but really, both dishes are fantastic. The duck, cut into strips, is soft and subtle; the prunes, tangy and sticky. The tranche of sea bass is crisp, salty and juicy and there's a frenzy of green over the plate.
Mr M, unusually, has been allowed his own choice, and saves me only a tiny forkful of his zingy fennel, watercress and sardine starter (£6.50). When his beef pie (£14) arrives, he looks a little crestfallen that it's quite mannered (for which read small and neat), but what it lacks in Desperate Dan qualities, it makes up for in taste – rich, very short pastry, a layer of garlicky, buttery sauce and unctuous gravy, with clods of meltingly soft beef. We fight over some Pink Fir Apple potatoes to soak up the juices.
Lee might be pressing the flesh in the dining-room, but he's got a beady eye on what's coming out of the kitchen, and there's no let-up of quality over puddings: an almond tart with caramelised pears and vanilla ice-cream is sensational (£5.50); my St Emilion au chocolat (£7) is almost too much, it's so rich and dense.
Quo Vadis may be flavour of the month for the cutlery-clattering classes, but don't let that put you off. It might be tricky to get a table right now, but do persevere: there'll be another big opening along soon to distract them, and a dining experience this good is worth a little wait.
8/10
Scores: 1-3 stay home and cook, 4 needs help, 5 does the job, 6 flashes of promise, 7 good, 8 special, can't wait to go back, 9-10 as good as it gets
Quo Vadis, 26-29 Dean Street, London W1, tel: 020 7437 9585 Lunch and dinner, Monday-Saturday. About £100 for two, including wine
Top chefs, new places
Tom Aikens
43 Elystan Street, London SW3, tel: 020 7584 2003
This eminent dining-room offers unusually intriguing and tasty dishes in a setting of almost Scandinavian understatement; the set lunch is a bargain well worth seeking out
Alyn Williams
Westbury Hotel, Bond Street, London W1, tel: 020 7078 9579
The lunchtime set menu at this grand new dining-room run by an ex-Marcus Wareing chef is worth seeking out for its quality and value
The Castle Terrace
33-35 Castle Terrace, Edinburgh, tel: 0131 229 1222
At Tom Kitchin's new operation at the base of the castle, Dominic Jack's confident, innovative cuisine achieves some exquisite results
Reviews extracted from 'Harden's London and UK Restaurant Guides 2012' www.hardens.com
Join our new commenting forum
Join thought-provoking conversations, follow other Independent readers and see their replies