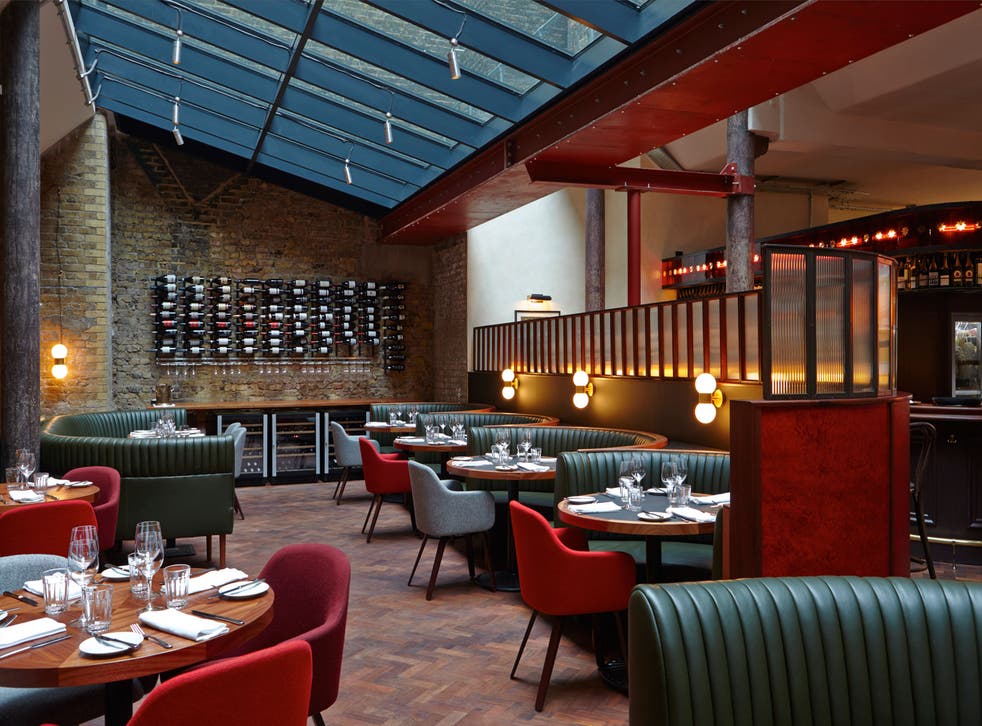 Restaurant review: Angela Hartnett is at the helm of Shoreditch's latest high-ticket opening, the Merchants Tavern
Merchants Tavern, 36 Charlotte Road, London, EC2 (020-7060 5335)
Looking back at the reviews I've written from Shoreditch over the past 15 years, a certain theme emerges. It used to be edgy here, runs the story, but now this or that smart new restaurant has opened, the area has really started to change. Great Eastern Dining Room, Eyre Brothers, Cru, the Rivington, Boundary, Tramshed. Each new opening a bit posher, a bit more City-boy-friendly than the last. Each one signifying the end of the arty-boho Shoreditch scene.
Except they didn't. So even though this week's high-ticket opening is a grand and grown-up affair, I'm reluctant to once again sound the death knell for alt-Shoreditch. This is what urban renewal looks like: a first wave of pioneering bars and shebeens which are gradually forced out when the rates rise and the crowd changes.
Back in the mid-Nineties, Cantaloupe was THE place to drink – the first bar in the Hoxton area that non-scenester muggles could infiltrate without feeling too conspicuous. Now it has gone, and in the Victorian warehouse where it stood has risen the suave new Merchants Tavern. Where twitchy web designers once yelled at each other over bottled beers, now business lunchers murmur over braised pork cheeks. Today's lesson: gentrify not, lest ye also be gentrified.
There's a pedigree team behind this new arrival that makes it hard to resent. Angela Hartnett, Britain's pre-eminent female chef, and her partner Neil Borthwick may have worked mainly up West, but they're East End locals. With backing from the chaps behind Canteen, their Tavern confidently stakes a claim to be Shoreditch's smartest restaurant – the Wolseley or Ivy of EC2.
You enter through a roomy drinking area, an interior designer's spiffy dream of a spit-and-sawdust public bar. Beyond it, the wide-angle dining room is pure midtown Manhattan, dark, moody and rather delicious. With its schoolroom fittings, semi-circular booths and acres of leather as seductive as the seats of a vintage Jag, prosperity seeps from its manly contours like smoke from a Cuban cigar.
"Everywhere looks just like the Soho House now," observed my guest, Dan, who runs a group of gourmet Italian takeaways in the City and bid at a charity auction to accompany me on a review. The menu got us both excited; beautifully written, it promises heartiness and autumnal comfort. Hogget broth, pearl barley and Berkswell toast; mallard, mustard greens and Sarladaise potatoes; roast pork neck, forgotten carrots and girolle persillade. It's Modern British with a come-hither twist.
But head chef Neil Borthwick's food is much more complex and refined than the speak-as-I-find menu suggests. A starter of roast quail was fantastic, the leg and breast poised on a tangle of celeriac remoulade under a shimmering slice of seared foie gras and a rubble of toasted hazelnuts. Roasted loin of venison, a lardo-draped cube served with sprout leaves, red cabbage and spiced quince, was equally well composed, though a couple of roast potatoes would have been useful to mop up the cinnamon-scented jus.
Other dishes tipped towards the over-dainty. Salad of baked autumn vegetables promised rough edges and caramelised crunch rather than a polite assembly of turned carrots, squash and poached egg, shrink-wrapped in speck and bathed in a buttery emulsion. The mismatch between the manly, clubbable dining room and the dainty refinement of the food was at its starkest in a main course of monkfish in which meaty slices were served over slippery farfalle and mussels in a weeny, starter-sized dish. If they are hoping to attract male business lunchers, they may need to boost the carb-content and the portions.
Desserts are simpler: we enjoyed a velvety blackcurrant posset napped with an intense sharp-sweet syrup of fresh fruit, and a good, plain honey tart with malt whiskey ice-cream, the only dish of the meal that sat comfortably within the 'tavern' branding.
Service moves at a pace to suit the time-pressed City luncher, though my guest Dan did wonder whether they would travel this far – according to him most of them barely have time to grab a takeaway from the apparently very superior Coco di Mama group.
Angela Hartnett was standing beadily beside the pass for the whole lunchtime service. She needn't have worried. The food at the Merchants Tavern is very good. Maybe a bit TOO good; this room and its location are enough of a draw, and that designer-dingy bar promises every kind of fun. All things must pass, of course, but if it relaxes a bit, and makes the food a bit bigger or the prices a bit smaller, this Merchants Tavern seems like the nearest thing yet to a sure-fire survivor in Shoreditch.
Food ****
Ambience ****
Service ****
Merchants Tavern, 36 Charlotte Road, London, EC2 (020-7060 5335). Around £55 a head including glass of wine and service.
Join our new commenting forum
Join thought-provoking conversations, follow other Independent readers and see their replies