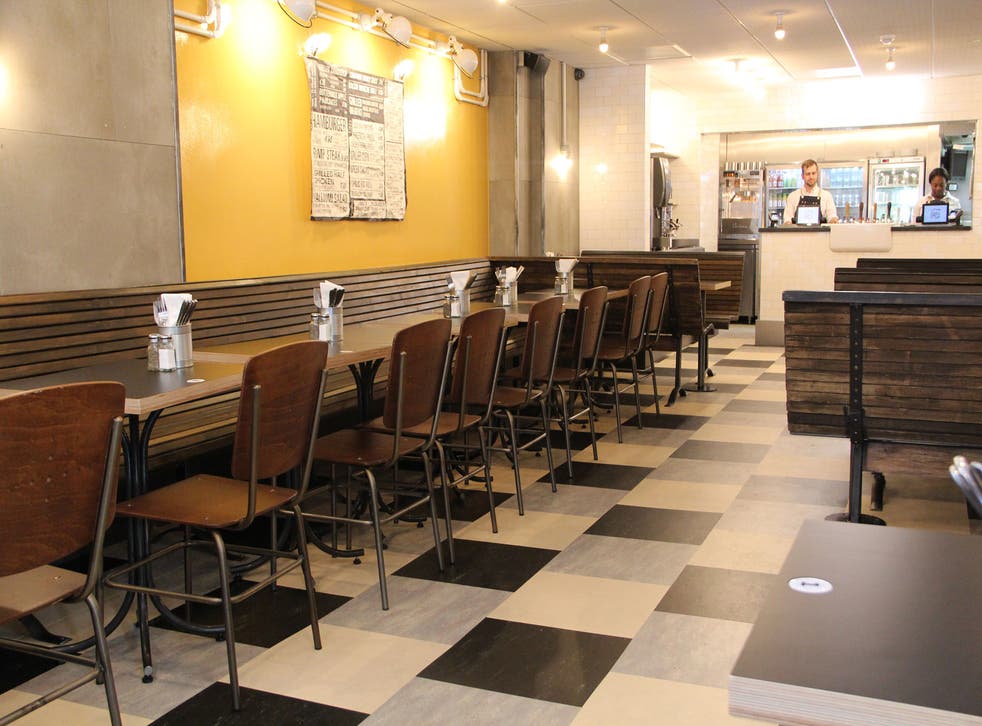 Restaurant review: Chop Shop and Grillshack are the restaurant equivalent of instant coffee - just add customers
You know a food trend is big when the venture capitalists move in. Where there's meat, there's brass: gourmet burger chain Byron was recently on the market for £100m, while the admirable Hawksmoor group sold to private equity investors for £35m. That's an awful lot of beef-dripping fries.
At a certain level, the restaurant business stops being about food, and starts being about real estate. This week's restaurants are both in prime central London locations, and in both cases, the leasehold agreements must have been far more complicated to work out than the menus. Both have stolen shamelessly from others to pop on to the market fully-formed. Two start-ups in search of a roll-out, they're the restaurant equivalent of instant coffee – just add customers.
Chop Shop, the only restaurant you've never heard of on a strip of chain joints just below Piccadilly Circus, is an American steakhouse done London-style. But if that makes it sound like Hawksmoor, don't get excited. A chop shop, in US slang, is a garage which breaks down stolen cars to sell them for spare parts. Well here, they've done it the other way round, and assembled stolen parts into a business.
There's not one thing here you haven't seen done better somewhere else – the décor (stripped-back brick walls, reclaimed wood, school pegs etc…) comes from Polpo by way of umpteen other places. The menu, with its jars of this, planks of that and skillets of the other, is a try-hard tour of steak-house staples. Only the staff, lightly tattooed and mainly clueless, don't seem to have previous form in other restaurants.
The tables may well have been stolen from Hamleys – so tiny, they offer barely enough room for your arms, never mind bits of other animals. But that's OK, because Chop Shop has borrowed the small plates concept, too. Hanger steak seemed decent value at £14, until it arrived, a weeny, timid thing, sliced tagliata-style to hide more of the plate. A daily special of Barnsley chop came unadorned with just a bulb of grilled fennel for company, but at least it tasted of something.
The only original creation is a regrettable mash-up of British and American-Italian tradition, in the form of 'cottage pasta pie'. Served in a cast-iron skillet , apparently straight from the core of a nuclear reactor, it partnered gnocchi and oxtail ragout under a breadcrumb crust. I didn't entirely hate it, but if I'd have waited for it to cool down, I'd still be there now. Mind you, if I'd waited for a waiter to bring us dessert menus unprompted, I might also still be there now.
Chop Shop is the first UK venture by an American restaurant group who signed a 10-year lease for this site. The place is so carbon-datable to 2013, it's odd to speculate how it will feel in 10 years' time, though I rather suspect we may never find out.
To give them credit, at least Chop Shop is independent(ish) among a sea of chains. Grillshack is different – a proto-chain, owned by London's richest restaurant magnate, sitting like a cuckoo in a nest of cool independents on a hip Soho food street. It's the brainchild of Richard Caring, whose previous investments include the Caprice and Soho House groups, Bill's, and Côte.
Grillshack sees him try to cash in on the dude-food trend, which started in the car park of a New Cross pub, and has now reached the City. Figuring that the best way to start a chain is not to make it look like a chain, Caring bought out the lease from a bar at a reputedly huge premium, and set about creating a new market-ready concept from scratch – if you can call a by-the-numbers synthesis of Chicken Shop and Shake Shack 'creating'.
Thing is, it's all been done rather well. The food is decent, and remarkable value, with a flattened rump steak with shoestring fries coming in at £9.95, half a juicy, crisp-skinned chicken for £7.95, and burgers – proper ones, not processed meat-mulch drowned in mystery sauce – starting at £4.95.
Grillshack's menu doesn't go on about suppliers, but the foodie credentials are there, with Brewers & Union craft lager on offer and baking heroes Galeta supplying the friable biscuits in an addictive-as-crack chocolate chip cookie/ice-cream sandwich.
Caring built his empire on restaurants that make old people feel comfortable – The Ivy, Scott's – but Grillshack is the opposite, with a hi-tech ordering system to leave those silver surf'n'turfers feeling bewildered. In a gimmick which will likely become the norm, you order at the counter (as in Nando's), via touch-screen (as in Inamo) or via an app on your phone (as in The Future).
As much as I wanted to hate Grillshack, and denounce it as the end of days for independent restaurants in Soho, I couldn't. I've seen the future and it works. And it's doubtless coming to a high street near you soon.
Grillshack, 61-63 Beak Street Soho, London W1. Around £15 a head for two courses with a glass of wine
Food ****
Ambience **
Service ****
Chop Shop, 66 Haymarket London SW1 (020-7842 8501). Around £50 a head for three courses with a glass of wine
Food ***
Ambience **
Service **
Join our new commenting forum
Join thought-provoking conversations, follow other Independent readers and see their replies