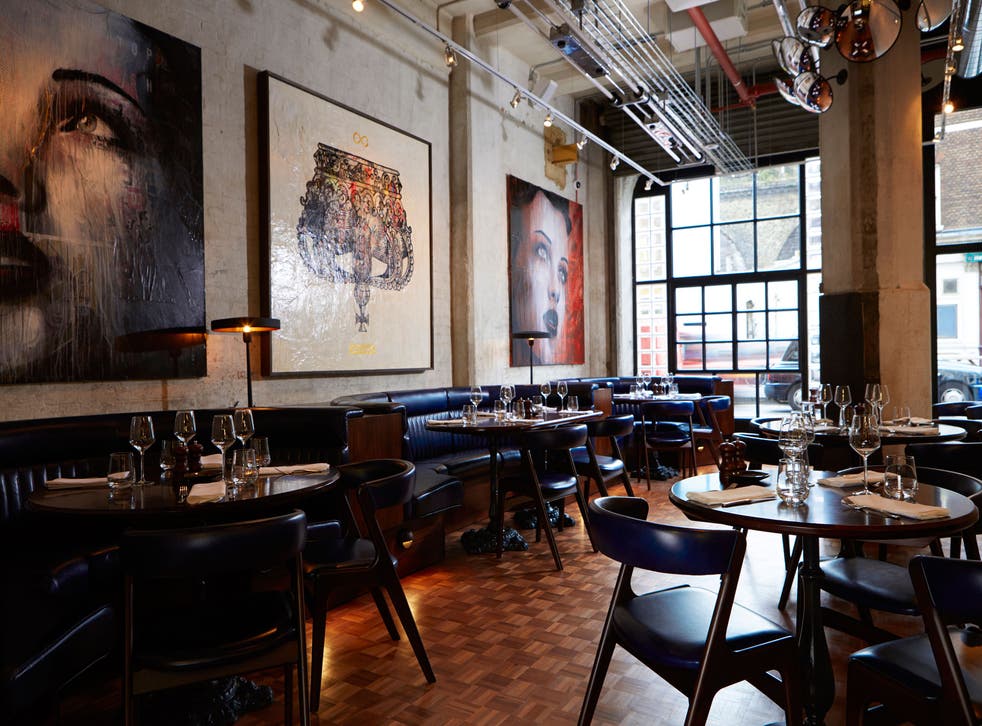 Restaurant review: Gordon Ramsay's Union Street Café is a terrific Italian but what's the Beckham connection?
Union Street Café is not a café, and isn't strictly in Union Street (see address below) but it's certainly the most talked-about new restaurant of the autumn. This, you'll doubtless know, is because it was rumoured that its owner, Gordon Ramsay, the former footballer who once had a trial with Rangers, was going into partnership with David Beckham, the well-known foodie.
Why this macho convergence would have made for an ideal restaurant is hard to fathom (have we a picture in our heads of Victoria in a lace pinny, sulkily announcing the daily specials? No? Just me, then) but it doesn't matter now because Beckham chose not to invest any dosh. So the USC is just a new Gordon Ramsay joint, in a funny part of town.
Great Suffolk Street isn't hopelessly grotty, just a bit down-at-heel. It, and Union Street which it bisects, are in the heart of Southwark, the raffish heart of Olde South London that's now so trendy, bounded by Tate Modern, Borough Market, Guy's Hospital and the London Dungeon. I think it appealed to Gordon because it's London's version of Brooklyn – edgy, but without the West End's gleam and swagger. And there's a famous Union Street in Brooklyn…
The restaurant's name is announced in a scribble on the wall, the menu is hand-scrawled daily, and there's a lot of studied informality in the décor. I've seen so much industrial/warehouse chic in new restaurants lately, it's begun to look like the only décor choice available in LondonEatingLand: untreated concrete pillars, fat ventilation shafts, wire-basket lighting, no tablecloths. The only individual touch here, a vase of flowers on a stone pedestal, is probably ironic.
The food, though announced as 'Mediterranean', is very Italian, taking in influences from north and south: the head chef, Davide Degiovanni, is from Cuneo, home of the luxurious Cuneesi al Rhum chocolate, but also birthplace of Michele Ferrero, maker of you-know-what. Anyway, Sgr Degiovanni has cut his teeth at L'Escargot and Locanda Locatelli, as well as Mayfair hotels, and brings an expert hand to dishes from Piedmont to Puglia.
From the antipasti, calamari fritti offered a handsome selection of battered squid, arrayed in a teetering pile on a single hefty slice of beef tomato. The shellfish was tasty and the batter (made with polenta flour) just right. Sardinian artichokes were cooked to a perfect al dente texture and whacked with flavour by Ligurian olives surmounted by shaved pecorino: dead simple but delicious.
We shared a pasta-course plate of linguine vongole that featured the most buttery pasta I've ever eaten. I could hear my arteries hardening as I devoured the shelled clams and mussels, and discovered unexpected slices of tiny peperoncini chillies lurking in its cholesterolic depths. I asked our extremely pleasant and helpful waiter, Carlo, where the ingredients came from. He assured me the management brought fish and shellfish fresh from Italy every day. When I raised an eyebrow, he checked with the kitchen and reported back, "I was wrong. The clams are from Cornwall, the mussels from Wales".
Angie's main course of scorfano (meaning scorpion fish, though it's also Italian for 'ugly' – and it really is one ugly mother, with poisonous spikes on its dorsal fin) arrived looking like a couple of enormous chips. The fish had been coated in a light, herby breadcrumb carapace, crispy and toothsome, while the assembly of rainbow chard, radicchio, tomato and capers was a Fauvist palette of brilliant colours which it was a shame (but a necessity) to eat.
My saltimbocca was astonishing. This classic Italian dish involves a very flat slice of veal covered with sage leaves and prosciutto ham, fried and served with pan juices – usually accompanied by sauté potatoes and vegetables. Here, the veal is immense, headily perfumed with sage – and accompanied only by a mountain of lightly fried zucchini strips. The chef deserves a medal for keeping this dish simple, dramatic and irresistible.
A fine panna cotta (made without gelatin, super-soft and creamy) with grappa-infused figs ended a meal notable for style and simplicity, and for the charm of the waiters (and the intelligent by-the-glass suggestions from Angelica the Polish sommelier).
I'm not sure Gordon Ramsay has pulled off the Brooklyn-comes-to-London effect he may have wanted, but he's certainly established a terrific new Italian in drab SE1. And now I can't help wondering – was that the reason for the Beckham connection? Brooklyn?
Food ****
Ambience ***
Service ****
Union Street Café, 47-51 Great Suffolk Street, London SE1 (020-7592 7977). About £120 for two, with wine
Join our new commenting forum
Join thought-provoking conversations, follow other Independent readers and see their replies