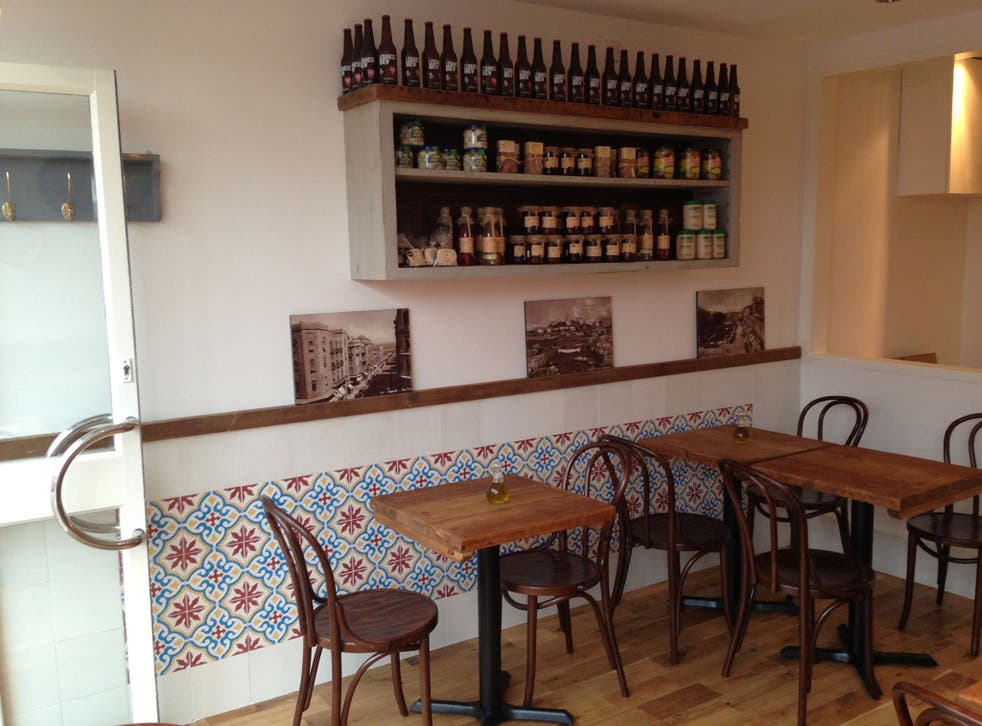 Restaurant review: Tooting's jolly new diner Meza is a real find for foodies
Meza, 70 Mitcham Road, Tooting, London
Did you know there's a crater on Mars called Tooting? A huge great thing, 28kms in diameter, it was named after the south London district in 2005. What a comfort it will be for homesick British astronauts in the future, to land on the Red Planet and discover a piece of SW17 yawning before them.
Tooting has been considered rather a naff destination for too long. It was namechecked in Robert Hamer's Kind Hearts and Coronets, as the epitome of suburbia. It was the manor of urban revolutionary Wolfie Smith, the Russell Brand of his day, in Citizen Smith – his rallying cry of "Freedom for Tooting!" stirred many hearts in the late 1970s.
But the mockers have always been misguided, because Tooting has form and pedigree. It was a village before Saxon times. It's in the Domesday Book. It can boast both George Cole and Paul Merton, those bastions of modern culture, as one-time inhabitants. And I'm happy to report that Tooting is now enjoying a foodie transformation.
Into the dispiriting wasteland that men call Mitcham Road, things are stirring. At No 122 there's Rick's Restaurant, a buzzy, pan-European eating house whose chef-proprietor, Rick Gibbs, was head chef at the Chelsea Arts Club.
Recently opened at No 145 is The Little Bar, a cool and friendly drinking establishment co-owned by Madeleine Lim (formerly food and drink honcho at this magazine) where the cocktails are terrific – they include the Vesper, James Bond's vodkatini, as invented by Ian Fleming in Casino Royale – and an excellent Osaado Malbec costs only £18 a bottle. Nearby in Tooting High Street, a Chicken Shop opens this month, part of Nick Jones's vast Soho House empire. The first Chicken Shop opened in Kentish Town, the second in Highgate, and both are now regularly crammed like a battery-hen coop, only with better seating.
The real find for foodies, however, is Meza. It's the second Meza opened in Tooting by Hikmat Antippa, aged 31, who comes from Tyre in the Lebanon; founded in 2750BC, it's even older than Tooting. Hikmat (nobody seems to call him Mr Antippa) started his cookery career working for Caprice Holdings at their flagship fish restaurant J Sheekey in London's West End, before leaving to start his first Meza next door to Tooting Bec Tube station.
We visited the new place on its opening night, to find Hikmat beaming with relief. "Four days ago," he breathed, "this place was a building site." We prepared to make allowances for first-night nerves, dropped vegetables, and outbreaks of temper, but none was forthcoming.
It's a cheerful, family-friendly place, whose décor is rather thrown together – woven baskets on the wall, Lebanon-souk ruggery on the benches – but the food is very focused.
The menu offers cold meze, hot meze and eight main courses, and you soon discover nicely original touches in familiar dishes. Moutabal, a Lebanese version of baba ganoush, combined lovely smoked aubergine with tahini. Hummus Awarma introduced walnuts and diced bits of lamb to the nation's favourite dip.
Reaat Bil Jeben brought pastry envelopes of cheese and mint, a combination that should have had nothing to say to each other, but did. I've had kibbeh a thousand times, but the ones in Meza – fat teardrops of minced lamb, crushed wheat, onion and pine nuts – were yummy. Soujouk is familiar from a hundred Greek dinners; the Lebanese version is the same garlicky lamb sausage, but with more chilli. A you-must-try-this dish of Bemieh Bil Zeit turned out to be Egyptian okra with tomato and coriander, the okra pan-fried in chunks to de-slime it.
My guest Tim opted for Kafta Djaj, or skewers of grilled minced chicken with onion and parsley, which were perfectly OK barbecue stuff. But nothing prepared me for my Farrouj Meshwieh. It's glossed on the menu only as 'Grilled baby chicken', but was one of the great chicken experiences of my life.
The poussin had been spatchcocked, then de-boned with surgical precision ("It's done by a master butcher of chickens called Nader Hachem," murmured Hikmat), then marinated in garlic, roast peppers, lemon and olive oil for 24 hours, and roasted over charcoal. The result was swoon-makingly soft, juicy and tender, the flesh puckered in nubbly ridges, the blackened edges deliciously crusty, the whole thing like comfort food as ordered by the gods of Lebanon.
I couldn't eat a thing after it, only finish the white wine and call for fresh mint tea. I hope Tooting enjoys its new incarnation as a gastro-district; one thing that would definitely bring me back here, time and again, is Hikmat's jolly neighbourhood diner and his perfect poussin.
Food ***
Ambience **
Service ****
Meza, 70 Mitcham Road, Tooting, London SW17 (07771 333157). Around £60 for two, including wine
Join our new commenting forum
Join thought-provoking conversations, follow other Independent readers and see their replies