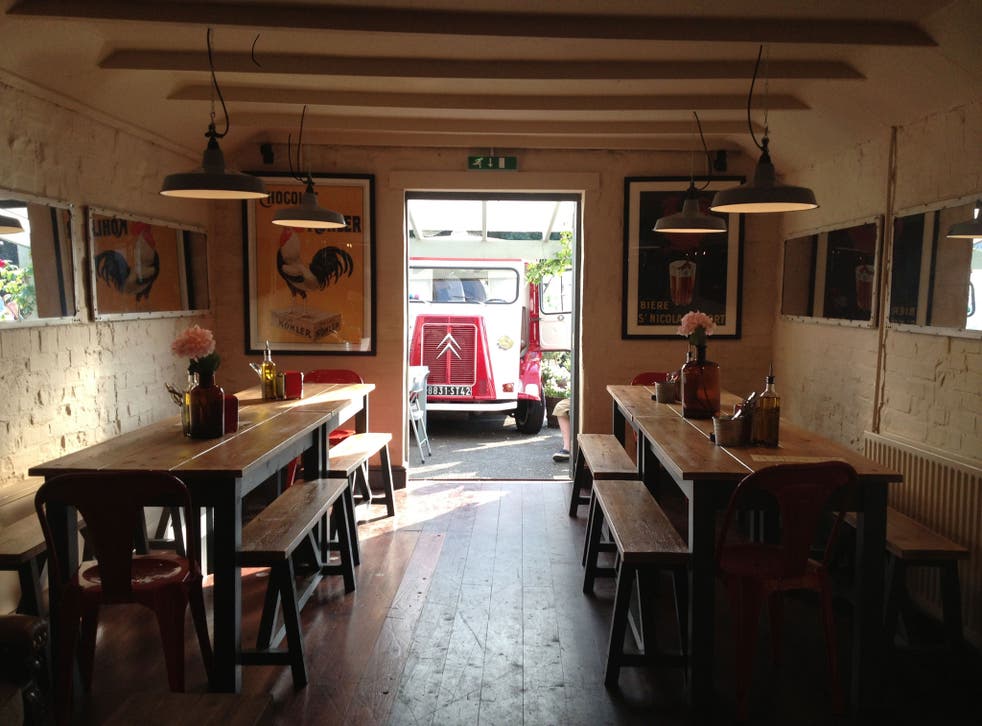 The Richmond Arms, restaurant review: Search for great country-pub food ends in West Sussex
Mill Road, West Ashling, Chichester PO18 (01243 572046)
It could be that extreme middle age has turned me into a nicer, less critical person, or it could be just plain dumb luck, but I seem to have found a lot to praise in the restaurants I've reviewed lately. I declared Jason Atherton's new gaff in London, the Social Bar and Tapas, the best tapas joint outside of Spain. I emerged from the pure-minded and forage-tastic Silo in Brighton shouting that it offers the best food I've tasted this year. Now I've gone looking for the best summer country-pub restaurant in the south and all I can say is: call off the search. It's the Richmond Arms.
We were at the Qatar Glorious Goodwood Festival and, seeking a spot of lunch away from the racecourse, wound our way through the lanes of the South Downs National Park. In this rustic Nowheresville, we found the delightful village of West Ashling. It's in the parish of Funtington, a name that would bring a smile to an ayatollah. Past the village green, at the end of Watery Lane (no, really), we found the millpond, on which ducks and moorhens were blithely sticking their arses in the air, while a hooligan crew of white geese with orange bills cruised about looking for trouble. Talk about idyllic.
The Richmond Arms appeared, a little nondescript at first glance, but with a nice white/grey paint job at the front and a cream-and-white van emblazoned with "Richmond Arms Mobile Kitchen". Inside the pub, everything is stripped-down and cool: the décor is white and RAF blue, with simple wooden tables on bare floorboards. Plaster ducks in a variety of patterns perch on the walls. Oyster shells hold sea salt and ground pepper. Home-made crusty bread is housed in a miniature bucket.
These stylish little touches fill you with confidence, as does the menu, which is written with a tangy lyricism that makes you salivate: "Hot molten crispy stuffed courgette flower, pecorino, basil, olive, heirloom tomato," anyone? How about "crispy local braised venison sausage roll, kataifi pastry, almonds, sweet persian spices"? Three kinds of Hampshire woodlands steak were on offer, cooked over "local charcoal", but we went for rather more subtle choices.
My tempura softshell crab starter was a huge, rather threatening beast, miraculously crunchy around the claws and delicately soft in the middle – sheer bliss when anointed with the zing of miso mayonnaise. A Gordian knot of watercress, nashi pear and peanut praline did nothing for the crab but were a sublime burst of fruit'n'nut. Angie's Selsey lobster wonton was a sophisticated taco shell enclosing the freshest, slitheriest lobster meat imaginable, tricked out with a sambal of avocado, cucumber, coconut and macadamia nut. It was insanely refreshing.
I ordered a third starter, unable to resist the words, "Hot and runny chorizo scotch egg, saffron aioli, pickled fennel". It arrived on a bed of straw, in a ramekin, on a slate – perhaps overdoing the rustic theme, but I thought it was charming. The yolk was the orangest thing in the world this side of Donatella Versace, and the chorizo carapace was gratifyingly medium spicy, until it caught the back of my throat. These three starters yelped with originality.
Main-course chicken – sorry, "crispy skin aromatic poussin" – was a toppling ziggurat of ingredients, with six or seven baby-chick legs and wings piled high with watermelon, cashew nuts, spring onion, tarragon, iceberg lettuce and purple baby mangetout. The whole dish was a chicken salad taken to mad extremes, blending a motley crew of flavours to brilliant effect. The legs were glazed to an unctuous, gleaming finish: the Sydney-born chef, William Jack, vacuum-packs the chicken with soy, ginger and herbs, cooks it all in a water-bath, and finishes it in a pan. I ate them greedily with my fingers.
Angie's Dover sole, served on a square wooden platter, was a weird, brown-green colour, as if one of the millpond drakes had been run over. It had been grilled with a blanket of rocket, celeriac, lemon peel and garlic, and was served with sautéed potatoes, broccoli and greens – a very British assemblage amid the Oriental-tinged accompaniments. The sole was cooked to white perfection.
Over a wonderfully creamy wild strawberry fool with elderflower cheesecake foam and almond crumble, we learned from our maitresse d', Anna, that the "mobile kitchen" outside the pub serves wood-fired pizzas and tapas at weekends. Just one more reason to visit this exceptional restaurant which, I discovered at the end of lunch, got into the Good Food Guide last year and was awarded Best New Entry for 2014.
I'm not surprised. The food here is hearty, filling and full-flavoured but also full of subtlety and imagination. Go to Funtington, and you'll find yourself pretty close to Euphoria.
Food ****
Ambience ***
Service *****
Mill Road, West Ashling, Chichester PO18 (01243 572046). About £40 per person, before wine and service
Join our new commenting forum
Join thought-provoking conversations, follow other Independent readers and see their replies