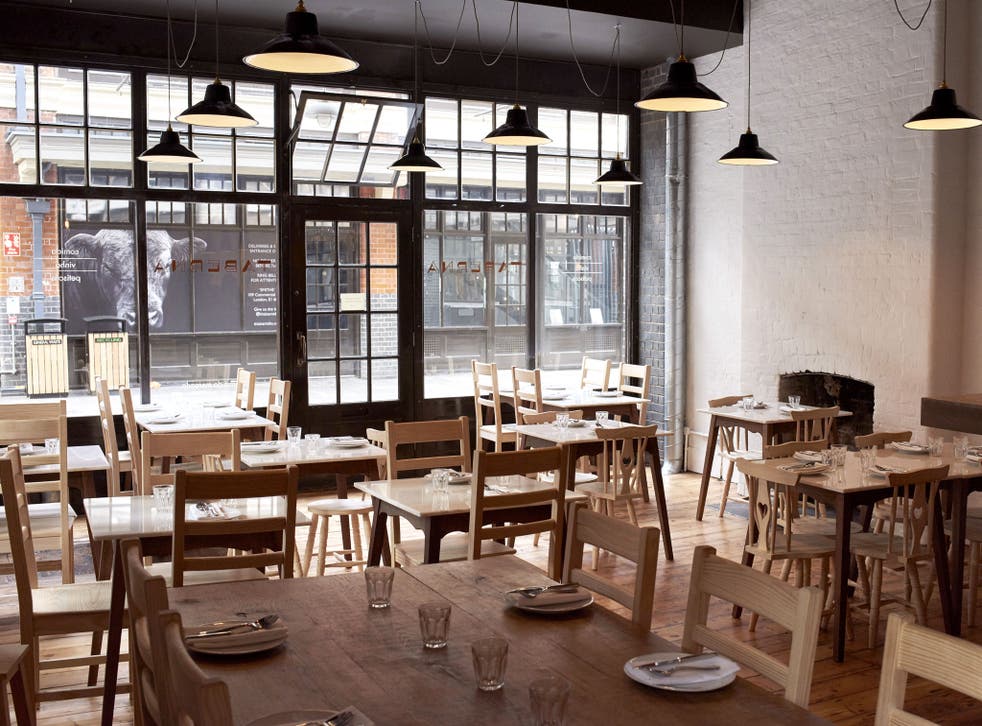 Taberna do Mercado, restaurant review: 'Nuno Mendes' new place is quite unlike the Firehouse'
Old Spitalfields Market, 107b Commercial Street, London E1
By 9pm I was beginning to wonder: where the hell is everybody? There were no washed-up actresses, visiting American movie titans, teenage fashion divas with kohl-drenched eyes, curly-haired boy-band members, no one from Made in Chelsea. Not even Lindsay bloody Lohan could be arsed to show up. Where was everybody? Hadn't they heard that Nuno Mendes, head chef at the awesomely fashionable Chiltern Firehouse, had opened a new restaurant in Spitalfields? My co-diners were also looking worried by the dearth of celebrities. Then, at 9.05, Jonathan Pryce strolled in and sat at a corner table. Whew! It's started…
Actually, Nuno's new place is quite unlike the Firehouse, and not just because there's no sign of Alexa Chung. Mendes has gone back to his Portuguese roots for inspiration. Did you know that Portugal introduced the tempura technique to Japan? You can try it at the Taberna in the runner-bean fritters. The beans are deep-fried in a batter of potato flour, lemon, coriander and wine, and served with caramelised onions. They're so delicious, you can't eat them fast enough.
Prawn rissóis (yes rissoles, though our waiter Antonio pronounced it "rissoich", as in "I'm doing lots of rissoich for my MA thesis") are serious brown objects like miniature Findus Crispy Pancakes. Their hard carapace breaks open to reveal a runny brown bisque of prawn heads infused in milk – a heady contrast in textures, with a spicy kick .
Far from designing a restaurant to attract Firehouse trendies, Mendes has gone for a Lisbon backstreet, Bairro Alto look. The restaurant is small, with whitewashed walls, fake-marble tables, child-sized wooden chairs, plain wood floors and an industrial-chic ceiling. They don't take bookings, so you must put your name down for a table before being shooed away (by Turku, the meltingly beautiful maitrêsse d') to wait over drinks somewhere in Commercial Street. You can dine al fresco, if you fancy gazing at the empty metal racks left by the market stallholders. The solitary loo is located downstairs, just off the kitchen. The menu is long and skinny, hung from the tables on hooks, and the dishes steer clear of big statements: this is a tapas bar, ushering traditional-but-weird Portuguese tastes your way without fuss or drama.
In the modern way, everything arrives simultaneously, so that when the hot dishes are ready, you haven't had time to scarf down all the cachaco. This is cured meat from the classy Bisaro Salsicharia supplier of Braganca – the Ginger Pig of Portuguese charcuterie. It's wonderfully soft and piquant, somewhere between salami and chorizo, and goes brilliantly on the Taberna's toasted sourdough.
Even better is the tinned monkfish. No, not that sort of tinned. They take the monkfish (or cod, scallops, mussels or mackerel) and tin it themselves, then cook it sous-vide to lock in all the flavours. The fish is soft (which is odd, since monkfish is the most firm of white fish) and tastes zestily gorgeous on oily sourdough with a flake of pickled cauliflower on top – a rustic treat in which the oil runs down your chin, and you wipe it away with the back of your hand like an Alentejo peasant.
Cuttlefish and pig's trotters coentrada was a triumph of juxtaposition – the toe-jam dirtiness of the pork sliding around the marble-white, supple Amazonian flesh of the cuttlefish in a sexy and unexpected dance. Best of all is pork tartare – the pork sliced up, smoked on coals then cooked in a cozido broth (involving chicken, pork, salami and Portuguese sausages) with white cabbage and mustard. It's so smokily intense, you feel you're swallowing a charcoal cloud.
Not everything worked so well. I couldn't get excited by carrots escabeche, in which the veg is fermented for two weeks in salted carrot juice; it seems a labour-intensive way of making carrots taste of vinegar. Asparagus and fennel migas also disappointed. Portuguese migas aren't, sadly, the Tex-Mex kind (with scrambled eggs, tortilla, onions and chilli); their main ingredient is leftover bread, smushed up with garlic and oil. I'm sure it's terribly authentic, but it seemed just an insipid porridge with some dispirited asparagus sliced up in it.
From a choice of four puddings, we went for abade de priscos and port caramel, an acquired taste given that it's made with egg yolks, orange zest, cinnamon – and pork fat. It tasted OK, but that meat constituent lingers on your lips and makes you wish you'd tried something else.
It's a funny place, Nuno's market tavern – small, interesting, slightly challenging, sometimes off-putting. But there's plenty to excite the Euro-foodie, the staff are charming and enthusiastic – and you don't have to keep twisting round to see people from fashion magazines walking in through the door.
Food ***
Ambience ***
Service *****
Old Spitalfields Market, 107b Commercial Street, London E1 (0207 375 0649). Around £60 for two, sharing, before wine and service
Join our new commenting forum
Join thought-provoking conversations, follow other Independent readers and see their replies