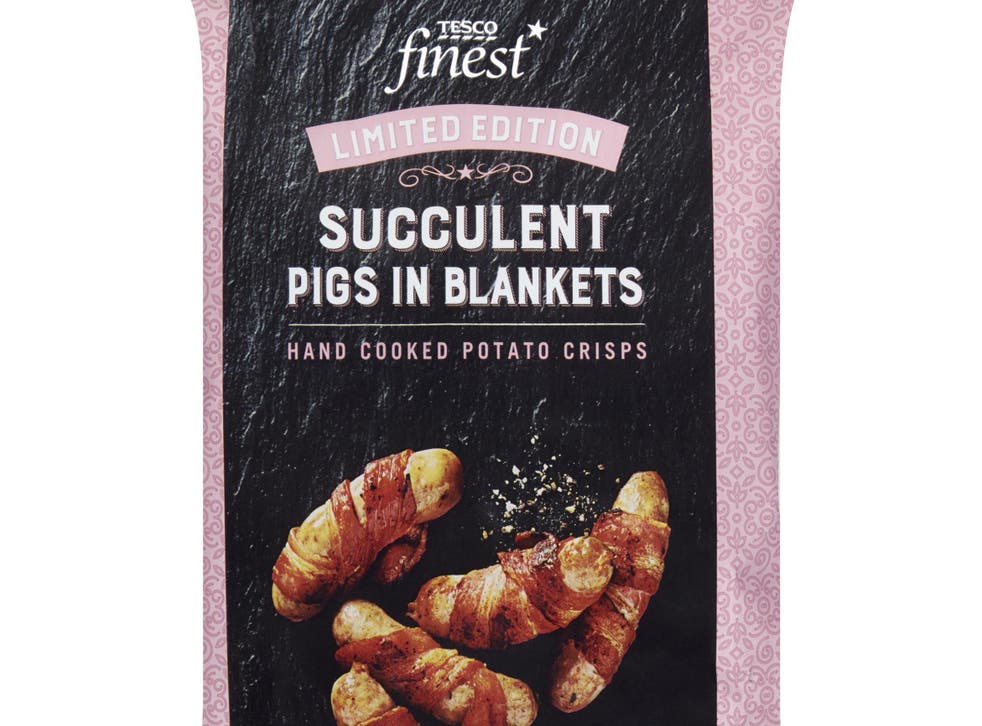 Tesco's new pigs in blanket crisps are dividing the internet
And they're not the only supermarket to create the new crisp flavour
Pigs in blankets. Sausages wrapped in bacon. Pork on pork. Is there anything better?
How about this delightfully British treat reincarnated in crisp form?
No, this need not just be some elusive figment of your imagination, for Tesco has created what may be the nibble of your dreams, the snack of the season and the downfall of your diet: pigs in blankets flavour crisps.
Yes, because this is 2017 we are no longer satisfied with staples such as cheese and onion, salt and vinegar or - God forbid - ready salted.
So Tesco has launched a limited edition flavour, where every crisp should be bursting with the flavour of succulent sausages and smoky bacon. A packet will set you back £1.
Whether you put out a bowlful at your upcoming Christmas party or save them for the hangover the next day, the salty snacks could become a staple for the season.
That said, the internet is largely divided when it comes to the new creation, with some people salivating over the idea and others arguing that crisps and pigs in blankets should remain two separate entities.
We tried the crisps, and they were nice. Not mind-blowing, but tasty enough. Rather than tasting like a full-blown pig in a blanket, they're more like smoky bacon crisps with a hint of sausage.
Tesco isn't the only supermarket to launch the flavour though - M&S and Asda also sell pigs in blankets flavour crisps
And it's not the only new flavour of crisps from Tesco that have set tongues wagging - the supermarket has also launched candy cane potato snacks.
Yes, really.
They're meant to be salty and sweet but have a noticeably pink hue to them.
Most people online seem not to be convinced, but others argue that the crisps would make a great drunk snack.
I for one am of the opinion that alternating eating pieces of milk chocolate and ready salted crisps makes for a taste sensation, so Tesco, if you're reading, can we have that next please? (Trust me.)
Join our new commenting forum
Join thought-provoking conversations, follow other Independent readers and see their replies