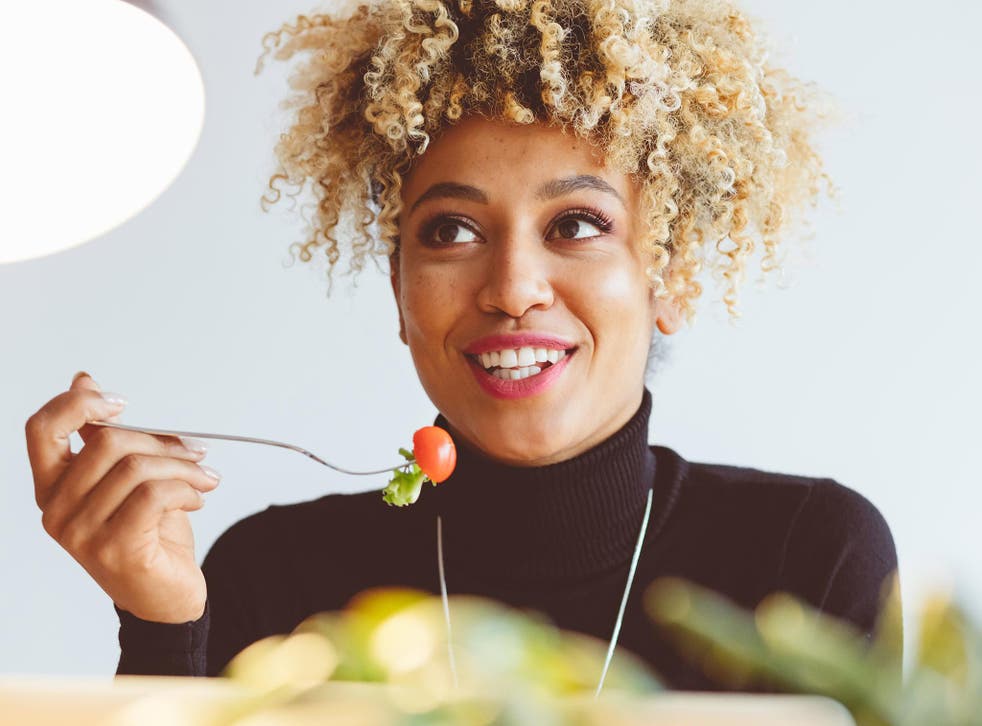 How to make tofu actually taste nice, and other tips for going vegan without losing your mind
Food writer  Ashley Mellilo, who gradually turned vegan, shares her tips on how to switch to a plant-based lifestyle 
Veganism has gone from a niche lifestyle choice to a mainstream diet in just a decade, with a 360 per cent spike in the UK since 2006.
But separate research suggests that those who choose a plant-based diet can struggle to commit, with one US-based study showing that 84 per cent turn back to meat. Despite its popularity, the vegan diet is understandably tricky to stick to in a world where practically everything seems like it is dripping in melted cheese (thanks, Facebook food videos). When faced with a plate of bland, badly-cooked tofu or a comfortable, failproof burger, it can be hard to stick to the plant-based diet you were once so set on.
Luckily, Chicago-based food writer Ashley Mellilo is here to help. A former meat-eater, she is now a committed vegan who recently released her book Blissful Basil.
While she went cold-turkey overnight to become a vegetarian in 2010, it took her six months to gradually reduce her dairy and egg consumption and turn vegan. Of course, she has the expected "veganism changed my life for the better" story, but she says it not only improved her physical health, but her mental well-being, too.
Inspiring vegan food from Blissful Basil - In pictures

Show all 10
"Not only do I feel much more at peace, energised, and sharper than ever before, shifting my eating habits has also been instrumental in managing anxiety.
She adds: "Just as there isn't a quick path or permanent route to happiness, there isn't a quick fix or magical pill to dissolve anxiety. Rather, the solution has been an ongoing, ever-evolving process of shifting several of my habits and voting in favor of myself one small choice at a time."
Mellilo is a persuasive devotee to veganism, and has an appetising and varied diet.
She even knows how to make tofu taste like more than rubber: "Tofu needs a little more love than most foods," she explains.
"For the best texture, it's important to press the excess water from tofu before cooking. I stick to two cooking methods: dry sauteing thin slices in a pan and tossing them in spicy chile-garlic sauce or making a tofu scramble like the Southwest Tofu Scramble in my book."
So, what does a hardcore vegan actually eat day-to-day? "I'm a smoothie lover, so that's often my go-to breakfast, but lately I've been enjoying a warm bowl of oats with almond butter and berry compote or coconut yogurt topped with homemade granola and a drizzle of maple syrup," says Mellilo. So far, so delicious.
"Some of my go-to lunch meals include: roasted sweet potatoes (or other veggies) and steamed leafy greens with brown rice, mashed avocado, pomegranate seeds, and fresh herbs.
"Dinner is my favourite meal of the day, and I love making something that's just as satisfying as it is nourishing. Lately, I've been making seasonal power bowls and warming soups. I have a total sweet tooth, so I almost always have something sweet after dinner, usually banana ice cream with peanut butter and chocolate or leftovers from whichever dessert recipe I've recently tested."
However, for all her saintly eating habits, Melillo isn't a holier-than-though food blogger, and happily admits that plant-based-eating, or just feeding oneself in general, has its difficulties.
"For every picture-perfect recipe, there's an equally disastrous one that goes unshared, and I've certainly caused my fair share of kitchen catastrophes. I've spilled five pounds of sugar onto the kitchen floor and had sticky feet for months, singed my hair over the stove, have set off the smoke detector more times than I'm wiling to admit in the last year alone, and have created a baker's dozen worth of inedible baked goods like chewy donuts, desert-like cookies."
Her advice to apprehensive potential vegans is to go back to basics.
"Once you've pinned down a few go-to meals and acquired an arsenal of pantry staples, like oats, quinoa, lentils, brown rice, it's just as easy if not easier to eat vegan than it is to eat meat- or dairy-based. As with most things worth investing in, developing new habits and routines while transitioning to veganism means you'll need to dedicate extra time to learning at first, but once you gain a bit of momentum, it requires little effort to maintain."
"My motto: Have fun. Great cooking lessons come from monumental cooking disasters."
Join our new commenting forum
Join thought-provoking conversations, follow other Independent readers and see their replies