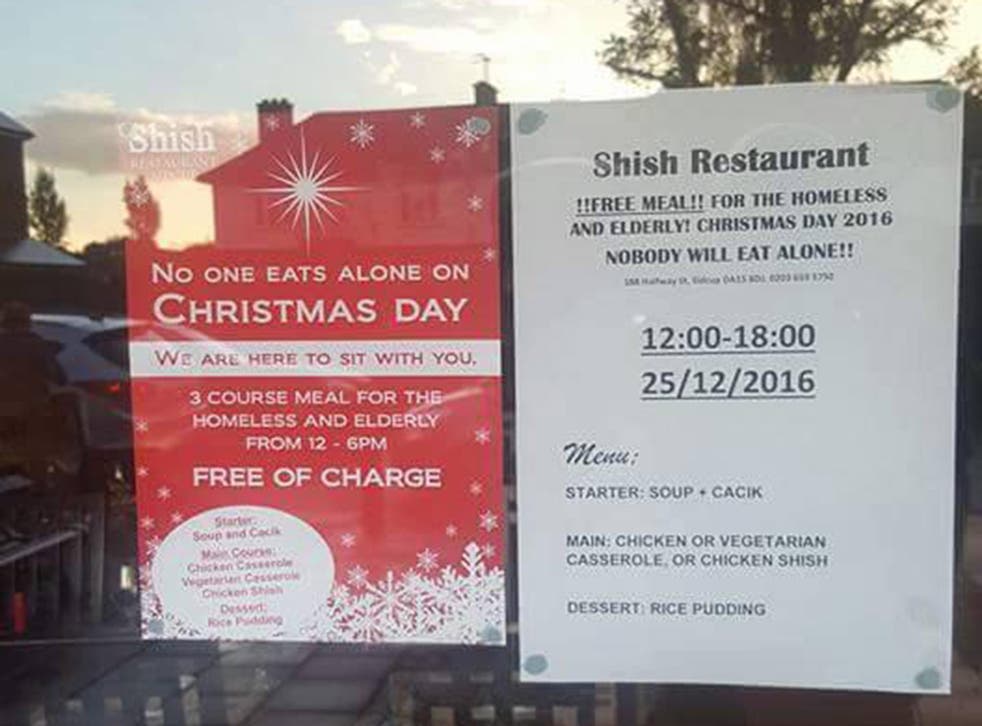 Muslim-owned restaurant offers elderly and homeless free meals on Christmas Day so 'no one eats alone'
'This is the most selfless gesture I have ever seen and they should be recognised as a pillar of the community,' social media user says
A Muslim-owned restaurant in London is offering a three-course meal to homeless and elderly people on Christmas Day so that "no one eats alone".
Shish Restaurant, in Sidcup, is asking local residents to spread the word of its offer and has put up posters saying "We are here to sit with you" on 25 December.
The restaurant urged people to share its plan through social media - where the initiative was widely praised.
Vicky Lanfear wrote on Facebook: "This is the most selfless gesture I have ever seen and they should be recognised as a pillar of the community."
Suzannah Harris added: "What a lovely gesture; a restaurant that gives something back instead of merely seeing Xmas as a time to cash in. Will definitely visit in the new year if ever in the area."
Linda Leach wrote: "There is still kindness in this world. Amazing people."
The gesture also received a postive reaction on Twitter, where one user posted: "A wonderful gesture. Now that's REAL community spirit! God Bless them."
Another user, called Sally Barnes, posted: "These are the kind of acts that the Muslims I know carry out with generosity. Someone tell the Daily Mail please!"
Couple wins free pizza for a year, donates it all to the homeless
The free three-course meal is available between 12pm and 6pm on Christmas Day. It includes a soup and Cacik as a starter, a choice of chicken casserole, vegetable casserole or a chicken shish as a main dish, and rice pudding for dessert.
Join our new commenting forum
Join thought-provoking conversations, follow other Independent readers and see their replies