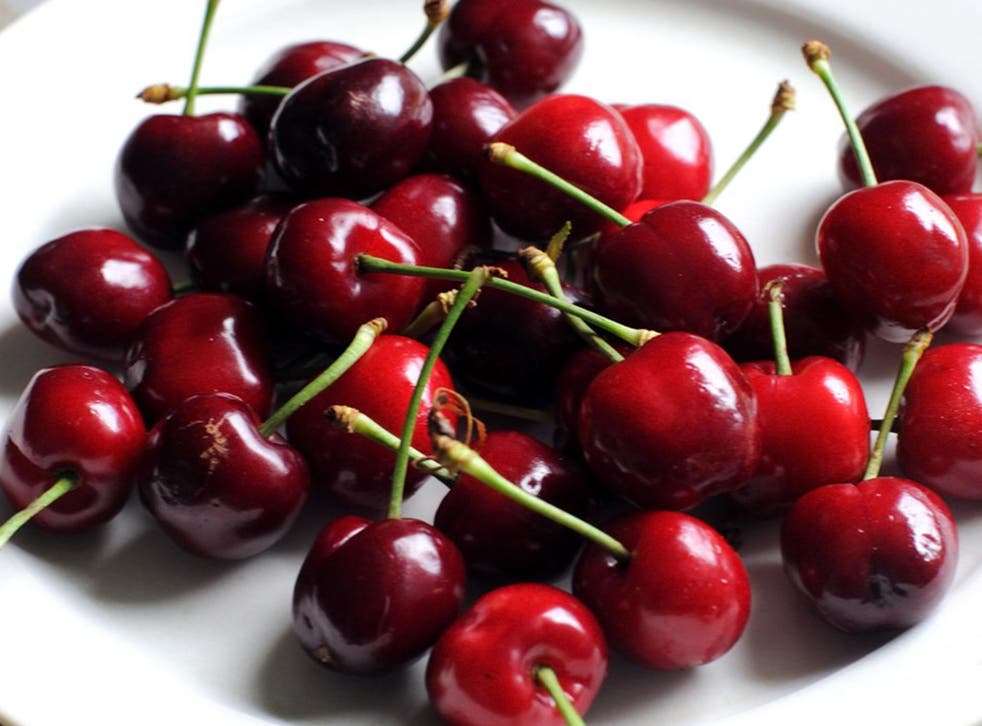 What's in season: How to make the most of cherries in June
British cherries' unmistakable flavour can make all the difference to both sweet and savoury dishes. Here are five choice picks from some of the UK's best chefs
There's a bit of a ritual when it comes to eating fresh cherries. Picking off the stem, biting your way around the stone and, if they're really, really fresh, the inevitable battle to stop the juice dripping down your chin onto your (inevitably white) top.
The fact that these little red stone fruits are only in season for a few months just adds to their allure – you'll see them in the shops as the weather gets warm. Then, before you know it, they're gone, with only frozen or tinned varieties left until next year.
Most of them appear during July and August, although varieties grown throughout Europe can appear a bit earlier.
While cherries are perfectly delicious simply eaten on their own, they also work really well in recipes, lending their deep red colour and intense flavour to all manner of dishes, both sweet and savoury. Whether they're used to garnish a plate, put centre stage in a dessert or cooked down into a sauce for rich meats, they can make all the difference to your cooking. These five recipes come straight from the minds of five world-class chefs, and will give you a newfound respect for this colourful little fruit.
Cherry soup by Shaun Hill
This incredibly simple chilled soup could work as either a refreshing dessert or a palate-cleansing starter with a difference – just make sure you serve it on a hot summer's day. To prepare it, you just combine pitted cherries, rosé wine, a few spices and some sugar into a pan and reduce it down, before blending and passing it through a fine sieve. Then it's just a case of garnishing with toasted almonds, creme fraiche and a few extra cherries. Shaun Hill is one of the UK's most enduringly successful chefs, taking the best ingredients and presenting them simply, and this dish is the perfect example of his cooking – putting produce centre stage with a light twist.
400g of pitted cherries, a few reserved for garnish
1 tsp plain flour
​500ml of rosé wine
1 vanilla pod
1 cinnamon stick
50g of soft brown sugar
1 lemon, juiced
4 handfuls of flaked almonds, toasted
4 tsp creme fraiche
In a large pot, combine the pitted cherries, flour, wine, sugar, cinnamon and the vanilla pod and bring to the boil. Once boiling, turn down the heat and simmer for 15 minutes​. Remove the pot from the heat. Discard the vanilla pod and cinnamon stick and blend the remaining liquid in a blender until almost smooth. Return the liquid to the pan and bring back to the boil. Remove from the heat and pass through a fine sieve. Set aside to cool.
Once cool, add the lemon juice to the pan and mix. To serve, divide the soup between 4 bowls and garnish with some toasted almonds, creme fraiche and the reserved cherries.
Cherry chocolate cooler by Paul A Young
Is the heat getting to you? Chocolatier Paul A Young has the answer with his very tasty take on hot chocolate, with plenty of fresh cherries and a good glug of kirsch thrown in for good measure. Combining chocolate with water might sound counter-intuitive, but with the help of the blender they actually combine very well, creating a refreshing iced cocktail that doesn't have the cloying sweetness that sometimes comes with milk-based chocolate drinks.
75g of cherries, tinned or fresh
400g of 75% dark chocolate, broken into pieces
50g of golden caster sugar
​800ml of water
​100ml of kirsch, or liqueur of your choice
crushed ice
Add the water and sugar to a saucepan and bring to a simmer. Place the chocolate in a large bowl, pour the hot liquid over the chocolate and whisk to dissolve. Add the ice to a blender until it is half-full. Add the cherries, pour in the chocolate and blitz for 1 minute. Divide between glasses and mix in a shot of your favourite liqueur.
Fruits of the forest muffins by Andy McLeish
Muffins are universally loved and can be eaten throughout the day whenever they take your fancy – at breakfast, as a snack or in a lunchbox. Making them yourself is easy and results in a much tastier muffin, something chef Andy McLeish knows only too well. He uses frozen berries in this recipe, but it makes perfect sense to use fresh British cherries when they're in season. With a few white chocolate chips studded throughout and some crunchy oat cereal sprinkled on top for texture, a tray of these won't last long.
300g of plain flour
1 tbsp of baking powder
1/2 tsp salt
​120g of granulated sugar
1 egg
2 tbsp of sunflower oil
​275ml of milk
​100g of white chocolate, roughly chopped
​100g of frozen mixed berries
50g of black cherries in syrup, tinned, pips removed
90g of crunchy oat cereal, nut free
Preheat the oven to 200°C/gas mark 6. Sieve the flour, baking powder and salt into a bowl and then add the sugar​.
Food and drink news

Show all 35
Crack the egg into a separate bowl and add the oil, beat until light and fluffy. Then add the milk and whisk the mixture for 1 minute. Fold the egg mix into the flour – be careful not to overmix but ensure the flour is mixed in. There may still be a few lumps but this is fine. Roughly chop the cherries and fold into the mix along with the chocolate and mixed berries.
Place the muffin papers in a muffin tray and spoon in the mixture. Remove any raisins from the crunchy oat cereal and sprinkle onto the top of each muffin – you could also use seeds instead. Bake the muffins for 25 minutes until risen and golden brown. Remove the muffins from the oven and allow to cool in the tray before placing on a wire rack. Serve immediately or store in an airtight container for up to 3 days.
Honey-roasted breast of duck with Griottine cherries by Mark Jordan
Not all cherries are sweet – the Griottine variety, for example, are sour and macerated in alcohol, which means they pair beautifully with rich, savoury meats. That's why Jersey-based chef Mark Jordan serves them alongside honey-roast duck breasts. This isn't a quick weeknight recipe – it takes seven hours in total to prepare – but if you're wondering what to cook for your next dinner party this is a real showstopper. The fondant potato, intense cherry-infused duck jus, homemade sauerkraut and blanched baby vegetables makes this main a serious contender for your dish of the year.
Gressingham duck breasts
2 duck breasts
Baby vegetables
2 handfuls of baby:
carrots
leeks
beetroot
and baby turnip
Sauerkraut
1 white cabbage
​500g of smoked bacon
2 tsp caraway seeds
3 garlic cloves
vegetable oil
2 Spanish onions, sliced
1 sprig of fresh thyme
​950ml of chicken stock
​250g of butter
Salt
Pepper
Fondant potato
2 large potatoes
vegetable oil
​1000ml of chicken stock
2 garlic cloves
1 handful of thyme, sprig
1 knob of butter
Duck jus
2kg duck bones
1 onion
1 carrot
1 leek
1 garlic clove
1 sprig of thyme
​475ml of veal jus
​750ml of port
1 vanilla pod
1 star anise
12 Griottine cherries
To plate
1 handful of baby beetroot
1 handful of cress
honey, to taste
To start, peel and trim the baby vegetables and blanch in boiling salted water for a couple of minutes – make sure the vegetables still have a crunch then place them into iced water to stop the cooking process. Remove the vegetables from the water and place in the fridge until required.
For the fondant potato, cut two large potatoes in half across ways, and using a 3cm diameter cutter, cut out two cylinder-shaped potatoes out of each potato. Heat up a sauté pan and add a little vegetable oil, place the potato into the pan standing them on end and sauté until golden brown. Add the chicken stock to the pan and bring it up to the boil.
At this stage add the garlic, thyme and butter and place into the oven until cooked, for around 8 minutes. Bring the stock to the boil skimming off any impurities that are on the top. Simmer the stock for around 4 hours then pass through a fine cloth. For the sauerkraut, finely slice the cabbage and set to one side. Slice the bacon and place into a bowl with the caraway seeds. Peel and chop the garlic and add to the bacon. Heat up a thick flat-bottomed pan and add a few drops of oil then add the bacon mix and fry for a couple of minutes.
Once the cabbage has cooked and the chicken stock has reduced, add the butter and adjust the seasoning. Place in the fridge in an airtight container. It will keep for 3 to 4 days​. Add the onions along with the thyme and fry for 5 minutes. Pour in the chicken stock and cabbage and leave to cook for around 1 to 2 hours. Place the duck bones and vegetables into a tray and place into an oven until they are golden brown. Remove from the oven and place into a large deep saucepan. Pour over the veal jus, add the thyme and star anise and top up with water if needed.
Place the port and vanilla pod into a saucepan and reduce to a thick syrup. Add the duck stock and reduce down to a gravy-like consistency. At this point you can add the honey to taste and any extra flavours such as cherries or more vanilla.
In another small pan heat up the caraway cabbage and place a small amount in the centre of each plate. Then on top place one fondant potato. In a sauté pan add a small knob of butter and sauté the baby vegetables – this will only take a minute or so – season with salt and then arrange them around and on the duck nuggets.
For the Gressingham duck breasts, preheat the oven to 180°C/Gas mark 4. Trim the excess fat off the breasts and place skin-side down into a low-medium pan, slowly rendering the fat down and starting to cook the breasts, turning them until they're golden brown. This will take around 5 minutes. Remove from the pan and place skin-side up into the oven for 4 minutes for medium rare.
To serve, remove the duck breasts from the oven and allow to rest for around 4 to 5 minutes. Heat up the duck jus in a small pan. Before serving allow to rest in a warm place for 10 minutes. Using a sharp knife cut the duck breast in half length ways then cut each half into three across the fillet to form duck nuggets. Arrange the duck around the fondant potato. Finally drop the griottine cherries into the hot duck jus and spoon around the dish. Garnish the dish with some baby beetroot and cress and serve straightaway.
Griotte cherry clafoutis by Pascal Aussignac
Another type of sour cherry is Griotte, which is better known as a morello cherry when preserved in syrup or kirsch. Get your hands on the fresh fruit, however, and you've got the best type of cherry to include in a clafoutis, a sort of cake-flan hybrid from southwest France. And if anyone knows how to recreate the flavours of the area in the UK, it's chef Pascal Aussignac, who bases his entire cooking style around it. The clafoutis batter is quite simple, made up of ground almonds, sugar, double cream, eggs and a little flour, which really lets the flavour of the Griottes shine.
Cherry clafoutis
600g of griotte cherries, pitted
​105g of ground almonds
​150g of caster sugar
15g of flour
​375g of double cream
4 eggs
5 egg yolks
To plate
icing sugar for dusting
To start the clafoutis, lightly toast the ground almonds under the grill​. Sift the sugar, almonds and flour into a bowl. Gradually beat the cream, whole eggs and egg yolks into the dry ingredients, mixing thoroughly to avoid any lumps. Leave to set in the fridge overnight.
Preheat the oven to 180°C/gas mark 4. Butter a deep non-stick baking tray. Pour the clafoutis mixture halfway up the tray and scatter the fresh cherries over the top. Place the mould into the oven and cook for approximately 20 minutes or until golden on top. Dust with icing sugar and serve.
For more seasonal recipes, visit greatbritishchefs.com
Join our new commenting forum
Join thought-provoking conversations, follow other Independent readers and see their replies