The Independent's journalism is supported by our readers. When you purchase through links on our site, we may earn commission.
Wines of the week: Eight whites for winter
With the coldest weather of the season reportedly yet to come, the go-to wines would be warming reds. But there are plenty of full-bodied whites that also pair well with hearty winter dishes. Terry Kirby brings his selection to the table
Wednesday 16 January 2019 17:53
comments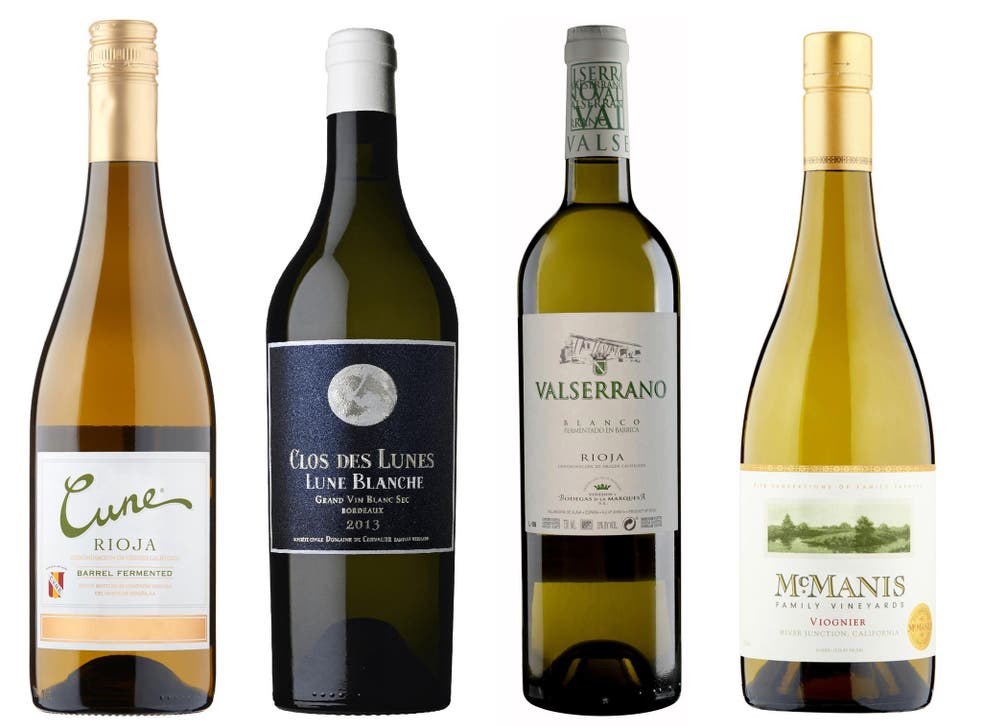 Although January has been relatively benign, weather wise, so far, don't let those lovely snowdrops fool you with promises of spring: real snow may be on its way later this month and it is normally a time for warming full bodied reds. But what whites will work in cold weather and with wintery foods?
For that, we need full bodied, aromatic, sometimes oaky, sometimes creamy whites, which do not need to really chilled and can match hearty foods, whether it's roasts, robust fish dishes like fish pie or baked fish and vegetables, or vegan dishes with rice or pulses.
The combination of roussanne, marsanne and a little grenache blanc together with some time on oak make the Chateau Haut Gleon 2014 (£20.95 experiencewine.co.uk; £23.99 finewinesdirect.co.uk) a perfect dinner party white. From the Corbieres region of the Languedoc, north of Perpignan, otherwise known for its robust reds, it's rich, creamy, aromatic, with notes of quince, honeysuckle and sweet spices – ideal for richer fish dishes or lighter roasted meats, like veal or pork.
Marsanne is not often seen on its own, but when it can be found, the natural fullsome flavours of melons, pears and some lighter citrus notes shine through, as in the Les Vignobles Foncalieu Enseduna Marsanne 2016 (£9.99 thegeneralwine.co.uk); from one of the best cooperatives in the south of France and excellent with some midweek grilled fish.
Along with roussanne and marsanne, semillon is another grape that delivers those warming creamy flavours and is usually combined with sauvignon blanc in Bordeaux, to add aromatic depth and texture as in the carefully made Clos des Lunes Lune Blanche 2016 Bordeaux Blanc (£16.80 rfvintners.co.uk), where the richness is nicely balanced with acidity. I would drink this with baked fish, roast guinea fowl or creamy pasta.
Down in Spain, the kind of whites to drink in cooler weather are going to be from Rioja, where oak ageing is something of a tradition. Barrel fermenting gives added heft to the already creamy viura grape in wines such as the softly elegant Cune Barrel Fermented Rioja Blanco 2017 (£10.95 tanners-wines.co.uk; £10.99 waitrose.com) or the more full bodied, also barrel fermented Valserrano Rioja Blanco 2016 (£14.95 davywine.co.uk) where a touch of the fabulous malvasia grape combines with viura to create complex pineapple and grapefruit flavours, with some very delicate and understated nutty, almost smoky notes. Both would work with rice dishes or even lighter game, such as pheasant or partridge.
Food and drink news

Show all 35
Now for a couple of slightly less full bodied wines, which can work with lighter dishes, soups and salads. Chardonnay, of course, is a grape that can be, in different hands and regions, either light and citric or rich and buttery; somewhere inbetween is the Chateau Souverain Chardonnay 2014, (£9.50 sainsbury's; £10.99 waitrose, ocado.com) from the cool coastal vineyards of northern California; plenty of body, with cream brulee and toasty notes and some lighter orchard fruits and lemon flavours.
Staying in California, the McManis Estate Viognier (£10.99 until January 22; normally £14.99 ocado.com; £11.50 thewinesociety.com) is ripe, aromatic and packed with characteristic peach, honeysuckle and apricot flavours – no oak here and tank ageing allows the pure fruit flavours to shine: definitely one for the pork belly or lighter Asian-spiced dishes.
Finally, another even bigger and more complex wine for winter dinner parties is the multi-award-winning South African blockbuster DeMorgenzon, Reserve Chenin Blanc, Stellenbosch 2016 (£24.99 simplywinesdirect.com; £26.95 leaandsandeman.co.uk) where chenin blanc – light and crisp in its French home in the Loire – is given both barrel fermentation and oak ageing, to deliver exotic and complex notes of stone and orchard fruits, spice and honey, all of which lead to a long, lingering but still crisp finish, packed with big enough flavours to keep the cold out.
Join our new commenting forum
Join thought-provoking conversations, follow other Independent readers and see their replies