The Independent's journalism is supported by our readers. When you purchase through links on our site, we may earn commission.
Wines of the week: 8 wines from rarer grapes
Most of Eastern Europe is a treasure trove of previously unheralded grapes, from North Macedonia and Slovenia, but there's also little known varieties in Spain and Japan too, says Terry Kirby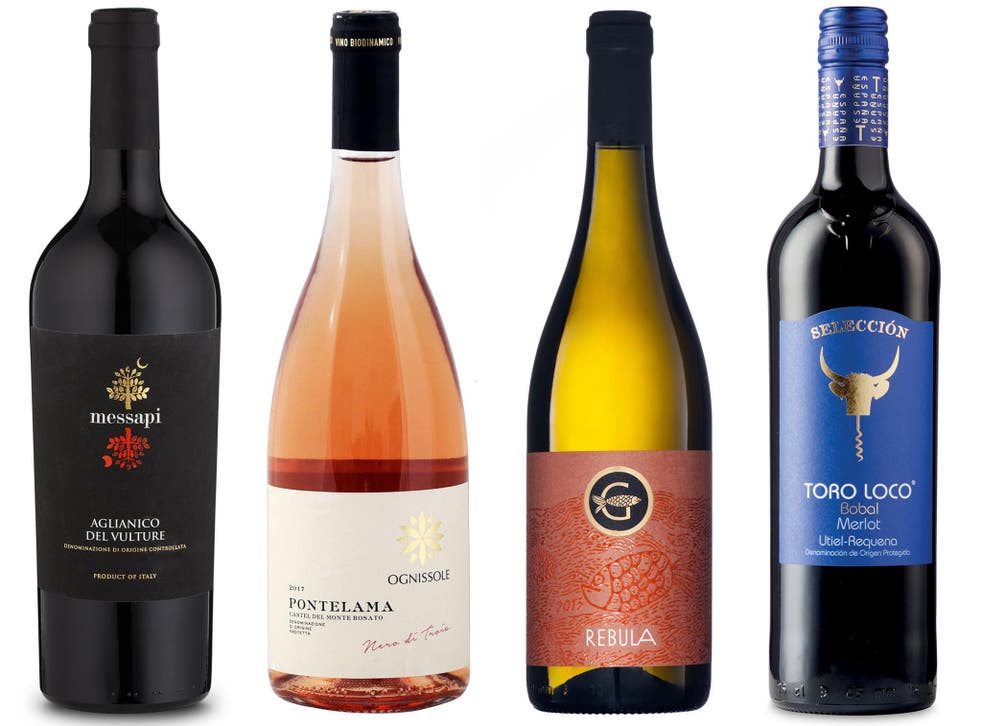 It was on a trip last year to lovely Ljubljana, the capital of Slovenia, where I encountered the intriguing rebula grape, which can produce wines with intense, savoury, nutty, and sometimes creamy and smoky flavours, a very different experience from the conventional aromatic, fruity, mineral or zesty flavour palate we see with the majority of our white wines.
It was just one of many fascinating, often sublime, local wines we tried there, either obscure native varieties or local takes on more well-known grapes such as riesling and pinot gris. The canny Slovenians keep most of their wines to themselves, but some do find their way here, such as the Gasper Rebula 2013 (£118 for six, minimum order; finewinecompany.co.uk) which has a long mineral finish and slightly oaky, nutty, full-bodied flavours. Some very fine white fish or pork belly would be a great match.
Slightly more approachable in terms of price is the Gasper Rebula-Chardonny (£10.38 thedrinkshop.com; £12.95 slurp.com) where the chardonnay brings in lighter citrus and peach notes to balance the stronger rebula.
We will return to Slovenian wines at another time, but what other alternatives are there to our normal range of grapes, to our familiar sauvignons and pinot grigios, our syrahs and malbecs? Loads actually, so be adventurous and seek out new grapes and new flavours…
Indeed, the whole of eastern Europe is a treasure trove of previously unheralded grapes. The vranec grape is indigenous to parts of North Macedonia, Montenegro, Serbia and Croatia and the name translates as "black stallion", which correctly suggests this is not some ethereal white but a big and bold red grape with intense black fruit and chocolate flavours.
In the Stobi Vranec Syrah Petit Verdot 2013 (£9.95 turtonwines.co.uk) from the Tikves region of North Macedonia, it is balanced with two other red grapes to create a really powerful, chunky, warming red that cries out for the big flavours of meaty casseroles and braises.
The southern regions of Italy have an abundance of red grapes that sometimes do not get a wider circulation, such negroamaro and nero di troia in Puglia and aglianico in Campania and Basilicata. For a really unusual rose, try the Pontelama Castel Del Monte Ognissole 2017 (£9.50 italvinus.co.uk) organically and biodynamically made from nero di troia and which has spritzy, spicy, intense, pomegranate and orange flavours, making it an utterly fabulous match for prawns, crab or lobster; while the Messapi Anglianico Del Vulture (£9.00 marksandspencers.com) demonstrates the influence of the volcanic soils of Mount Vulture on this local grape, leavening and invigorating the black fruit flavours. A lovely wine for any kind of pasta or Mediterranean foods. M&S assure me that although the wine is sold out online at the moment, it will be available again very soon and there is plenty of stock in stores.
In Spain, most think only of tempranillo when it comes to rioja. But not all rioja is pure tempranillo: some has the equally familiar garnacha (aka grenache) in the mix while more and more riojas are including the indigenous graciano grape in the blend, which adds a more modern, juicy, mineral underpinning while still carrying intense black fruit, rather like the influence of cabernet franc in Bordeaux blends. But there are also wines which showcase graciano as a solo act, so try the Familia Torres, Altos Ibéricos Parcelas de Graciano 2014 (£13. 95 Mumbles Fine Wine) packed with black cherry and clove notes, and ideal with spring lamb.
Food and drink news

Show all 35
Elsewhere in Spain, the bobal grape, usually found in Utiel-Requena in eastern Spain, was always a bit of an afterthought, an all-purpose addition or the source for cheap everyday wines. But now it too is getting its own label profile, albeit still as a good, everyday guzzler, a robust but juicy, fruity, herby wine ideal for weekday pizza and pasta meals: try the Toro Loco Bobal Merlot (£4.79 aldi.com) where the softer, smoother merlot tempers the richer bobal and which is a ridiculously good bargain, possibly one of the few sub-£6 wines around actually worth drinking.
And finally, something completely different. Although the Japanese consume vast amounts of wine – particularly fine wines – it is not a great wine growing country, mainly because of the climate and the shortage of agricultural land. However, some brave hearts are growing the hybrid Euro-Asian koshu grape on volcanic soils in the Yamanashi region not far from Mount Fuji. The Grace Winery, Koshu Kayagatake, Yamanashi 2017 (£17 novelwines.co.uk; £21.99 selfridges.com) is delicate, light and crisply elegant, with some fennel and green herb notes and a pleasant tangy quality. Drink, as the Japanese inevitably do, with sushi and sashimi or any lighter shellfish dishes.
Join our new commenting forum
Join thought-provoking conversations, follow other Independent readers and see their replies