The Independent's journalism is supported by our readers. When you purchase through links on our site, we may earn commission.
Wines of the week: Seven autumnal whites
Terry Kirby leaves behind the lighter wines of summer and welcomes the new season with fuller bodied bottles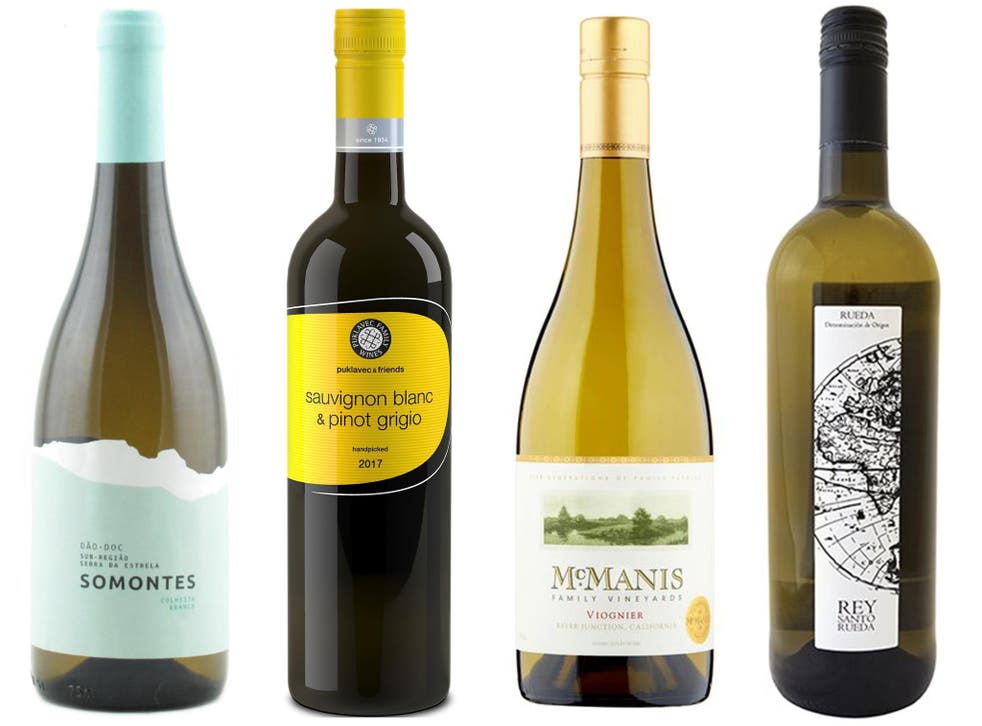 As we near the end of October, our thoughts must turn to more substantial white wines to hand for the cooler days and nights to come, and for more robust autumnal cooking. We need white wines with some body and possibly ageing, in tanks or oak, that need to be drunk cool, but not perhaps icy. But, as this autumn has proved, at least in the south of the UK, we are still likely to get some spells of milder weather when it's good to have a simple chilled white in the fridge and on hand to refresh us after a long day. Ideal for such purposes is the Puklavec & Friends Sauvignon Blanc Pinot Grigio 2017 (£6.49; normally £8.79, until 30 October; waitrosecellar.com) a great value, sprightly and refreshing white from Slovenia, which does even more interesting things with its own native grapes, of which more in a later column.
Also great as an aperitif or with lighter seafood dishes is the Somontes Colheita Blanco 2017 Casa Da Passarella, Serra da Estrela (£11.95 davywine.co.uk) made in the Dao from a mix of indigenous grapes – encruzado, malvasia fina and gouveio (aka verdelho) – it has great freshness and vibrant minerality from the high altitude vineyards, topped with lovely subtle-citrus flavours. Fine, modern Portuguese winemaking.
Staying on the Iberian peninsula, here is a lovely, approachable Spanish white worth checking out: the Javier Sanz Rey Santo Rueda, 2017 (£10.29 strictlywine.co.uk; £10.96 corkingwines.co.uk) is a blend of verdejo and viura which achieves a nice balance between restrained tropical and orange citrus flavours, some herbal notes and an underlying richness of texture that comes through on the finish, which makes for an elusive, difficult to pin down wine, nevertheless full of complexity and interest. Excellent with fish tapas or chicken dishes.
Moving onto more weightier matters, viognier is a fabulous grape for this time of year: a golden, autumnal colour, rich, apricot and honey flavours and a clean finish that can be as bracing as a cool October night. In California, the McManis Family Vineyards Viognier (£11.50 winesociety.com; £14.99 ocado.com) is drawn from grapes grown around the San Francisco area and is full bodied, smooth and opulent, balanced with ebullient fruit flavours and a long finish; one for herby chicken dishes.
Even meatier are oaky chardonnays, which always seemed to me to be the correct cool-weather white, ideal with smoked fish, roast pork belly or substantial root vegetable dishes like butternut squash or mushroom risotto. But not too much oak… a balance which is well struck in the Sidewood Mappinga Chardonnay 2016 (£18.95 davywine.co.uk) from the cool climate Adelaide Hills: restrained, careful use of oak: peach and melon flavours, a hint of sweet spice. An ideal autumn dinner party wine. As is the Château Cruzeau Pessac-Leognan 2015 (£17.99 waitrose.com), although utterly different: a typically restrained Bordeaux Graves sauvignon – none of your New World big, tropical fruit flavours here – which is elegant, balanced and aromatic, with real depth of flavour from some lees ageing before bottling. Perfect for seafood starters and main course white fish. And finally, to end that dinner party, the ultimate autumn dessert wine for puddings and crumbles made from that abundance of orchard fruits; staying in France and back to viognier again for the sweeter take on the grape, the Saveur d'Automne Pays D'oc Doux (£13.99 for 50cl lsfinewines.co.uk) from a relatively small and little known area of the Gard close to the Rhone Valley. Sweet, but not too sweet, with fruit and floral aromas it is honeyed and fragrant, with a wisp of vanilla and intense, concentrated fruit flavours. Literally, the flavours of autumn in a glass.
Join our new commenting forum
Join thought-provoking conversations, follow other Independent readers and see their replies