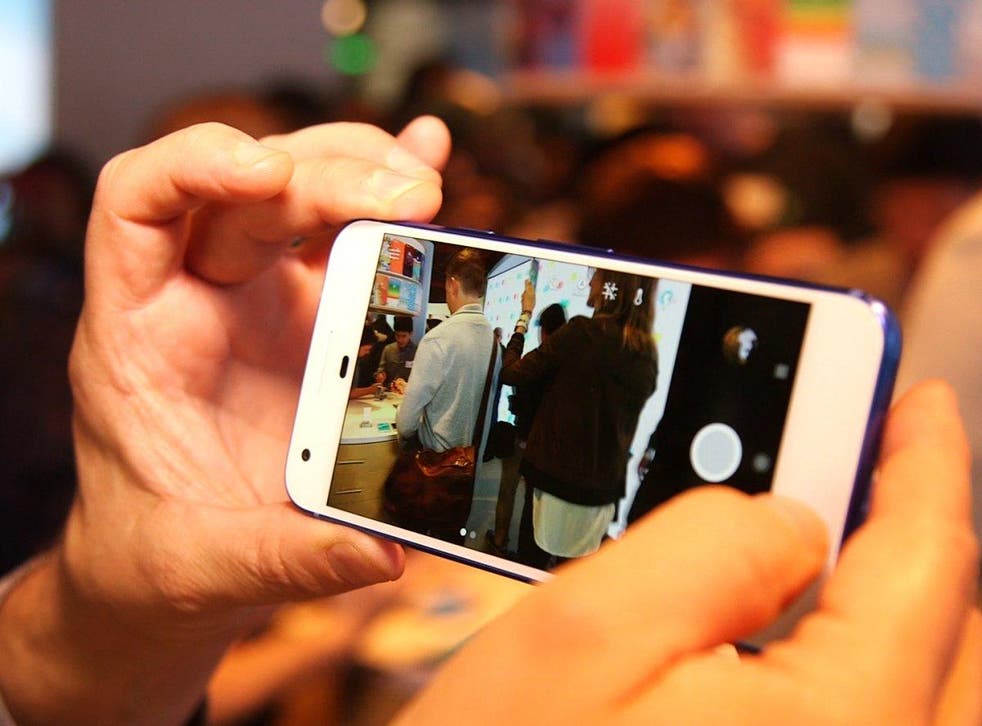 The 20 best smartphones in the world
Now that I've spent some quality time with the new Samsung Galaxy S8 and LG G6, I can comfortably place them in our top 20 smartphones list.
The Galaxy S8 was a clear contender for the top spot, and the G6 finally let me place an LG phone within the top 10. To be clear, the top 10 smartphones in this list come very close to each other in terms of performance, design, and features, and you'd easily be happy with our number 10 pick as you would with our number one pick. It all comes down to your personal preference over design and features.
Here's our list of the best smartphones you can buy.
Note: Prices may vary depending on the retailer.
20. BlackBerry Classic
If you were a BlackBerry fan in the company's heyday, you're going to love the BlackBerry Classic. It looks similar to older BlackBerry models but features a sharp touchscreen and an excellent physical keyboard.
Price: $309
19. BlackBerry Priv
​The BlackBerry Priv is a huge departure for BlackBerry. Instead of running BlackBerry's own operating system, the Priv runs Android. While it may look like a standard Android phone, the Priv has a slide-out keyboard.
This could be a great device for those who want a physical keyboard but still want access to Google's apps and services that aren't available on other BlackBerry devices.
Price: $294
18. Samsung Galaxy Note 5
The Galaxy Note 5 is a killer big-screen phone. Like previous versions of the Note, it has a large, vibrant display and a stylus for taking notes. The metal-and-glass design is great, too.
Price: $478
17. ZTE Axon 7
The Axon 7 is made by ZTE, a Chinese smartphone maker that's relatively unknown in the US.
Why does it deserve a spot on this list? Because it offers the same — if not better — specs as the top Android players here, and it'll cost you $250 less than the big-name brands like Samsung, LG, or HTC.
That means if you don't like the Nexus devices and don't want to pay top dollar for a Galaxy S8, the ZTE Axon 7 might just be the phone for you.
Price: $400
16. LG V20
The LG V20's second screen at the top of the device is genuinely useful, as it gives you shortcuts to your favorite apps and music controls even when the screen is locked.
It also has great specs and a good camera, and it's incredibly light for its size. It'll also appeal to Android diehards holding on to legacy Android features like a removable battery and expandable microSD storage.
Unfortunately, those legacy Android features mean LG had to compromise on the overall build quality of the V20, which doesn't match the premium flagship league it's in.
Price: $489
15. Moto G5 Plus
The Moto G5 continues to be our favorite budget-friendly Android smartphone, as it proves that "good-but-not-great hardware can become strong value at the right price," according to my colleague, Jeff Dunn, who reviewed the phone.
With the G5 Plus, you get a 5.2-inch 1080p screen, a fingerprint scanner, a great battery life, a 12-megapixel camera that beats other phones in its price range, a near-pure version of Android, and a sleek design.
Still, at the G5 Plus' $230 price tag, you'll be making a few compromises over the premium flagships. For example, there's no NFC for mobile payments. And the phone still uses microUSB for charging while USB-C – the new standard for charging smartphones – has been out for a couple years now.
Price: $230
14. HTC 10
The HTC 10 is a beautiful, extremely well-built smartphone. It can be bought unlocked, which means you won't find annoying bloatware on the 10.
Price: $499
13. Moto Z
Tech Insider/Jeff Dunn
The regular Z model is one of the thinnest phones we've held, and it's gorgeous. We also love the fact that it runs a near-pure version of Android.
The Moto Z also supports different modules that can attach to the back of the phone to give it new and better functionality. For example, you can attach a speaker module for better sound, or a projector module to project videos on a nearby wall.
The Moto Z should work with most carriers. The Moto Z Force model is a Verizon exclusive that's currently available for a pricey $720.
Compared with the regular Z model, it has an extra strong screen that Motorola claims is shatterproof, as well as a larger battery.
Price: $408 to $720 (Depends on exclusive Verizon "Droid" models.)
Check out our review of the regular Moto Z »
12. Huawei Mate 9
Business Insider/Jeff Dunn
The Huawei Mate 9 boasts a huge 5.9-inch display and great battery life, thanks to its larger-than-average battery.
It's also one of the fastest Android phones you can buy at the moment, and Huawei's own layer of software that runs on top of Android largely maintains the pure Android look that we prefer.
The Mate 9 features a dual camera that helps create depth-of-field effects — blurry backgrounds — otherwise known as "bokeh," which the iPhone 7 Plus also has.
It's not water-resistant like Samsung's Galaxy S8 or Apple's iPhone 7, but for $600, Huawei's Mate 9 makes a strong case for a place in your pocket.
Price: $572
11. OnePlus 3T
OnePlus pulled an unusual move by announcing the OnePlus 3T five months after the OnePlus 3's release.
The good news is that OnePlus 3 owners need not feel left out, as the OnePlus 3T isn't much of an upgrade.
The changes include a slightly faster processor (Snapdragon 820 versus the 821), a slightly larger battery, a 16-megapixel front camera (versus 8-megapixel), better stabilization for video, and a darker color option.
However, the new front camera with more megapixels seems to do the opposite of what it was intended by taking blurrier selfies than its predecessor's 8-megapixel front camera.
Price: $440
10. iPhone SE
The iPhone SE, with its 4-inch screen, is the best small-form smartphone you can buy at the moment. You get all the best apps, ecosystem, support, and the same performance as the iPhone 6S for a relatively low $400 price tag.
It also comes with Apple Pay, among other premium features like Live Photos and a fingerprint sensor — not to mention great battery life.
Price: $399
9. iPhone 6S
The iPhone 6S is also a great deal, as you still get the premium Apple experience for $100 less than the new iPhone 7.
In addition to getting beautiful hardware, iPhone owners are guaranteed to always get the best apps first from third-party developers and reliable software updates with the latest and greatest features from Apple.
Price: $478
8. iPhone 6S Plus
Now that the iPhone 7 Plus is out, the iPhone 6S Plus gets a $100 price cut, and that's a great deal.
Fine, you don't get all of the latest features that the iPhone 7 Plus has, like water resistance or that fancy dual-lens camera, but the iPhone 6S Plus is no slouch. It runs on the powerful A9 chip and has features like 3D Touch, which can detect how hard you press on the screen and open up a new layer of controls for your apps.
It also has an incredibly fast fingerprint sensor, as well as Live Photos, which let you capture a three-second video with audio when you press the shutter button.
Price: $650
7. LG G6
The G6 is LG's best smartphone, and it's truly a great phone. LG finally implemented key features, like a premium design and water resistance, which finally put LG phones in the same league as other flagship smartphones from Samsung and Apple.
The G6 has a good dual-lens camera that everyone should be pleased with. It also has a slightly-taller-than-average screen that's great for viewing and using your apps, as it shows more of an app than regular screen.
Unfortunately, however, it's running a somewhat older processor, which prevents me from recommending the G6 outright. The Snapdragon 821 processor in the G6 is still a great processor, but Samsung announced the Galaxy S8 with the latest Snapdragon 835 just two months after the G6 was released. With that in mind, you're likely to feel the G6's older processor start to slow down before the Galaxy S8's.
Price: $680
6. Galaxy S8
​Samsung's Galaxy S8 is the best-looking smartphone, period. Yes, it's better-looking than the iPhone, too. The curved glass on both the front and back of the S8 is a refinement of its predecessor, the Galaxy S7. And the ultra-narrow borders around the screen makes the S8 the new reference for premium, luxurious design in smartphones.
Apart from looks, the Galaxy S8 is laden with features, including water resistance, a taller-than-average screen that's great for viewing more of your content, fast charging, wireless charging, face recognition, iris recognition, the best-in-class camera, Samsung Pay, and a hidden home button.
It sounds like the S8 should take the top spot on this list, but I'm not a fan of Samsung's layer of software, called Touchwiz, that runs on top of stock Android. Unfortunately, it will inevitably prevent the Galaxy S8 from receiving the latest Android updates from Google on time when they're released. And, overall, I prefer stock Android's clean look and functionality.
It's true that the Galaxy S8 wouldn't have features like face or iris recognition without Touchwiz, but those Samsung-specific features don't tempt me as much as timely Android updates. And Samsung's own software isn't even fully baked onto this phone yet; the company's own Siri-like virtual assistant, Bixby, will not be ready at launch, and will roll out in an update for this phone later in the year.
Price: $720 (depending on your carrier. Unlocked models coming soon)
5. Galaxy S8+
The Galaxy S8+ is identical in features to the S8, except it's slightly larger and features a larger 6.2-inch display.
The bigger S8+ model pulls ahead of the regular S8 in this list due to its size-to-screen ratio. It's about the same size as the Plus models of iPhone while sporting a much larger screen. Also, apps and content look fantastic on the large display.
Price: $840 (depending on your carrier. Unlocked models will be available soon)
4. iPhone 7
Without a doubt, the iPhone 7 brings the best apps and ecosystem to its users. And by ecosystem, we mean the support you get from Apple if something goes wrong, as well as getting the latest software updates straight from Apple.
It also works amazingly well with other Apple products, too, like Apple's new wireless earphones, called AirPods.
The hardware also got a few improvements over the iPhone 6S, like water resistance, a camera that performs better in low light, a more powerful processor, and even redesigned antenna bands.
Price: $650
3. iPhone 7 Plus
​The iPhone 7 Plus' dual-lens camera is the key feature that places the larger iPhone 7 Plus in over the iPhone 7.
It lets you take pictures with a professional-looking "bokeh" effect, in which the background is blurry in contrast to the subject. The second lens is also a telephoto lens that achieves 2x optical zoom, which means it zooms into subjects without sacrificing picture quality like digital zoom does on most smartphone cameras.
Price: $769
2. Google Pixel XL
​The new Pixels are Google's first smartphones — the company took more control over the hardware than it did with its earlier line of Nexus devices.
What you get is a sleek-looking aluminum phone with a stylish glass panel on the back that cleverly offers grip for your index finger. The Pixel XL's camera holds its own against the iPhone 7 Plus and Samsung Galaxy S8, too, and its HDR mode adjusts your photos to look amazing.
Google's Pixel XL, the larger model with a 5.5-inch screen, shares the same specs as its smaller sibling, the Pixel. Yet the XL doesn't offer more features that help justify its higher price tag like the iPhone 7 Plus does — it's just a larger Pixel.
Price: $769
1. Google Pixel
​Yes, despite the availability of the newer and flashier Galaxy S8, Google's Pixel still takes the top spot because it runs stock Android and Google's Pixel launcher, which gives Android a cleaner look and gets the latest Android updates on time.
It's also a superior phone overall to our previous top pick, the iPhone 7 Plus. It has a better screen, is lighter, and has useful features like fast charging.
The Pixel runs on the powerful and power-efficient Snapdragon 821 and 4 GB of RAM, which should hold up until the next Pixel is released. It also has an excellent 12.3-megapixel camera that easily holds its own against the iPhone 7 Plus and Samsung Galaxy S8. If you want the best Android experience, this is the phone to get.
Price: $649
• 7 things you should never search for on your work computer
• The 8 most elite special forces in the world
• The 13 unhappiest places to live in Britain
Read the original article on Business Insider UK. © 2016. Follow Business Insider UK on Twitter.
Join our new commenting forum
Join thought-provoking conversations, follow other Independent readers and see their replies