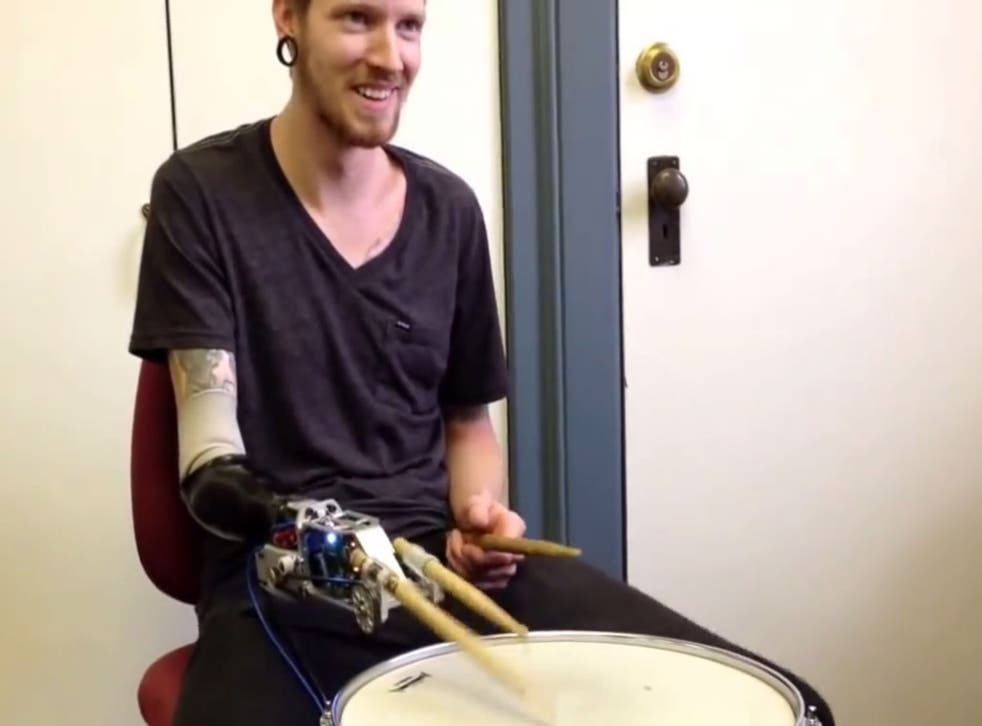 Amputee drummer gains 'superhuman' skills with robotic arm
Prosthetic detects electrical impulses from Jason Barnes' upper arm in order to adjust his grip, while a second stick uses algorithims to drum like jazz greats
Jason Barnes started playing drums at the age of 15, but after losing the bottom half of his right arm in an accident he thought his dreams of becoming a professional musician were over.
Now, with the help of a custom bionic arm, Barnes is working his way through music college in America, while the engineer who designed his unique prosthetic describes his musical ability as literally "superhuman".
Developed by Gil Weinberg from the Georgia Institute of Technology, Barnes' prosthetic arm uses a mechanism called electromyography to pick up on the tiny electrical signals emitted by the muscles in Barnes' upper arm.
When Barnes squeezes his upper bicep a motor in the arm adjusts how quickly it moves and how loosely it holds the stick. A second stick attached to the prosthetic beats entirely independently of Barnes, using built-in sensors to detect his drumming and then create its own complementary rhythm.
That algorithm that Weinberg developed to create this responsive beat is apparently modelled on the rhythms of jazz greats such as John Coltrane and Thelonius monk. Weinberg has built a number of other musical machines, including a marimba playing bot that Stephen Colbert said combined "two of the biggest threats to our nation: jazz and robots."
Speaking to New Scientist about his new bionic arm, Barnes said the device was "pretty awesome". "If it works out and it proves to be a lot more useful than my current prosthesis, I would definitely use it all the time," he said.
Barnes, who lost half of his arm after being electrocuted cleaning a vent hood at a restaurant in January 2012, originally made his own prosthetic using a simple brace and a spring. It was rudimentary but it allowed him to enter the Atlantic Institute of Music and Media in Georgia.
With this new prosthetic though, it seems that Barnes won't just become an ordinary drummer – he'll be entering entirely new musical territory, making his official debut at the Atlanta Science Festival on 22 March alongside musical automatons created by Weinberg.
Join our new commenting forum
Join thought-provoking conversations, follow other Independent readers and see their replies