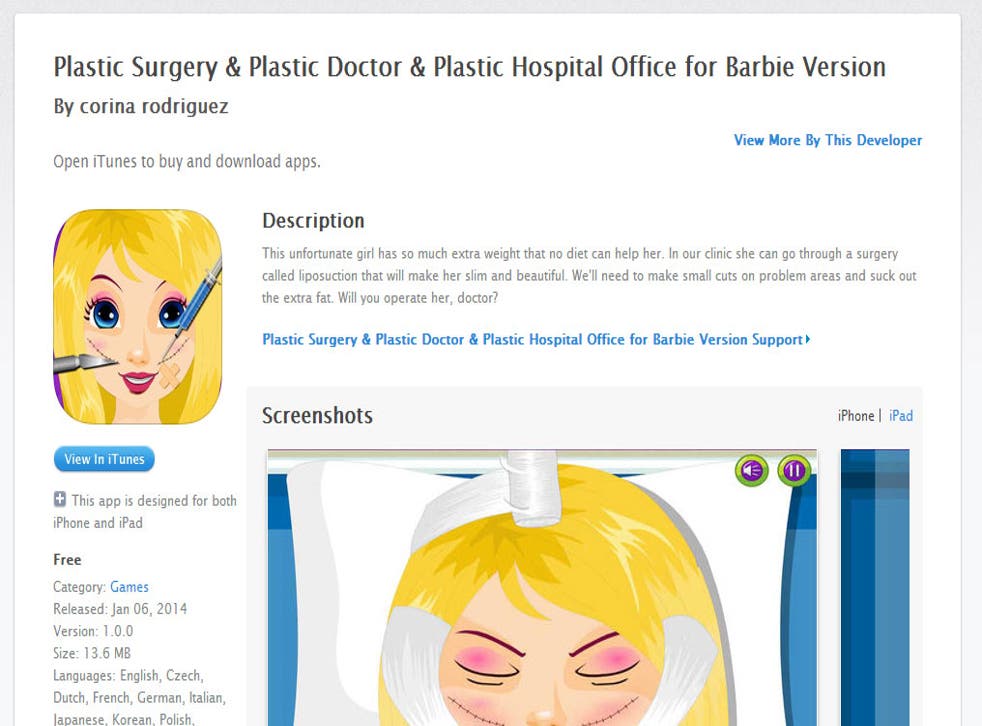 Apple and Google pull plastic surgery apps for children following Twitter backlash
The apps for iPhones and Android devices were called "disgusting" and "awful" by Twitter users
Google Play and iTunes have removed plastic surgery apps telling children that liposuction will make them "thin and beautiful".
The apps, called "Plastic Surgery" and "Plastic Surgery & Plastic Doctor & Plastic Hospital Office for Barbie", featured illustrations of a woman receiving treatment by a scalpel and a syringe.
Although iTunes and Google did not respond to the flurry of tweets, the apps were removed last night.
Many took to Twitter to express their outrage at the apps, after women's rights group Everyday Sexism tweeted a screenshot of the app yesterday asking their followers to "Tweet @itunes if you think they should reconsider marketing this crap to players aged 9+".
Over 4,000 people retweeted the post, commenting that the app was "disgusting" and "awful".
One user who tweeted iTunes said: "Surely you can do better than a game that tells kids how plastic surgery is part of being pretty."
Everyday Sexism also tweeted toy manufacturer Mattel asking them: "How do you feel about the Barbie name being used in this game currently available on @itunes?"
A spokesman for Mattel told The Evening Standard: "This app is nothing to do with Mattel or the Barbie brand. We will be looking into the use of the Barbie name."
A Google spokesman said yesterday: "We don't comment on individual apps, but will remove apps that breach our guidelines."
One app, called "Plastic Surgery for Barbara", still remains on the iTunes store. The app, marketed at children aged 12 years old and above, says that a plastic surgeon is going to operate on the character's "body and face in order to return cute Barbara's look".
Twitter user Marcus Barber, who alerted Everyday Sexism to the app, said in a tweet: "Have just disconnected my 11yo daughter's iPod from internet access due to this rubbish."
The apps have been accused of promoting self-esteem issues in young children.
Join our new commenting forum
Join thought-provoking conversations, follow other Independent readers and see their replies