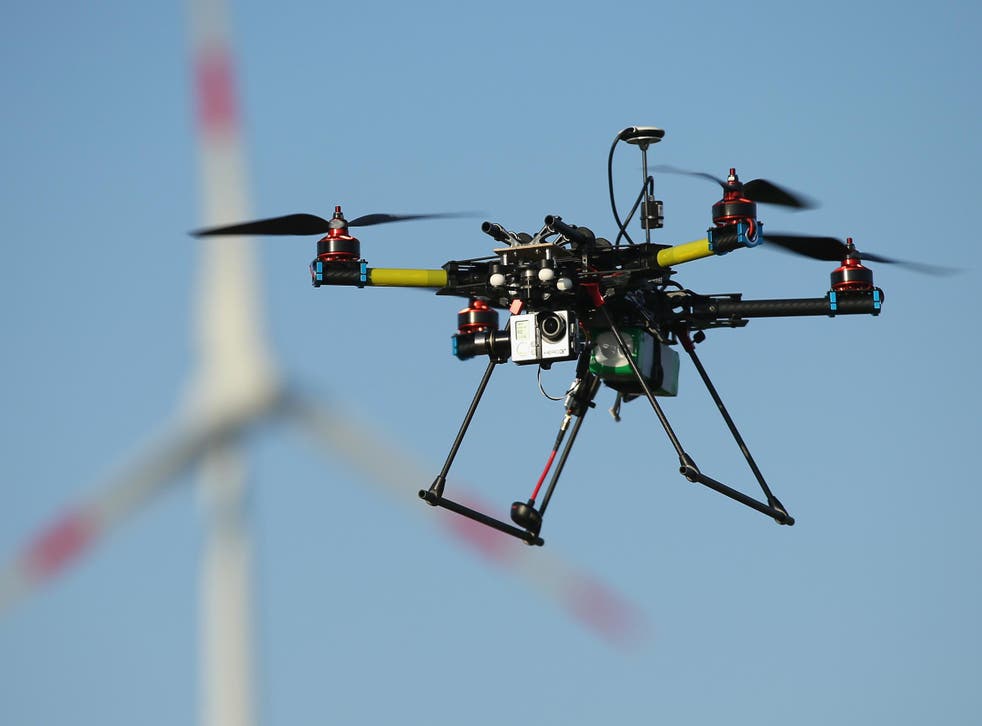 Three British firms develop anti-drone 'death ray' that can disable UAVs from up to a mile away
The British device uses radio waves to knock drones out of the sky
Doug Bolton
Thursday 08 October 2015 19:58 Comments
A British firm has developed an anti-drone 'death ray' that can knock out unmanned aerial vehicles (UAVs) from up to a mile away.
The device, sold by US company Liteye Systems, works by firing focussed radio waves at the drone, using the same wavelengths that operators use to fly their vehicles.
The drone is then overwhelmed by the conflicting signals, and is turned off and knocked out of the sky.
The waves that the device sends are sufficiently brief and narrow that other aircraft or communications systems will not be affected.
Liteye Systems believe the device will appeal to airports and governments, who are increasingly facing problems with civilian drones entering controlled areas.
The device, created by three British manufacturers, Enterprise, Chess Systems and Blighter, has been called an Anti-UAV Defence System (AUDS). It is far from the only anti-drone system in development.
It emerged in August that the US government has been conducting research into ways to disable and track drones that could infiltrate sensitive government sites.
According to a source who spoke to Reuters, the New York police conducted a test in Times Square to try and track a commercially available drone and send it back to its operator in late 2014.
The test was apparently set back by interference from nearby broadcasts, and involved representatives from the Department of Homeland Security, the Federal Aviation Administration, and the Defence Department.
Engineers in China have developed a system that uses laser to shoot down drones from up to 1.2 miles away, and Boeing revealed a similar system last month.
The private use of drones was almost unheard of a few years ago, but the hobby has boomed recently - with some small quadcopters available on the high street for as little as £100.
Model aircraft flying is nothing new, but the maneouvreability of a quadcopter drone over a model aeroplane, and the ease with which operators can attach cameras to them, has meant they have become a major concern for airports and governments.
Rober Knowles, a TV repair shop owner from Barrow-in-Furness became the first person to be convicted for using a drone in April last year.
The Civil Aviation Authority prosecuted him for flying a small drone near to a BAE Systems nuclear submarine testing facility.
He pleaded guilty, and was fined £3,500 by magistrates.
Register for free to continue reading
Registration is a free and easy way to support our truly independent journalism
By registering, you will also enjoy limited access to Premium articles, exclusive newsletters, commenting, and virtual events with our leading journalists
Already have an account? sign in
Join our new commenting forum
Join thought-provoking conversations, follow other Independent readers and see their replies