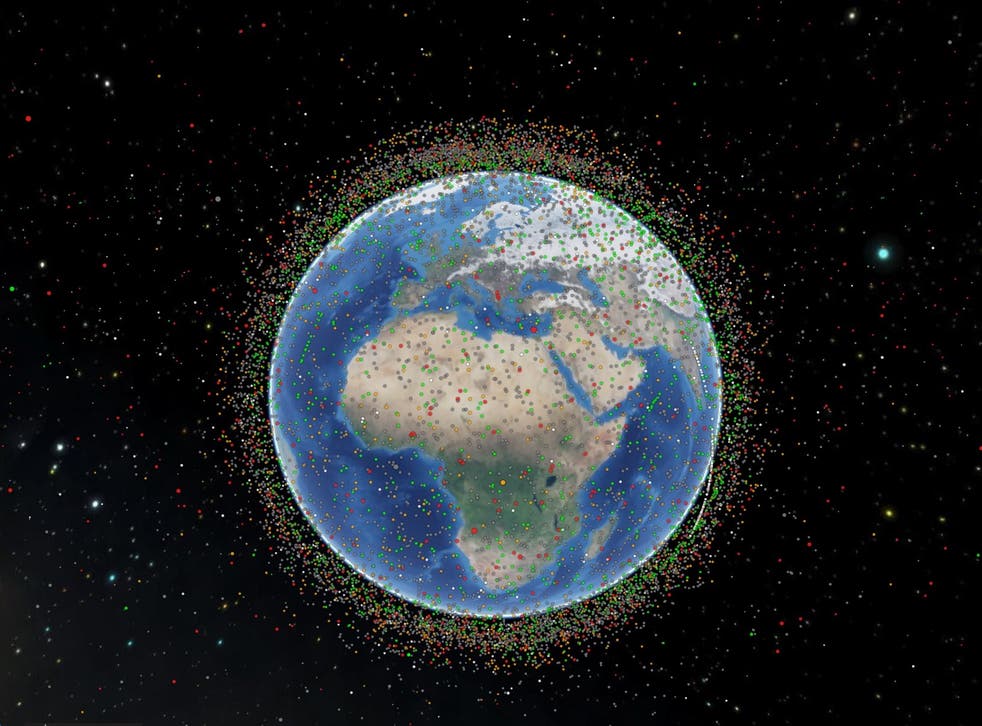 Elon Musk now controls over a quarter of all active satellites as SpaceX prepares to launch 1,000th Starlink
Latest batch of space internet satellites come equipped with lasers
Leer en Español
SpaceX CEO Elon Musk now controls a quarter of all active satellites orbiting Earth after launching more than a dozen Starlink missions over the last two years. 
A Falcon 9 rocket will deliver the latest batch of 60 Starlink satellites into orbit from Nasa's Kennedy Space Center in Florida this week, weather permitting, taking the total number of Starlinks in orbit to over 1,000.
The mission, designated Starlink 17, is the latest in SpaceX's plan to create a constellation of up to 40,000 satellites in order to beam high-speed internet down to Earth.
Mr Musk, who became the world's richest person in early 2021 with a net worth in excess of $200 billion (£146bn), provoked controversy last year when Starlink's updated Terms of Service stated that SpaceX would not recognise international law on Mars.
Analysis of data from satellite tracker Celestrak reveals that the 946 Starlinks currently in orbit make up 27.3 per cent of all active satellites in orbit, as of 1 February 2021.
At the current launch rate, this proportion could reach half at some point next year, with physicist and ex astronomer Alastair Isaacs noting that SpaceX now accounts for more than a fifth of all rocket launches worldwide.
Starlink missions make up a large proportion of these launches, with a small number used for launching satellites for other customers, as well as delivering cargo and crew to the International Space Station (ISS).
Starlink is one of several projects aiming to provide high-speed internet to users on Earth, with SoftBank-funded OneWeb currently the closest competitor.
OneWeb is targeting a fleet of 648 satellites by the end of 2022 and an eventual constellation size of roughly 7,000 satellites.
By contrast, SpaceX currently has permission to launch 12,000 Starlink satellites into low-Earth orbit and hopes to build a 40,000-stong constellation over the next few years pending approval from the UN-backed International Telecommunication Union.
The latest version of the satellites come equipped with lasers in order to beam signal between satellites without the need for additional ground infrastructure.
The current Starlink network is already capable of serving northerly latitudes and is currently providing an initial beta service to customers in Canada, the US and UK.
SpaceX's latest launch and continued expansion will lead to "near global coverage of the populated world in 2021", according to the company's website.
Customers of Starlink's broadband service, which boasts speeds of up to 150 Mbps, need to buy a $499 custom satellite dish and sign up for a $99 monthly subscription in order to connect, though costs are expected to decrease as the network grows.
"Right now it takes about five minutes to set up, but, with future improvements, probably less than three minutes," Mr Musk said in November.
"No technical knowledge needed, Just point at open sky and plug in."
Early Starlink launches prompted UFO reports due to the unusual formation of the satellites, described by some astronomers as "long strings of pearls".
The visibility of the ambitious space internet project in the night sky led to criticism from a committee of hundreds of astronomers in August, who claimed it could prove "extremely impactful" to scientific advances.
The Satellites Constellation (SatCon1) workshop urged Mr Musk to take measures to drastically reduce the visibility of the satellites. SpaceX has since worked with observatories around the world and astronomy organisations to employ a variety of tactics to hide the satellites from ground-based observers.
Join our new commenting forum
Join thought-provoking conversations, follow other Independent readers and see their replies