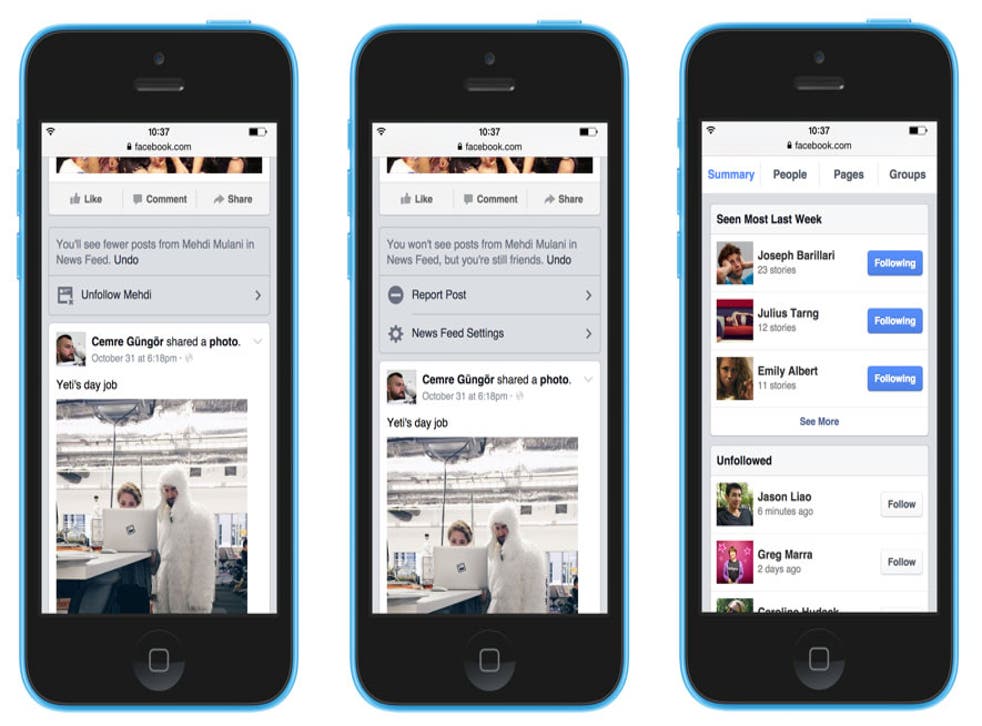 Facebook's expanded News Feed controls let you filter your friends - without unfollowing
See less or more from different people - or just unfollow them entirely
James Vincent
Monday 10 November 2014 10:15 Comments
Whether it's quiz results or baby photos, boasters or drama addicts, all of us have a pet peeve when it comes to unwanted Facebook posts.
Thankfully the big blue social network seems to be in a merciful mood recently and has launched a new way to let users control what appears in their News Feeds.
In addition to being able to 'unfollow' people by clicking on the top right of their posts (don't worry, this isn't the same as unfriending them – they won't know anything's changed) users can now manage all these half-friendships from a single menu.
"News Feed settings will now show a list of the top people, Pages and Groups that you've seen in your News Feed over the past week," said Facebook product manager Greg Marra in a blog post.
"You can choose to sort by people, Pages or Groups posts, or see an overall summary. Unfollow any friend, Page or Group if you don't want to see their stories in your News Feed. You can also see who you've unfollowed in the past and can choose to re-follow them at anytime."
It's a small step backwards from the series of sliders used to control News Feed content in the past (Facebook say they dropped this because it was "hard to know when they're working") but a welcome addition all the same.
The update should now be available for all mobile users on iOS and Android and although Facebook says its ready on desktop too, we've had mixed reports about access.
To check whether you've got it on desktop, hover over the News Feed option on the main page, click the cog and then select edit settings:
Register for free to continue reading
Registration is a free and easy way to support our truly independent journalism
By registering, you will also enjoy limited access to Premium articles, exclusive newsletters, commenting, and virtual events with our leading journalists
Already have an account? sign in
Join our new commenting forum
Join thought-provoking conversations, follow other Independent readers and see their replies