The 10 Best children's tablets

Show all 10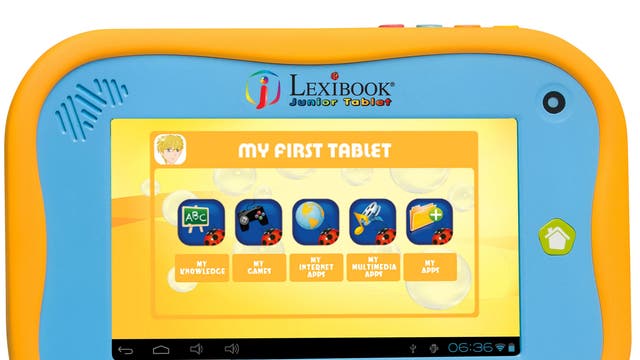 The 10 Best children's tablets
Don't let mucky fingers mess up your shiny iPad. Here's a range of hi-tech devices just for kids.
This might look basic, but it's a proper tablet with oodles of learning apps and games, karaoke options, cartoons and more, all preloaded. Aimed at three to six-year-olds, the camera app uses a comedy face-warping tech that will have kids in stitches.
£89.99, toysrus.co.uk
Beneath the chunky anti-shock cover that should survive a few trips down the stairs is a tablet with a good interface for kids aged four and up. There's a wide range of parental controls and this new version is faster and stronger than the original.
£149.99 (available from August), elc.co.uk
The updated Nabi tablet, which is aimed at those between the ages of seven and 10, is awesome, with hi-res display and a very responsive screen. Nifty features include dual cameras for video chatting. There's also a huge educational system featuring maths, science and English learning tools.
£149, argos.co.uk
Aimed at children between the ages of four and nine, this is kid-tough and ready right out of the box with a child-safe web browser and library of over 500 high-quality content experiences. Children are encouraged to write using a stylus, but there are plenty of interactive touch experiences available.
£119.99 (available from August), leapfrogstore.co.uk
This responsive touch tablet, which is aimed at over-fives, has a double camera, Wi-Fi and parental-control software. As you might expect, there's all things Monster High, including music videos, magazines and apps.
£119.99 (available from August), toysrus.co.uk
With an improved rotating camera and microphone, as well as Wi-Fi and better memory, this is a great tablet that's educational and fun for kids aged three and over. There's an impressive range of software and a new exclusive communication application whereby kids can send photos, pictures and recordings.
£99.99, tesco.com
Featuring Wi-Fi connectivity and parental controls, as well as 250 pre-installed apps and a front-facing camera and motion sensor, this tablet – which is aimed at kids aged four and up – is great for playing music, videos and games and can help with everything from speech and language development to encouraging creativity.
£149.99, argos.co.uk
This is a great option if you want something easy to use and the hardware is difficult to fault. The display, as you'd hope from the name, is second-to-none.
£149, uk.nook.com
If you thought babies were too young for computers, think again. This is the first tablet aimed at children aged one and up, featuring tailored apps.
£59.99, vtechuk.com
Equipped with a speedy processor and enough memory to be able to run Android effortlessly, this tablet also boasts a compact size, is light and has a particularly smooth interface so kids won't have to wait for their games to load and can jump from one application to another with ease.
£99.99, amazon.co.uk
Join our new commenting forum
Join thought-provoking conversations, follow other Independent readers and see their replies