The 10 Best security gadgets

Show all 10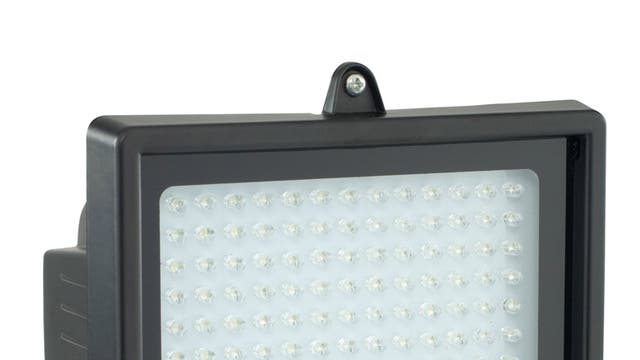 The 10 Best security gadgets
Keep burglars at bay and your precious possessions safe and sound with this range of nifty, and ingenious, gizmos
This outdoor security light is designed to send out a dazzling glare whenever it's activated by its PIR (passive infrared) sensors. A great addition for anyone who has a shady doorway, as well as improving security, it will definitely help you find your keys at night.
£50.99, gardenfurnitureworld.com
When the experts at Which? tried to break their way into this safe, they couldn't. No amount of drilling, hammering or smashing could get them inside, which is why, when it's bolted down, insurers will underwrite its contents up to a total of £4,000.
£279, barringtonsecurity.co.uk
Far cheaper than a real CCTV set-up, dummy cameras can still be an effective deterrent to troublemakers. Made from a real camera housing containing a genuine camera body and lens, this model should bear up to close scrutiny.
£29.99, maplin.co.uk
For the rottweiler effect, but without the bite marks, this is the perfect device. Once triggered, the alarm gives out the sound of a vicious guard dog that should send burglars scarpering. With a 360-degree radar detector, the alarm is effective even through walls.
£39.99, clifford-james.co.uk
If a lock won't do it, perhaps a lock with a built-in alarm will. The heavy-duty padlock can be used for sheds, cupboards, crates or cycles, and the alarm will be activated if the lock is touched, moved, or knocked, hopefully giving potential thieves a scare.
£9.15, amazon.co.uk
A very clever update on the timer switch, the fake TV light mimics the coloured flashes and glow of a television, making it seem as though you have your feet up while watching Corrie, when really you are miles away enjoying peace of mind on your holiday.
£24.99, maplin.co.uk
Sometimes security doesn't need to be complicated. Spycatcheronline has an entire range of "camo" safes made out of real, branded grocery containers, such as Heinz baked beans and Pringles tubes. A smart way to hide any valuables.
8. Mat-On-Guard Pressure Door Mat
Featured on The Gadget Show, this pressure mat will send a wireless signal to a chime unit whenever someone steps on it. Perfect for those who want an extra alert when anyone enters the house, or even for those who are happy to leave their door unlocked but want to know when they've got a visitor.
£42.50, grandoffers.co.uk
9. Pure DAB Radio Wi-Fi Camera with night vision
It might look like a radio, but actually it's a camera you can use to keep a secret eye on happenings in your home. It's also a radio, so you can always tune in to Magic FM to help ease those household anxieties.
£550, spyshop.co.uk
Small and sleek, the Y-Cam offers high-quality footage in the day, while powerful night vision kicks in when it's dark. On top of that, the camera offers real-time streaming to computers or smartphones, so you can check in on your property from anywhere in the world.
£124.99, y-cam.com
Join our new commenting forum
Join thought-provoking conversations, follow other Independent readers and see their replies