20 years of the smartphone

Show all 3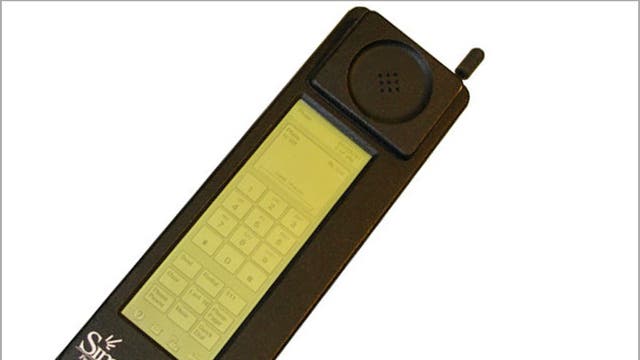 20 years of the smartphone
David Phelan talks to industry experts about the mobile phone's history and future
Twenty years ago, mobile phones were big, heavy and had batteries that lasted only a few hours. Most phones couldn't text, let alone tweet or email. And you couldn't tap on a glass screen to complete a status update on a social media site (though some may wish we still couldn't).
The smartphone has come a long way since the announcement of the IBM Simon, released a few months later in 1993. The Simon had the luxury of a calendar, address book, calculator and more.
My, how things have changed. No longer do we need a separate personal organiser, camera, music player, games machine, satnav or camcorder. And the battery lasts longer. The latest smartphone from Samsung, the Galaxy S III is big, powerful and stuffed with advanced features.
John Whittle, Director of Commercial at handset seller Phones4U, thinks this is a crucial time for smarties. "We're at an exciting point of evolution – smartphone adoption rates are increasing massively and now we're finding that around 98 per cent of contract customers, as opposed to pay-as-you-go users, are buying smartphones." This high rate may in part be due to products like JUMP (which stands for Just Upgrade My Phone) and allows users to take out a regular two-year contract but change phones every six months. There's a charge for the handset separate from the airtime cost, but trading in your old phone reduces the price of the new one.
Whittle goes on: "What's more, people are using their devices in lots of different ways. There was an explosion of use from BBM onwards, as users increased their social interactivity."
BBM, or BlackBerry Messenger, was one of the driving forces for people to look beyond text, email and an hour or two of Angry Birds. BBM allows BlackBerry users to communicate through text messages which are unlimited, free and very fast. It was adopted with equal passion by business users and teenage kids who found the endless free messages a great way to chat. Even in class – for which many kids learned the not inconsiderable skill of touch-typing on the phone's keyboard so their hands could stay out of sight under the desk and their eyes front and centre.
"Now," says Whittle, "smartphones are so powerful they're more like mini computers, so much more is possible now than before."
And it's not just in terms of technology that phones are developing apace. Design continues to develop fast. Todd Wood is Senior Vice President of Design at Research In Motion, makers of the BlackBerry, says a handset has to look good before anything else. "The look of the product, interestingly enough, it's almost like it's one of those primary criteria for choice whether people admit it or not. It kind of has to be love at first sight. What we're always looking for or listening for is for when people say "Wow, that's beautiful" or "I love that" and then they ask, "Well, what does it do?"
So what's the cutting-edge design style right now? The latest top-end handsets from Taiwanese manufacturer HTC and from Nokia are both made of polycarbonate, or plastic as you and I would call it. Apple's iPhone 4S is glass and metal, but polycarbonate offers light weight and great flexibility. Scott Croyle is Vice President of Design at HTC and says these kinds of phones are key. So why is this design happening now?
"First, the mentality in the design community has changed. We think about plastic differently now. If you think about when plastic first came into mass industrialisation designers came up with these crazy forms because they could. Now it's matured and there's this thing that it's not so much about the tools you use as how do you get the most out of your design? Well, playing with textures is one."
"The second thing is now you can do the processes more cheaply, and you're able to drive premium finishes. which we couldn't have 15 years ago. Now, they're more affordable and more sophisticated."
Phone software is just as compelling for how the future will change mobiles. Drew Bamford, Vice President of User Experience at the same company, says HTC could, for instance, serve niche markets such as older customers who can buy a phone that looks simple but has smart features hidden away, too.
"I think the market for a phone for the elderly is a really interesting one. We've talked about it quite a bit at HTC. I think there are some really cool scenarios for remote access to that phone, too. Consider a phone that's simplified for the user, but the family members, the children and grandchildren can send content to it, so photos can magically appear of the grandchildren over time – the user doesn't have to actually do anything. And the administration of the phone and its set-up can be totally remote, so that elderly person gets all the benefits of the smart technology but doesn't have to directly engage with setting the phone up, downloading applications or that kind of thing." Actually, that sounds quite a boon for all of us.
Meanwhile, there's the downward direction of prices. Whittle again: "By this Christmas you're going to see Android phones with lots of capabilities selling for £50 on pay-as-you-go." So it won't just be contract customers who opt for a smartphone.
And further into the future? "Well, 4G LTE is a really exciting prospect for consumers," Whittle insists. As you'll know, 4G LTE (Long Term Evolution) is the successor to the current 3G networks. It's already launched in many countries, including the USA, traditionally a backward market for mobile phone innovations. But the UK won't see it until late next year– even the government auction for the appropriate bandwidth won't start until early 2013.
The launch of 3G was accompanied by huge promises and many feel it was oversold. Will 4G LTE really deliver on the prospect of wireless internet? Whittle thinks so: "This is another step change for consumers, with some functionality that's very exciting. Internet on a phone is currently text-driven but 4G LTE will be media-rich. It'll bring to life video calling and video conferencing and make this a natural way to communicate."
Just as intriguingly, the possibility of internet on your mobile that's substantially faster than home broadband offers may be enough to make the next generation worth waiting for.
Join our new commenting forum
Join thought-provoking conversations, follow other Independent readers and see their replies