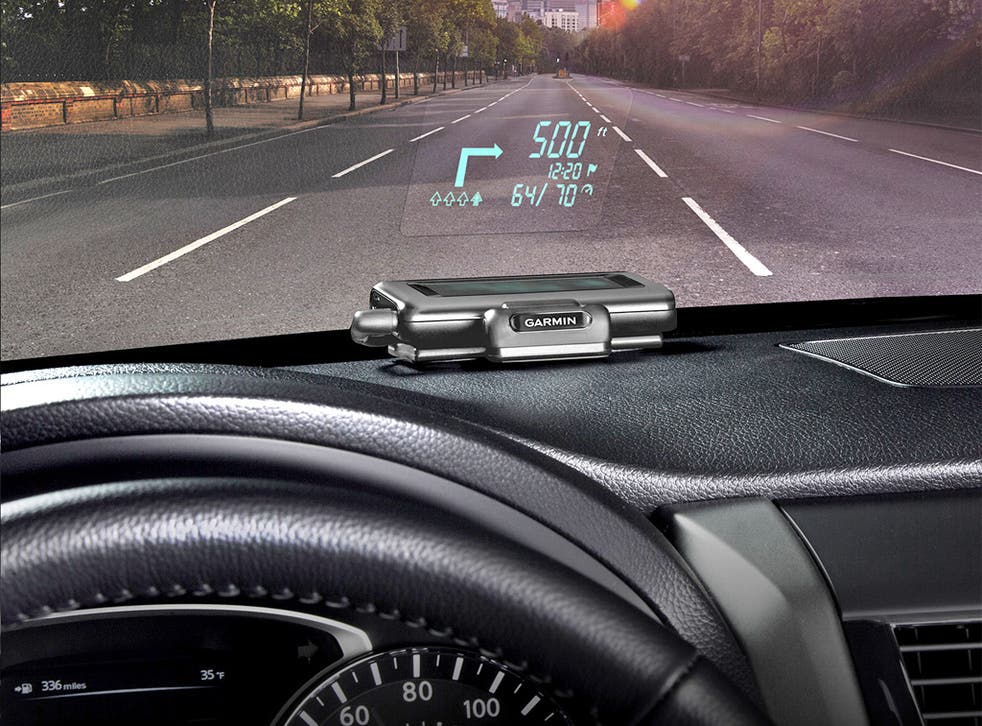 A week with: Garmin HUD - a simpler, smarter sat-nav
Price: £129 for the unit (garmin.co.uk); the Western European App £59.99 (iTunes/Googleplay/Windows)
Features: Bluetooth connectivity; integrated USB port on the power cable for phone charging
What is it?
You could describe Garmin's HUD as an extraordinarily fancy smartphone accessory. You could call it the future of sat-nav. I think it's a little bit of both. This little black box isn't, in itself, a sat-nav unit. It's simpler yet smarter than that. It's actually a heads-up display (HUD) unit that projects directions into your line of vision. Turns, speed and traffic information appear in crisp turquoise numbers and graphics on your windscreen or its little plastic shield, so there's no looking down at your phone or getting mired in the multicoloured madness of a sat-nav map that's littered with points of interest and contraflow systems.
How does it work?
First thing's first: it won't do anything without your smartphone. To get those sci-fi fighter-pilot instructions beamed into your cockpit – sorry, car – you need to have downloaded a Garmin StreetPilot Onboard or Navigon sat-nav app. The HUD links to its smartphone master over Bluetooth, you plan your journey on your phone, then the display unit gets to work, stripping out the unnecessary details in favour of simple directions that won't distract you from keeping your eyes on the road. Turn-by-turn voice commands will come through your car's stereo (if it's Bluetooth enabled) or through your phone's speakers.
How easy is it to set up and use?
It took me about two minutes on a rainy petrol station forecourt to get the Garmin HUD up and running, having already downloaded the Western European App map on my phone the day before. The HUD has a semi-adhesive pad that clings to your dashboard and a little clear plastic visor that displays the directions. It also comes with a clear sticker that you can attach to your windscreen in lieu of the visor to make it really look as though your instructions are floating in the air. Pairing it with my phone's Bluetooth took seconds and away I went. The display is just that, so any route adjustments you make have to be on your phone (stopping safely before poking about with it) so do check out what the Garmin map is planning before setting off.
Is it worth it?
The big car brands already offer built-in HUD options for sat-nav, but if you're not in the market for a brand-new BMW and don't fancy handing over a four-digit figure to find out how best to get to Milton Keynes, the Garmin HUD is a bit of a bargain. Yes, you have to buy the compatible sat-nav apps, but that still works out to just over £200 for the combination I tested. Simple, safer to use than a traditional, cluttered display – I was won over. And not just because it made me feel as though I could take on Luke Skywalker. Honest.
Register for free to continue reading
Registration is a free and easy way to support our truly independent journalism
By registering, you will also enjoy limited access to Premium articles, exclusive newsletters, commenting, and virtual events with our leading journalists
Already have an account? sign in
Join our new commenting forum
Join thought-provoking conversations, follow other Independent readers and see their replies