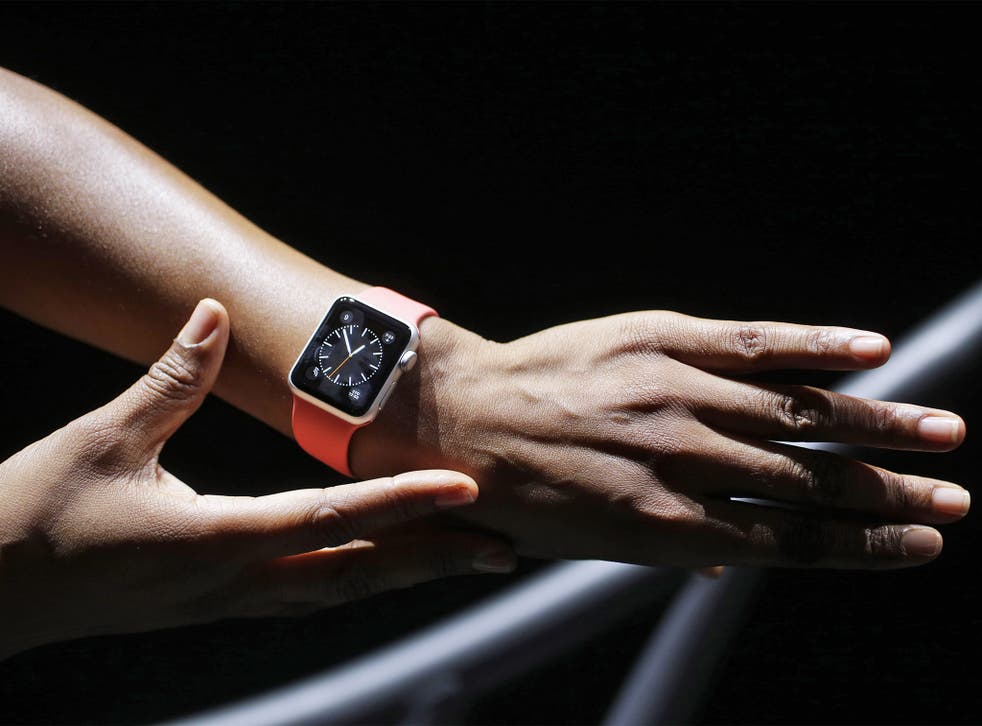 Apple Watch: Does it really deserve the hype?
After years of speculation and countless other companies already getting in on the act, Apple has unveiled its take on the smartwatch. Will Oremus checks its specs and admits that, despite his scepticism, it's a heady mix of old and new
Before Tuesday night, most of the chatter about Apple's most recent gadget launch revolved around the company's forthcoming phones, the iPhone 6 and the iPhone 6 Plus. Those, it turned out, were not the stars of the show. Instead, techies will remember 9 September 2014 as the day that Apple launched the Apple Watch.
We knew a watch was probably coming. What we didn't know was whether it would be any good. Really, we still don't, since it won't be released until early next year. That said, it looks good. Like, really good. And if its functionality lives up to its billing, it could be the thing that gets us all to start checking our wrists again.
And if the $349 (£215) Apple Watch's functionality doesn't live up to its billing? It might still be the thing that gets us all to start checking our wrists again. It's that snazzy.
Its promise is threefold. It aims to be a lightweight complement to your iPhone, allowing you to send and receive texts, get calendar alerts, check the weather, or find the nearest Starbucks without taking out your phone. Assuming Apple Pay catches on, you'll also be able to use it to pay for your shopping. It doubles as fitness and health tracker. Above all, it's a watch. A really nice watch.
In pictures: Apple Watch

Show all 19
So far, most smartwatches have focused on one or two of these goals at a time. The Pebble and Samsung's early Galaxy Gears struggled to squeeze key smartphone functions on to a tiny processor and display. The Fitbit and FuelBand found greater success by ditching the messaging features and simply monitoring your exertions.
The most inspired part of the design, though, might be something Apple calls the "digital crown". One of the big problems with smartwatches is that it's hard to control a tiny touchscreen, and tiny buttons aren't much better. Apple has solved this by taking advantage of a feature that watches have relied on for generations: the crown.
It's that little knob that you use to set the time on a traditional analogue watch. At some point along the line, digital watchmakers apparently decided that this was outmoded, and they dispensed with it in favour of buttons. Apple is bringing it back. Twist the dial, and you can quickly zoom in or out on a photo or map without obstructing your view of it. Use it to set a timer or toggle between a set of options on the screen. Press it, and it works like the iPhone's home button, returning you to the main screen. It's an ingeniously atavistic way to control a smartwatch.

Complementing the digital crown is a touchscreen that responds not only to the location of your touch but to the amount of pressure you apply. That means it can tell the difference between a tap and a push, adding an extra dimension to any app's basic controls.
The watch is also, as you'd expect, outfitted with multiple sensors, including a set of four rings on the back that use infrared and visible-light LEDs as well as photosensors to monitor your heart rate.
These synch up with a suite of new health-focused smartphone apps that will go live with iOS 8 on 17 September. And in a stroke of whizzy gimmickry, the watch can record your heartbeat and send it to your friend or lover in the form of physical pulses that they'll feel on their own Apple Watch. That's thanks to a "linear actuator" that essentially gives you a tap on the wrist when a notification comes in.
As for software, the Apple Watch will come with a menu of simple apps that should grow over time as outside developers come up with new ones. Weather, calendar, messages and maps are obvious uses for a tiny wrist computer. (The maps app can use a well-placed "wrist tap" to tell you which direction to turn while it's giving directions.)
You can also sketch a little doodle on the touchscreen and send it to a friend. If you want to do anything more complex than check the time or send a pre-programmed text response to a friend, you'll probably have to lean on Siri's voice-control features. Fortunately, those have been getting much better lately, although I've found Google's personal assistant to be smarter overall.
I've long been sceptical that anyone who has a computer in their pocket really needs a second one on their wrist. But, this being Apple, that may not matter. After all, I'm still sceptical that anyone really needs an iPad, and yet Apple has sold more than 100 million of those pricey things.
©Slate.com
STATE OF THE SMARTWATCH: WHO ELSE IS TRYING TO WIN OVER OUR WRISTS?
Pebble Steel
Black and white screen
Works with iOS and Android
Seven-day battery life
It's not touchscreen and there's no voice activation, but the Pebble is certainly the most functional smartwatch – working with any phone for a week straight. The display uses the same e-ink technology as the Kindle, and users can choose between the premium Steel (£300) or the plastic, chunkier original Pebble (£125).
Sony Smartwatch 3
4GB internal storage for music
Lifelog fitness tracking app
Android Wear for voice search and more
Costing about £180, Sony's Smartwatch 3 is a bit of an overpriced fitness tracker. The 4GB storage is useful for listening to music while out on a run, but fitness fanatics would probably be better off with the company's SmartBand Talk – which doesn't run Android Wear, but comes with a longer-lasting e-ink screen.
Samsung Gear S
Built-in 3G connection
Bright, 2-inch SuperAMOLED screen
Heart rate monitor
Samsung's sixth smartphone is the most independent of the bunch, able to take calls, send texts and receive messages without a connected smartphone. However, Samsung's decision to use their own Tizen operating system means no Google apps and that two-inch screen may be bright, but it's also super chunky.
Motorola Moto 360
Beautiful construction
Wireless charging
Heart rate monitor
With its plain leather strap and circular brushed steel watch face, the Moto 360 is sleek and minimalist. It's got all the advantages of Android Wear for the price of £200, but a chunky design (the screen is 1.8-inches across) and a battery life of less than a full day make it more than a little impractical.
LG G Watch R
Luxury-inspired looks
Standard 22mm watch strap
All day battery
The G Watch R takes the Moto 360's crown by being more circular (the 360 has a slight divot at the bottom) and more like a normal watch with its standard 22mm pin strap. However, there is a thick bezel and the battery life reportedly isn't much better than the Moto 360's. Expect a minimum retail price of £200.
By James Vincent
Join our new commenting forum
Join thought-provoking conversations, follow other Independent readers and see their replies