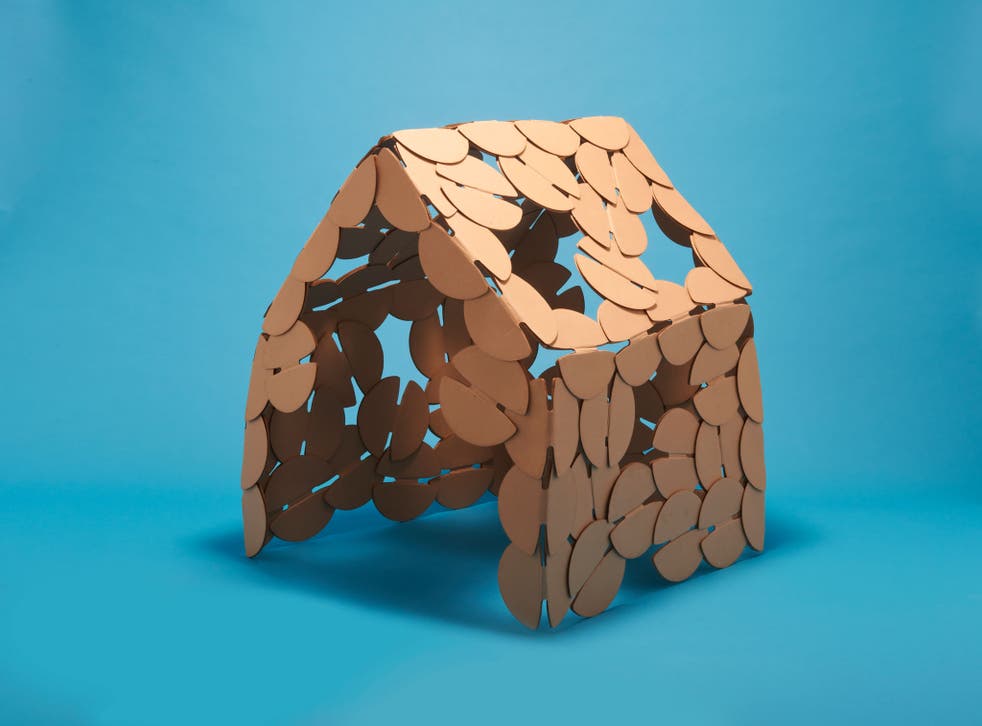 Design Council's 70th anniversary: Four of the most intriguing prototypes from Ones to Watch
To celebrate its 70th anniversary, the Design Council will tomorrow name 70 of Britain's most exciting up-and-coming innovators. Here, we exclusively preview four of the most intriguing prototypes from these Ones to Watch
The building toy
Torsten Sherwood, 25
The project
"Noook is a construction toy for creating mini-architecture. It's very simple: circular cardboard discs [about 30cm in diameter] with a hinge slot together to create an almost limitless variety of structures large enough to inhabit and play inside (like this house). It's like a kit for architectural play. It was developed for the Design Museum's Designers in Residence exhibition, and is being exhibited there now, with an interactive section for visitors who are feeling playful."
How does it improve lives?
"It's a children's toy so it's not trying to solve any great social problems, but it acknowledges the importance of the everyday joy toys give. It's easy to be dismissive of play as frivolous, but it can help children learn and develop."
Was there a eureka moment?
"I spent a long time exploring different ways of using tessellation to construct forms but ended up discovering the opposite – that overlapping shapes might be more useful to create an open-ended building system. When I was testing the design I chose to model it in cardboard, just because it's cheap and easy to work with, then found that it actually worked really well, so it suddenly came to me that this otherwise throwaway material might be a really good choice for the actual piece."
What proved tricky?
"Finding a manufacturer for the cardboard discs – a search I'm still continuing. It's odd because on the face of it Noook is the simplest design – just cardboard shapes stuck together – but it uses techniques that aren't commonly used in cardboard manufacture, which is mainly designed to produce boxes. It was a real worry building up to the exhibition, as I was in danger of turning up with nothing. Unfortunately, there was no clever solution, so I had to fabricate nearly 1,000 discs by hand at home. But I hope to fix this soon."
The storage system
The project
"Petal Pegs is a clothes-peg storer. It was my final design project during my final year of studying BA Product Design at Central Saint Martins ; we had a brief set by kitchenware company Joseph Joseph to design a product that solves everyday household frustrations."
How does it improve lives?
"As a way of storing pegs, it encourages organisation and turns a mundane task into something rather satisfying."
Was there a eureka moment?
"I started by identifying constraints in domestic spaces, which generated endless ideas. The eureka moment was realising the relationship between the product's form and its function. All together, the pegs formed the shape of a flower, which is commonly thought of as attractive, fresh and eye-catching."
What proved tricky?
"Continually encountering dead ends. I find that creativity comes from being resourceful and experimental – by varying tools, for example, from quick, hand-drawn sketches during a commute to 3D sketching with foam, card, clay or anything malleable, or using 3D computer tools. You have to learn by making, and solve problems by letting your creativity develop naturally."
The mobility aid
The project
"The Summerbug is a bespoke tricycle created for a girl named Summer, who is four years old and has a condition called Rett syndrome, which affects the development of the brain. It was designed as an upgrade to her toddler's tricycle, so that she could get around without a wheelchair. The trike is tailored to her needs to provide support and adjustability as she grows, and is foldable for easy transportation."
How does it improve her life?
"Summer uses her trike every day at home and school, joining in with her friends without relying on a wheelchair. It gives her freedom, independence and physical support in a fun, colourful way not usually associated with mobility aids. It isn't simply an assistive product, it's a trike that can last for years."
Was there a eureka moment?
"The idea originated with Summer's family, who were frustrated that there were no push-along trikes for children her age. Over a period of a few months, while on a work placement at the charity Demand, I developed the concept, design details and oversaw its manufacture."
What proved tricky?
"At points it felt like every advance simply revealed two further issues. Refining mechanisms to fold, lock out, extend and rotate took much longer than I expected, even though the overall concept is quite simple."
The objet d'art
'I'm interested in using insect waste streams to create artefacts, in particular the honey bee and the silkworm'
The project
"'From Insects' looks at the viability of using insects' waste streams to create craft artefacts. I am interested in two insects that we currently farm: the common honey bee, which produce propolis, a natural resin, and the Indian silkworm, which discards its hard cocoon when it reaches maturity."
How does it improve lives?
"By engaging the audience with an unexpected and sustainable material, which provokes us to question our way of consuming."
Was there a eureka moment?
"I knew that I wanted to develop a material-based project related to the insect world, and the research took three to four months. My father keeps bees, so I went to visit his hives, contacted a lot of experts, read a lot, and then I started to manipulate the materials."
What proved tricky?
"The initial research. I was working with new materials and had no idea what to do with them. Experimenting with them was a failure most of the time, but it's through failing that you understand your materials' properties and how to develop a good design piece."
For a full list of the Ones to Watch: designcouncil.org.uk/onestowatch
Join our new commenting forum
Join thought-provoking conversations, follow other Independent readers and see their replies