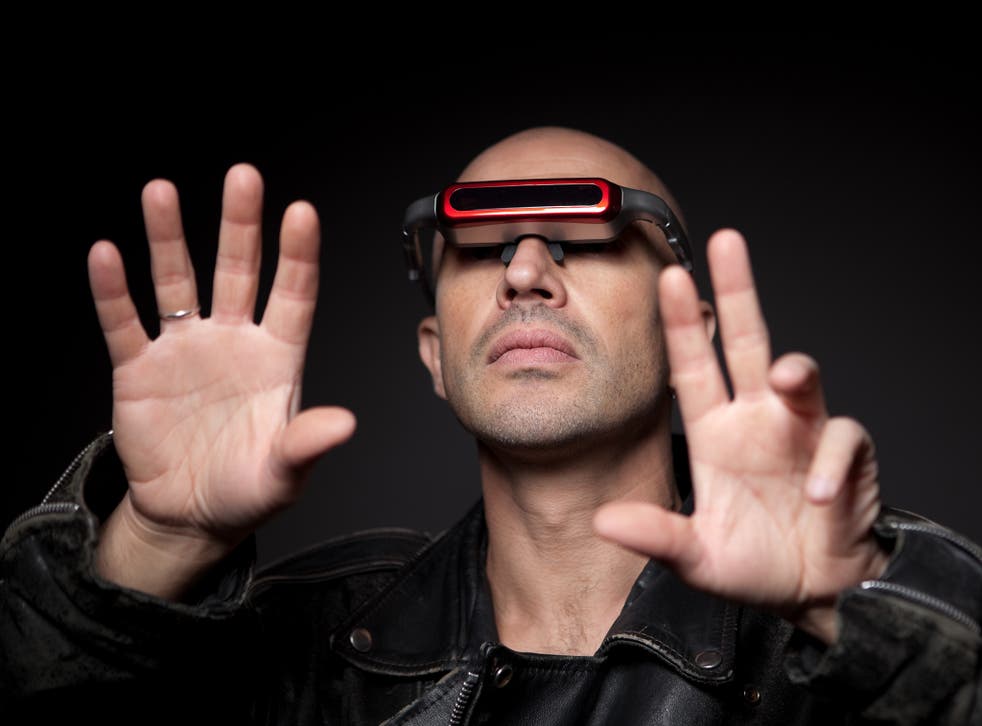 The future of porn: Virtual reality glasses at XBiz
Delegates at the London XBiz conference focused on potentially lucrative new business opportunities
They wore lanyards and laminates like any other conference attendees. Only the presence in the room of some unfathomably long false eyelashes and zipped miniskirts gave a clue to the business they had gathered to discuss.
Delegates for the fourth annual XBiz adult entertainment conference at the Hilton London Metropole ordered raspberry mojitos at the bar as they mused on the financial future of an industry that, like its best-paid performers, has had its ups and downs.
The sector saw its traditional blue movie model blown away by an avalanche of free smut that arrived with the YouTube-inspired "Tube" porn sites during the mid-Noughties. But pornographers are now regrouping, and focusing on potentially lucrative new business opportunities – including virtual reality glasses, sex dating on mobile, and niche webcam services.
Treating porn as just another sector of the global economy has always been troublesome in the UK, where it is routinely criticised for its exploitation of women and corrupting the moral values of the young.
Even as the XBiz delegates sipped on their cocktails, protesters from the feminist group Object demonstrated outside the hotel. But Alec Helmy, the founder of Los Angeles-based XBiz, said that despite the under-the-radar nature of the adult industry in Britain, the UK was his biggest market outside of America.
Helmy is especially excited by the potential of the OculusRift virtual reality headset, and will showcase its capabilities in the porn arena at XBiz's January conference in LA. "Just imagine that! It could make previous forms of adult entertainment obsolete."
Jerry Barnett, the UK-based organiser of the conference, runs an organisation called Sex & Censorship and complains that the British porn industry operates under stricter constraints than those imposed in America and continental Europe. "The UK sex industry keeps a low profile – there's a continual cycle of moral panic about sex."
Barnett identifies webcam services – where a woman, or sometimes a man, gives live performances for subscribers – as a "growth area" in the industry since the advent of Tube sites. "It's a very flexible income stream," Barnett noted. "They can set up and work wherever they want."
The conference's key sponsors are billing firms such as Epoch Payment Solutions and Netbilling – better-known names such as PayPal will not touch the porn industry.
Another sponsor is an age-verification provider, a reflection of the comparatively strict identity checks demanded of porn subscribers in the UK. "It's a very onerous thing and has destroyed the industry in the UK," said Barnett. "UK consumers buy their porn from American companies."
Sessions at XBiz focused on maximising revenue. "Interactive: Integrating Live Cams & e-dating" is one. One might expect the Tube site pioneers to be personae non gratae at a function such as this, but the founder of the first of these free sites, ex-pat Englishman J T, "aka The YouPorn Guy", is the keynote speaker. He has since sold YouPorn to the Luxembourg-based porn conglomerate Mind Geek, which also owns the largest free site PornHub and dominates the industry.
J T has set up new porn sites, such as Fake Taxi and Public Agent, inspired by reality TV shows. "They do extremely well – I believe this to be a direct result of the success of reality-based programmes on mainstream TV."
His American partners, Richie and Randi, a married couple of Californian realtors who like to introduce themselves as "Mr & Mrs YouPorn", sit at the bar toasting their eight years in adult entertainment. Richie claims a degree in anthropology and said he is "fascinated by this part of humanity... what turns people on". Back in 2006, when some tech friends realised YouTube did not carry adult material, Richie offered his expertise.
Randi – who looks like she enjoys baking cookies more than monetising sex – was initially unsure about joining him. "I was not really into porn at all, but I'm Californian and open-minded. I treated it as any other job."
Many will find their words unconvincing. "Porn scenes often contain aggressive acts," said Object, explaining its protest and linking porn to violence and racism. "A 2010 analysis of the 50 bestselling films revealed that violence within porn was endemic."
Free porn sites now work in collaboration with "affiliate" subscriber sites, driving traffic towards them and splitting the income. With so much free porn online, pay sites only survive by being niche. Fetishists are apparently willing to pay for content featuring models bursting balloons. The industry's critics hope that it goes the same way.
Join our new commenting forum
Join thought-provoking conversations, follow other Independent readers and see their replies