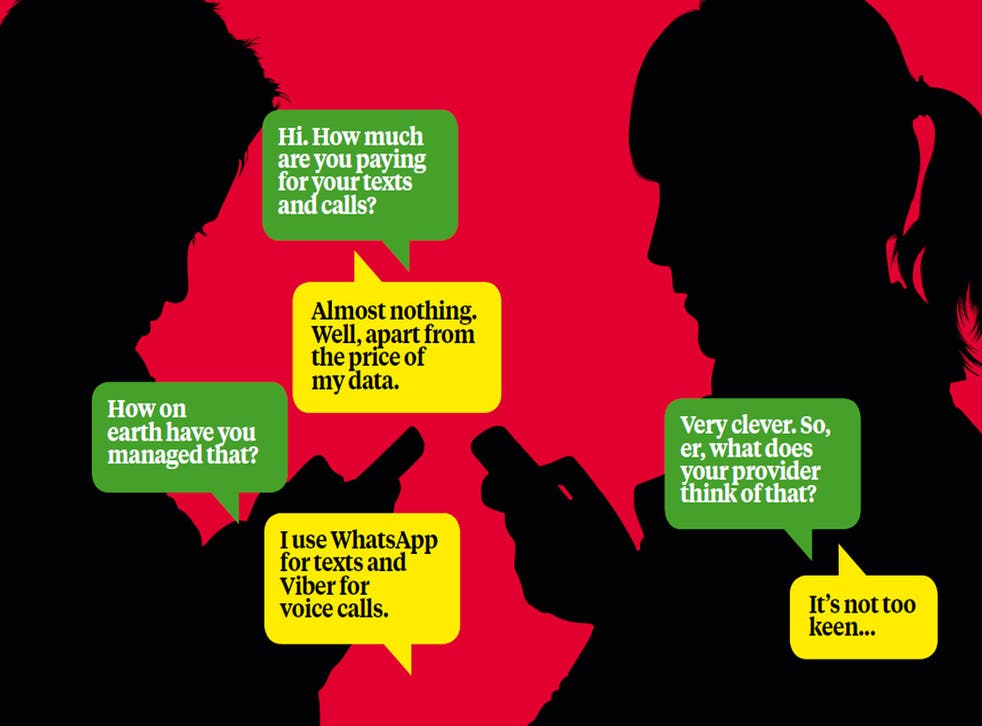 Going over the top: Who is going to profit from the rise of WhatsApp and Viber?
The apps are costing phone providers billions.
Rhodri Marsden
Wednesday 17 April 2013 19:50 Comments
Smartphone owners now have so many apps at their disposal for communicating with friends across the internet for free, it's like they're confronted with a selection box of assorted digital chocolates. Dozens of companies are jostling for their attention, waving about treats such as voice calling, supersized emoticons (or stickers), gaming and more.
But popular technologies aren't created without ruffling feathers. The mobile carriers who have traditionally been the gatekeepers of our voice minutes and our text bundles have, by virtue of the unlimited data plans that facilitate these apps, loosened their grip on us – and they're losing money: an estimated £9bn in 2011 and rising. Meanwhile, Facebook and Google aren't going to let start-ups muscle in on their territory.
WhatsApp, the most popular of the so-called OTT (over-the-top) apps, has already been linked with two potential purchases; first by Facebook, and then by Google – for a rumoured $1bn. These rumours have been denied, but the whirl of interest surrounding WhatsApp and its OTT cousins is indicative of a marked change in our chatting and texting habits.
WhatsApp, which allows users to send free messages, has been around for four years. As both the sender and recipient need to be running the app, it has meant a relatively slow take-up. But the growth of these apps tends to snowball. It's said that 97 per cent of Spanish smartphones have WhatsApp installed, for example, while WeChat is beloved of the Chinese, Kakao Talk the South Koreans, Line the Japanese. But local is becoming global; more than 250 million people worldwide now use WhatsApp, and more than 175 million use a voice and text app called Viber.
The competition is frenetic; all these apps are looking to become the universal messaging choice. (Apple's iMessage and Blackberry's BBM work only on the manufacturer's own devices.) The apps mark their differences in various ways; WhatsApp, for example, is straightforward, ad-free and costs a few pence a year, while Line's games unlock sticker packs, turning communication into a game.
All this information flows back and forth for free, provided you don't exceed your phone's data allowance. Once you've spent time using these apps, the absurdity of networks offering text and minute bundles becomes hilariously apparent. Some people in the UK are still paying as much as 12p per text, while OTT messages scamper unmetered under the radar. Many customers are concerned only about the data package, because it caters for nearly all their needs – and this isn't good for the mobile carrier; it becomes little more than a dumb data pipe.
"It's an ongoing concern for those guys," says Ernest Doku, technology expert at uswitch.com. "They're forced to allow customers to leech these data services – and this doesn't make them any money." Few will weep for the carriers' predicament; some might say that they had it coming, with tables of complex tariffs (Dolphin? Red XL? Full Monty?) making it difficult for consumers to compare. Indeed, the explosion of interest in OTT apps in Japan was driven by the carriers' misguided policy to allow their customers to send SMS messages to people on the same network. This was sorted out only in the summer of 2011. In many countries, OTT has been encouraged by restrictive practices.
SMS and traditional voice calls aren't about to disappear, but SMS revenues are diminishing and we're told it's affecting carriers' ability to invest. In fact, OTT can offer a revenue opportunity; each time a voice-calling app calls a landline, the carrier receives a termination fee. But this offers only a crumb of comfort. "The carriers are trying to adapt to the new model," says Doku. "The 3G infrastructure isn't always able to handle the volume of data – but the arrival of 4G will carve out an interesting situation, because there will be new differentiators in terms of coverage and speeds on offer." Where 3G has struggled, 4G will cope with text, voice and video traffic, but traditional calls and texts will become an anachronism. Get a fifty quid Android phone running Viber, and you can contact any smartphone in the world, unmetered, at no extra cost.
No wonder that Facebook is flexing its muscles. Three weeks ago, British users of its communications app, Facebook Messenger, were suddenly able to make free calls to friends.
Additionally, Facebook has been placing restrictions on competing apps by preventing them from accessing your list of Facebook friends to check if they're already using the app – a critically important feature for any new OTT pretenders. Voxer and MessageMe have found themselves punished in this way. Facebook has observed our appetite for OTT, and seen that it's not just about us saving pennies; we love the way they make communicating a richer experience.
Making money is, however, proving to be a problem, and the rumoured $1bn price tag for WhatsApp raised a few eyebrows. But its existing 250 million user-base would be tremendously useful to Google, which has long planned a free, cross-platform messaging service. But "free" is a misnomer, of course.
None of these services are truly free; you pay with information, or time spent looking at adverts. The question that's going to face consumers is this: would you rather pay a few pence for calls and texts, or allow Google or Facebook to take that responsibility in return for some of your data? As ever, the trade-off between our money and our privacy is a deeply intriguing one.
Register for free to continue reading
Registration is a free and easy way to support our truly independent journalism
By registering, you will also enjoy limited access to Premium articles, exclusive newsletters, commenting, and virtual events with our leading journalists
Already have an account? sign in
Join our new commenting forum
Join thought-provoking conversations, follow other Independent readers and see their replies