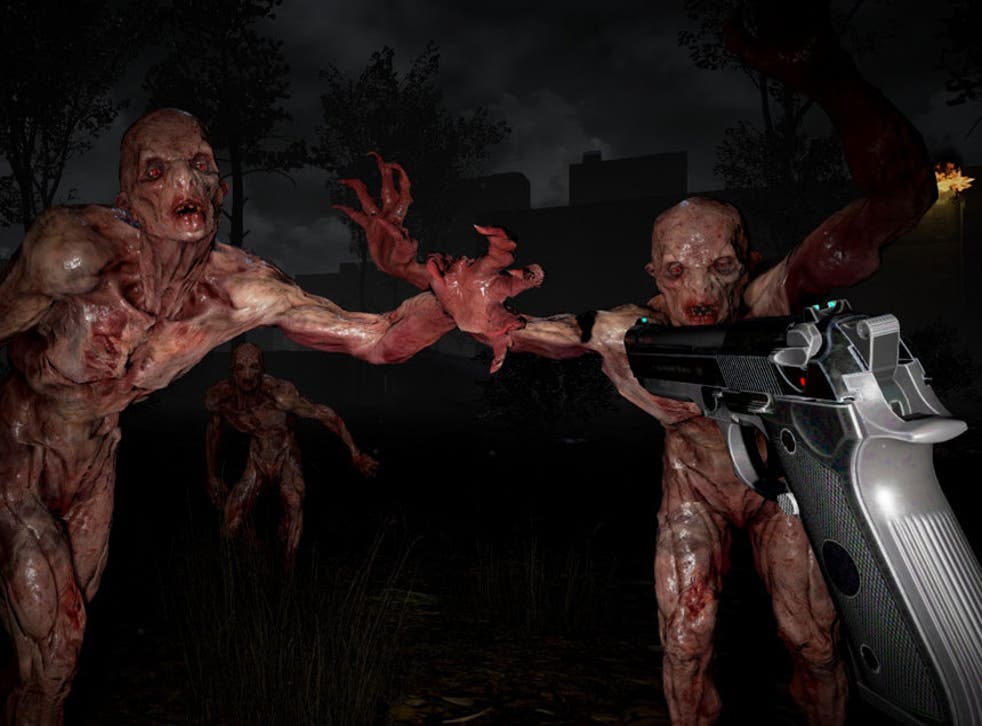 Horror VR: How virtual reality might spawn a new age of horror – and why you'll never escape
Virtual reality looks a bit silly for now – but not if you're stuck in the dark, trying to fend off zombies
Andrew Griffin
Wednesday 27 April 2016 15:21 Comments
This week, nearly two million people watched a woman scream, panic and attempt to kill her zombie attackers. None of those zombies were real and the woman had a big piece of plastic on her head – but it doesn't really matter, at least to her.
A video went viral this week that showed a woman playing 'The Brookhaven Experiment': a virtual reality game that sees the player try to fend off zombies using only a gun. It's built for HTC's Vive virtual reality platform – meaning that it's played by strapping a screen to your face, some headphones to your ears and grabbing hold of a controller.
The women in the video shrieked and flailed, and her hands shook so heavily that the game picked it up and the gun she was holding in the game shook too. The video and its 1.6 million views were perhaps the most potent demonstration yet of virtual reality – the technology trend that everyone is claiming will soon arrive in all of our houses – perhaps because horror is the most visceral experience of all.
The woman in the video – Renate, who is part of a duo who upload videos of themselves playing virtual reality games – was far from the first to be terrified by the possibilities of virtual reality. And it's very easy to do at home.
For all of the technological words spilled on it, the components of virtual reality are quite simple. In its most basic form it consists of a screen strapped to your head.
So watching videos in it, and even playing games, is really just an extension of the normal form of those things. Except, all importantly, that screen will follow you around – and the degree of authenticity that adds can be the difference between being mildly, pleasurably scared and truly horrified.
The force of that experience is one of those things that is much harder to show to someone than to tell them about. The word immersive is always used about – but like jumping into the sea, it's really difficult to explain , and much easier for them just to do it themselves.
Gadget and tech news: In pictures

Show all 25
Thankfully there is a huge range of easy ways of playing or watching horror in virtual reality – beyond the expense of buying the £700 Vive kit.
Because YouTube has introduced 360-degree videos, the films can be watched online, and even on a static computer. Pieces like The Ring VR – a fan video based on the famous film – allow people to watch and scroll around as they do.
But the best way is to get the thing on your face, and strap on some headphones. That will allow for the full experience.
Once you do, download some apps. Sisters, for instance, is really just a video that comes in the form of a phone app.
But, inside of it, it'll be hard to remember that it's just a game. You sit on a sofa much like the one you're probably watching the game on – and are treated to a horrifying video of tension and jump scares.
While that's happening, there's no way to escape. There's no comforting wallpaper you can look at, and you can't nip for a tea when the scariest bits arrive. You're stuck watching a terrifying tale about two living dolls, unless you give up.
A grandma tried virtual reality for the first time ever and her reaction is priceless
Of course, the experience is dramatically increased the more difficult it is to take the headset off. With things like Google Cardboard, you can just move the phone away from your eyes – if you're just holding it up to your face, you'll get some of the experience but little of the fear.
But there are cheap ways of attaching your phone to your head so that you'll never escape. Gift shops have taken to selling headsets fairly cheap –the Zeiss VR One is a little more expensive but fully immersive – which are usually made by simply slotting your phone into the front of the case and strapping it onto your head.
The horror of virtual reality has its serious applications, too. This week, the Guardian released its first "virtual reality experience": '6 x 9', meant to evoke and help raise awareness of the reality of being stuck in solitary confinement.
Very little happens – there's none of the supernatural horror of other VR horror. But with a combination of real stories and terrifying effects, it produces an experience of the suffering of being locked up on one's own for years.
The two kinds of horror are not far apart. They each seize on the engagement that VR fosters, and the trust that it requires to put a headset on.
Occasionally that can be silly; other times it can be importantly scary. But it's always horrifying – VR isn't going anywhere, and neither are you.
Register for free to continue reading
Registration is a free and easy way to support our truly independent journalism
By registering, you will also enjoy limited access to Premium articles, exclusive newsletters, commenting, and virtual events with our leading journalists
Already have an account? sign in
Join our new commenting forum
Join thought-provoking conversations, follow other Independent readers and see their replies