How to explain absolutely anything: Academics pick apart mysteries of the cosmos on YouTube

Show all 5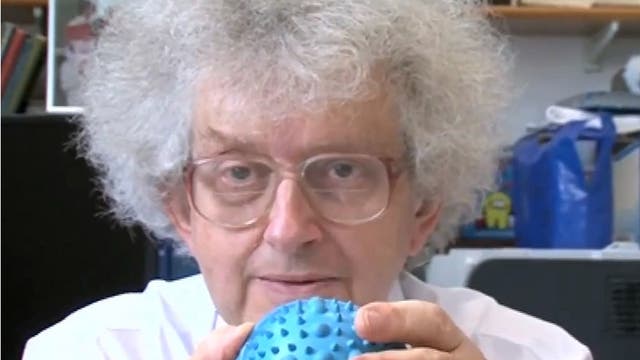 How to explain absolutely anything: Academics pick apart mysteries of the cosmos on YouTube
Exploding elements, tax returns and cat physics are among the mysteries being explained. Simon Usborne celebrates this quirky online academy.
Little over a week ago, a man called Colin posted a video to YouTube he had created at home, without much money or expertise, in which he attempted to explain the American debt limit. The four-minute clip uses crude animation and commentary to outline the odd economic relationship between the President and Congress. It could have been dull, amateurish – a waste of bandwidth. Yet it has been praised by economists and viewed well over a million times.
Such success has become routine for Colin, known online as C.G.P Grey, as well as a rapidly growing league of educators using a new kind of classroom to explain complicated things. A site still dominated by music videos and the exploits of cats is getting smart as would-be teachers and leading academics pick apart the mysteries of the cosmos, summarise revolutions and explain what would happen if everyone in the world jumped at the same time.
Their grand project has taken off in the past year, making us smarter and delivering a new legitimacy to YouTube, where users now upload 72 hours of not always edifying video every minute. Thus the site, which is owned by Google, has embraced the growth, heavily promoting educational content, which has scored a doubling in views in the past year.
Grey's project started in 2010 and took off with his third video, a wry explanation of the difference between the UK, Great Britain and England. The five-minute geography lesson went viral and has now been viewed more than 3.5 million times. Since then, 50 or so videos recording more than 40 million hits have tackled topics as varied as US politics and the correct pronunciation of Uranus (the "anus" way).
Grey declined requests to talk about himself or his work but set out his broader goals in startlingly ambitious terms during a conference YouTube hosted in California last October. He calls his vision "digital Aristotle" after the philosopher and private tutor to Alexander the Great. "I see every human using a digital Aristotle for their whole life," he said, "a tutor personalised to them, teaching them exactly what they need to learn when they're best ready for it and when that comes we'll have both a better educational system and a better society".
This sounds like bad news for teachers, Grey said, but, whether or not his bold utopia is ever realised, the most enlightened academics, and the teachers they appear to be undermining, are discovering that online videos are a tool rather than a threat.
Professor Martyn Poliakoff is a world-leading chemist whose passion for teaching predates the internet. His research and lectures at the University of Nottingham, which he joined in 1979, have won him academic renown, but the 65-year-old is now achieving global celebrity and audience figures that would be the envy of his little brother, Stephen, the screenwriter and director.
Poliakoff is the star of The Periodic Table of Videos, which started in 2008 as a modest project to make a short film about each of the elements in the periodic table. His unscripted and engaging delivery, mad-professor hair and fondness for pyrotechnics gave the videos instant appeal, helping to elevate a subject that struggled to seem sexy.
With filmmaker Brady Haran, Poliakoff and his team have now made more than 450 films that cover topics beyond the elements. Their YouTube channel boasts more than 35 million views. The most popular film, shot inside the Bank of England's gold vaults, has had more than two million hits alone.
"It's grown enormously," Poliakoff says from his office in Nottingham (half of the channel's 200,000 subscribers have arrived in the past six months). "YouTube enables us to reach people all over the world who are interested in chemistry and engage young people in a way that would be difficult by any other route."
Fans of various ages and nationalities include teachers, many of whom play the Professor's films in the classroom, as well as Nobel Prize winners. Edoardo Bandieri, a boy from Modena in Italy, was so fond of the videos that his mother, Paola, arranged for him to visit to Nottingham as a surprise 10th-birthday present. An elated Edoardo later scrawled a note that said: "To my friend Martyn, thank you for teaching me everything I know about chemistry."
YouTube has unsurprisingly welcomed the popularity (and ad revenue) of videos like Poliakoff's, as well as the gravity they add to the site. YouTube Edu, the site's "global video classroom", has more than 1,000 channels. Many of the biggest channels are run by established institutions such as the American PBS network and Sesame Street, but amateurs such as Grey still flourish.
Sal Khan was a MIT graduate based in Boston when his attempts to remotely tutor his cousin inspired him to post videos to her via YouTube. Nine years later, he has built a school without bricks that has a register of seven million students a month.
The Khan Academy features almost 4,000 videos created for school children about topics as diverse as algebra and the fiscal cliff. Pupils follow videos in order, earning points as they go and seeking guidance from their teachers, some of whom are trialling the system in their classrooms. Khan, who has described online video as a way of liberating traditional teaching, has quit his job as a hedge-fund analyst to lecture, securing funding from investors including Bill Gates.
For Poliakoff, videos remain "an amusing sideline" but, after a career spanning more than 40 years, his new online exposure means he is suddenly being recognised in the street.
Like Khan and Grey, he has a knack for presenting complicated stuff in fun ways, filming videos about the chemistry of cocktails and Kate Middleton's engagement ring. His team made headlines during the last World Cup when Poliakoff challenged Fifa's claim that the winner's trophy is made of solid gold. At 40kg, it would be too heavy for players to lift above their heads, he calculated.
His audience can't get enough. "We get huge numbers of messages and comments from around the world," he says.
Tube school:
Khan Academy
580k subscribers; 230m views. The "one world schoolhouse" launched by ex-hedge fund analyst Sal Khan boasts more than 4,000 videos about topics as varied as algebra and economics.
Periodic Videos
196k subscribers; 35m views.
Einstein-haired professor Martyn Poliakoff explains the wonders of each element in the periodic table and plenty more besides.
Vsauce
2m subscribers; 289m views.
Why don't we taxidermy humans? Will we ever run out of music? What can you do without a brain? This wildly popular science channel has the answers.
Vihart
374k subscribers; 33m views.
Victoria Hart has turned mathematical doodling into an art, inspiring millions.
Smarter every day
450k subscribers; 33m views.
Destin, an engineer from Alabama, shares his passion for science with explanations of helicopter physics, explosions, and cats who land on their feet.
C.G.P.Grey
475k subscribers; 41m views
An American in London called Colin explains complicated ideas such as the difference between the UK and England (there's more to it than you might think).
320k subscribers; 22m views.
Maths experts bring numbers to lifes, explaining why, among other things, Usain Bolt's watch recorded his Olympic winning time faster than that shown on the stadium clock.
Join our new commenting forum
Join thought-provoking conversations, follow other Independent readers and see their replies