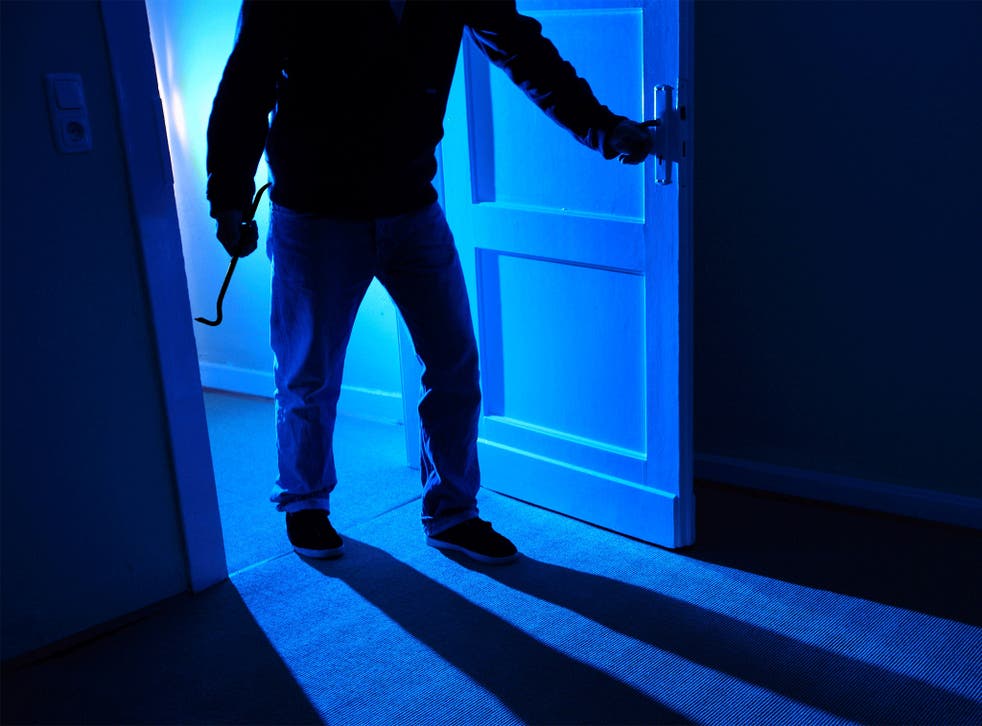 How to protect your stay-at-home gadgets: A burglary can teach you important lessons about security
Technology writer David Crookes reveals how to secure your technology.
Research once suggested that burglars tend to stick to one side of the street when breaking and entering. If that is true, then the people with even numbers on our street had better be pinning up those Home Watch stickers.
It was a phone call which started the nightmare that was our burglary. "Something has happened at the house," said my wife. Sure enough, when I arrived home, chipboard had been used to replace the front door panels and our neighbours were in the street to fill us in with the details.
They stole my wife's engagement ring which she cannot wear at work. They stole the television (cue an excuse to visit Richer Sounds). Today our house looks different with its Rockdoor and a box on the front with a flashing red light telling the world, "yes, we were done over but try it again you thieving gits and this brand new burglar alarm will deafen you while the neighbours carrying on drinking tea".
But I made a mistake. I left my Google Nexus 7 tablet, Android phone and Mac Mini with the equivalent of an electronic open door. One swipe or a boot-up and the thieves who added these items to their plentiful booty will be free to play Angry Birds or read a past Independent article or whatever else they want to do once they've negotiated the sheer number of apps that used to daunt even me.
I didn't protect them with passwords or passcodes and it feels like we have suffered two break-ins. It also confirms that password protecting your devices should be the first thing you do – even if you're leaving them at home – otherwise you pay for it later with the sheer amount of time spent changing the passwords of the umpteen services you're signed in for.
The insurance company has passed our claim on to its loss adjusters. We're in a stressful period of analysing every detail of the policy and arguing the toss when the insurer tries to give incorrect information. Little things such as maximum payouts for single items can catch some people out (this is something to watch out for with travel insurance, too – Which? magazine says they can be as low as £200 meaning an Apple iPhone 5 worth £500 will, when the excess of £75 is lopped off, leave you with just £125).
Thankfully, we are fully covered for our items and it was good to note that our policy also includes up to £2,500 for data legally purchased and downloaded from a legitimate website. But there is nothing about the reams of personal data or important documents that are saved on your machines, items you cannot put a true value on.
That's where cloud-based services such as Google Drive, Dropbox and Sky Drive work well in ensuring back-ups are stored on remote servers. You could also look at encrypting your hard drive. FileVault on Apple Macs (find it in Security & Privacy system preference in Mountain Lion) or products such as ZoneAlarm on PCs are worth looking at.
"You do need to consider the value of data," says Claire Foster, spokeswoman for Direct Line home insurance. "So many things including photos and music are stored on devices and computers and some people keep sensitive data such as bank details. Fraud is a danger. We have a fraud-alert service and it has proven to be popular."
Yet even though Claire advises hiding smaller items out of natural eyesight, most of these things are used daily. That's why passwords and passcodes are vital. My wife was far more careful than me in this respect and even though an experiment by the website Ars Technia showed that expert hackers would crack 90 per cent of the 16,449 passwords laid in front of them (even such long, complex ones as "qeadzcwrsfxv1331"), most common thieves lack the skills to be able to do this so it is usually a good deterrent.
The ultimate aim is to try and get the stuff back, though. After all, according to AXA, the approximate cost of gadgets in the average UK household equals £4,625 and some insurance companies will take into account depreciation of some of those items.
"The popularity of electronic items means it is important for people to make sure their gadgets and other high-value household items are insured and stored away in a safe place," says Amanda Edwards, of AXA Insurance. "We need to make it harder for thieves as claiming for hi-tech goods and jewellery will inevitably have an impact on insurance premiums."
Services such as Find My Mac, Find My iPad and Find My iPhone try to locate your device ("Lots of police forces are encouraging people to install Find My iPhone," says an Apple spokesman). My obsessive compulsion for checking my phone has increased tenfold as I wait for the hallelujah moment when the Mac Mini connects to the internet and the map finally shows me where it is. Then I can lock and erase it remotely.
These location trackers are so effective in leading to prosecutions that thieves tend not to steal iPads or iPhones any more, according to the police officer who turned up to deal with us (and who has kept us informed every step of the way). That figures: our iPads were in the bedroom and the burglars left them alone. It seems that thieves are more likely to gamble with Macs, though, possibly because Find My Mac is not enabled by default (go to System Preferences and iCloud to turn it on).
The same goes for Android and PCs, the majority of which will not be protected. Prey (preyproject.com) works with Windows and Linux and will find your computer on a map. Lookout Security is fantastic for Android tablets or phones and some Samsung Galaxy and HTC devices have built-in location trackers. You can locate your device and make it emit a noise that appears loud enough to burst all but the most concert-bashed eardrums. If you pay a little extra, you can also have your Android device lock and wipe itself too. You can even find an older Android phone after it has been stolen using the Plan B app although it only works on older devices running the operating system 2.0 to 2.3.7. When the handset is turned on and connected, the app installs, activates and tells you where it is.
But yet you can't entirely rely on location trackers. "These services only work while the phone is switched on and not if it has been factory reset," says Andy Betts, editor of Android magazine. "So it is also important to make a note of your phone's IMEI number. You can give this to your network when you lose the phone and they can block it so it won't be able to register on networks."
So what can you do in those circumstances and for those items that don't have location trackers? "Use Immobilise and mark property with UV pens," says Jonathan Southgate, a spokesman for the Metropolitan Police about the online service, immobilise.com. "It will help the police to get your property back to you if it is found."
Which is all well and good but if you don't protect your devices properly, you may find the thieves have racked up some good gaming scores and added some choice lines to your documents before they're returned to you, grubby prints and all.
Secure your stuff
1. Use complex passwords to make it harder for thieves to guess
2. Back up to cloud services such as Dropbox and Google Drive
3. Enable trackers such as Find My iPhone to locate your items if stolen
4. Store external hard drives away from computers
5. Security mark your property with UV pens
6. Use immobilise.com to keep a log of your valuable items online
7. Photograph valuables to help police and insurance claims
8. Note your phone's IMEI number so it can be barred from accessing networks
9. Log out of devices to protect your data from snoopers
10. Use anti-virus software to protect against online crime
Join our new commenting forum
Join thought-provoking conversations, follow other Independent readers and see their replies