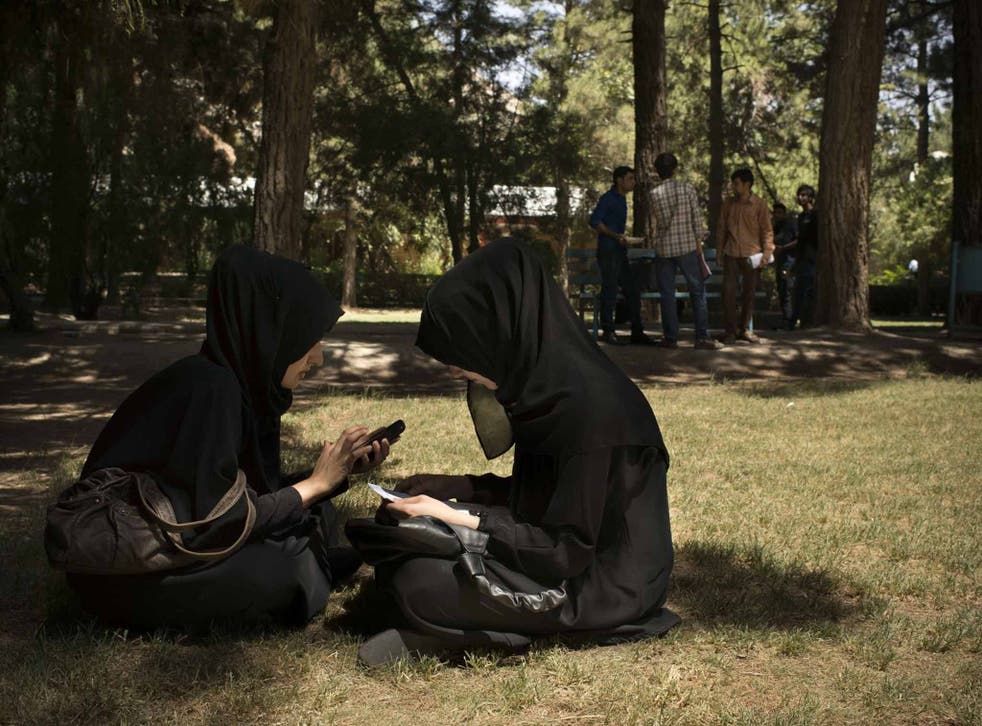 How social media is empowering young Afghan women: The Facebook effect
Afghanistan has experienced a boom in social media, and now it is a battleground in the struggle for and against women's rights. Joshi Herrmann reports
Samira Hamidi was initially reluctant to join Facebook. In 2009, she explains, it was "very unusual" for an Afghan woman to have an account. She was eventually talked into it by friends she met while studying law at York University. Now 35 and working as a consultant on Afghan women's rights campaigns, she has more than 1,000 Facebook friends and 4,000 Twitter followers, and says almost everyone she knows is on it: "When I hear that someone doesn't have an account I look at them very strangely and say 'How can you live without Facebook?'"
Afghanistan's adoption of Facebook is very recent and – for those who have taken to it – very comprehensive: the site is used for entertainment, news and as a substitute for emailing and texting by a growing group of mainly urban young people. The country's biggest telecoms company, Roshan, now even offers perhaps the world's only Facebook-only data tariff. At around a dollar a month, it is one of their most popular packages.
Things that would have been unthinkable – and certainly punishable – less than 14 years ago, such as flirting with potential partners online, and lampooning the government, now regularly appear in Afghan Facebook timelines. Of course, freedom of expression cuts both ways, and the site also displays – in real time and often in unvarnished language – some of the intimidatory, reactionary backlash against progress and activism in the country.
With the impact made by both Western military and Western money, Afghanistan has witnessed incredible change since the turn of the century. The number of girls in formal education has risen from zero in 2001 to 2.9 million in 2012, according to the World Bank; and the proportion of Afghans with access to safe drinking water has risen from 4.8 per cent to 60.6 per cent by 2011, says the UN. Now the latest phase of the country's development is being documented and contested on the social web.
Hamidi, who lives in the Kabul neighbourhood of Macrorayan, is one of the country's most respected young activists, having won a number of awards for her work. She used to direct the Afghan Women's Network, a coalition of 90 women's organisations involving more than 5,000 people.
Recently her attention has been focused on the case of Farkhunda Malikzada, a 27-year-old woman murdered by a mob in March. The case has demonstrated the power of Facebook in Afghanistan. Farkhunda was killed with medieval viciousness after an argument with a mullah outside Kabul's Mosque of the King of Two Swords, during which he falsely accused her of burning the Koran. A mob of men beat her to the floor, threw her from a roof, ran her over and then set light to her body before dumping it in the Kabul River, while police reportedly looked on.
"We had power cuts that day," says Hamidi, "so I came to know about the incident, through Facebook, at about 1am. An activist had posted a video of the murder." It soon went viral. "I would say for a month, every day you would see everyone posting about Fahunda."
Hamidi attended the Farkhunda trial as an observer and has worked with the family in "lobbying for the judiciary to come to a fair decision". In May, four men were sentenced to death and a further eight to 16 years in prison; 18 were acquitted. Farkhunda's family claims that the trial – which lasted just two days – was not just, and missed out key figures involved in the crime.
"Social media documented the incident and those who shared it provided an opportunity for justice," says Hamidi, "Now when we claim that the judgement of the first court has not been fair, it is because of the videos we have seen. I think it helped the world to notice."
There were said to be about 15,000 analogue phone lines in Afghanistan at the end of the Taliban era, in 2001, when the population was about 20 million. An estimated 0.3 per cent of the population had phone access; that figure is now more like 90 per cent. There are an estimated 18 million mobile phone users in a country of just over 30 million people. It is thought that eight or nine per cent of the population has internet access.
Roshan's COO, Altaf Ladak, says that since launching 3G on his network in 2013, there are now 1.2 million users. Government officials say 4G licenses are on the horizon, and as technology and performance continue to improve, that usage figures will only increase.
Also to thank for the explosion of social media in the country is the flooding of the market with cheap Chinese-made smartphones, which can retail for as little as $10, and the falling price of SIM cards – down from about $500 in 2003 to around a dollar today. In a country where 68 per cent of the population is under 25, the huge growth in mobile internet use has seen social media take off spectacularly.
"No one could have seen this coming," says a Kabul man in his thirties. "We used have to go over the border to Pakistan to call our families abroad," he recalls. He then mentions a more recent development – a reminder of the bumps in the road. "The internet was down the last two days because the Taliban blew up the fibre cable from Pakistan. It was restored yesterday."
British photographer Jessica Fulford-Dobson, whose striking photographs of Afghan girls skateboarding were recently exhibited at the Saatchi Gallery and are featured in a new book, Skate Girls of Kabul, has observed Facebook entering the lives of the young people she met. She first visited Afghanistan in the summer of 2013 to shoot portraits of girls taking part Skateistan, an education project that teaches both boys and girls to skateboard. This is significant because, until recently, women in Afghanistan were banned from participating in sport. That first trip was curtailed by a surge of violence in the country, and she returned a year later to finish the job.
"What was interesting was that, in a year, suddenly Facebook had popped up," she says. "The students I had photographed at the Afghan National Institute for Music, who were in their teens, were suddenly asking for my photographs for Facebook. I was showing one boy some of the pictures, a little street boy selling plastic bags, but suddenly he was saying 'I need that for my Facebook,' and I said 'Oh, you're on Facebook?' and he said 'Yes, we're all on it'. In just a year, it was a thing that was important for him."
A recent study conducted by international development company GIZ, which examined typical social media users in Kabul and six northern provinces, found that the sudden emergence of social media "has had a profound impact on communications in Afghanistan". It revealed that the race to establish dominance in a brand new market was being won by Facebook, which was used by 87.8 per cent of active social media users surveyed. Activists like Hamidi might behave a bit like users in London or New York, flicking between Facebook, Twitter and other sites to reach different audiences, but in Afghanistan, Mark Zuckerberg's site is all-purpose.
It was noted that Facebook played a role during last year's elections in the country, with many politicians creating pages to promote themselves, and satirical groups emerging to make fun of candidates. And old political animosities have also transferred to the social web. GIZ spoke to a politician who told them that "there are some politicians that could not create a profile for themselves on social media, as their involvement in the civil war meant that they had many enemies who would sabotage their online presence."
The country's rapid Facebook uptake has happened at the same time as hundreds of millions of aid dollars have poured into Afghanistan from foreign donors, many of whom have an interest, among other things, in changing conservative attitudes to women.
Last month politicians and activists gathered at a Kabul school under the banner "A Brave Man Stands for Women" to launch the UN's HeForShe campaign for gender equality, known mainly for its patronage by former Harry Potter star Emma Watson.
But efforts to change attitudes have often been met with resentment from men in communities outside Kabul. Hamidi says that alongside its many benefits for the country, social media has also reminded women activists in Afghanistan of how virulent and widespread conservative attitudes are. "It's horrible, when you read some of the posts," she says.
"After Farkhunda, there was a university lecturer who posted a message saying that all these women who are advocating for women's' rights are working against sharia – and that they should be shot to death. It was very provoking and very dangerous. We copied his message, and shared it. That guy disappeared – I think he deactivated his Facebook and Twitter accounts after a lot of pressure was put on him."
She says it has become clear that personal opinions don't change as quickly as technology and that progressivism can't spread as rapidly as a social networking site. "When we post something on Facebook, we try to be very careful with the words that we use, so that it is not offensive," she says.
On the Facebook page of radio station 98.1 Arman FM, a different kind of solidarity is on show. The station hosts a show which invites young Afghans to call in and anonymously narrate their relationship woes, with the best story being posted on the station's Facebook page, which has more than 750,000 followers.
In an article for the online magazine Matter in February, Afghan journalist Mujib Mashal wrote about the radio show, using the stories to show how much has changed in the way young urban Afghans meet and date, noting that: "In the female [Facebook] comments, one can sense a sisterhood developing."
Describing the explosion of internet and telecoms in his country, Mashal says: "It's hard to exaggerate just how much this growth has affected everything in Afghan life, maybe especially dating."
He describes the change from a society where dating was essentially banned and marriages were arranged, usually by the female side of the family. "Today, the dating ritual, at least in urban areas, is much more familiar to most (the courtship of old continues in much of the country). Young people meet online or in person. Their relationship is cemented over the phone. They fumble with romance, with all its risks and sloppiness, and then, when it is all over, with hearts broken apart, they call into Arman FM."
"Facebook has broken old cultural barriers," says one Kabul resident. "Some boys will sneak a phone to their girlfriend, if her family doesn't approve of the relationship, so they can chat online."
Faisal Karimi, who teaches online media and journalism at Herat University, says Facebook has "changed the social relations" of the young people he teaches, giving them a new "virtual space" to communicate and meet.
It is not just about dating of course – indeed, some women refuse friend requests unless they are from other females. Nevertheless, one of Karimi's students, Farooq Rasuly, 25, says that among his friends, finding love is the main reason for joining Facebook. "I've seen many cases," he says. "Everyone has found girlfriends on Facebook."
Hamidi says though that among her peers, a decade or so older than Rasuly's friends, she would still find it strange for people to meet romantically on Facebook. "I still know women and girls who have Facebook accounts but do not have permission to put their own photo on there," she say. "Their brothers and fathers are saying, 'Don't dare to share your picture in public.' I know women who use fake names, so as not to be in trouble with family members." She adds that some women use photos of actors or singers as their profile pictures, to avoid detection.
This supports the findings of the GIZ report, which noted that only 37.8 per cent of Afghan women post photos on the site, compared to 75.8 per cent of men, and said that "Afghan women appear to predominantly be using social media to engage with people they already know."
Hamidi says that women are often wary: "In a conservative society like Afghanistan, with all the cultural and traditional values that we have, good and bad, trust is a big thing. How can you trust somebody with whom you are talking online have not met in person? How do you know the person on the other side is not making a fool of you? It can damage you because someone can use it against you or blackmail you. And people can make judgements about you, so it's very, very sensitive."
"It is a mixed bag," says Noorjahan Akbar, 24, when I ask her how social media is affecting the world around her. She runs freewomenwriters.org, a blog where young Afghans write about their country. "On the bright side, social media is allowing progressive Afghans to speak to each other and sometimes open a door of conversation with the public." On the other hand, some traditional elements in society have pushed back with intimidation. "Recently, there is a trend to publish photos of civil rights activists and defame them publicly on right-wing social media," Akbar says.
Hamidi has a sense of trepidation – a fear that the negative voices she has witnessed online feel they might be about to have their moment, with international forces departing and the Taliban threatening a significant resurgence. "Nothing is stable," she says. "You become really hopeful and then something goes really wrong, something happens that creates a great question about what will happen to women in this country, like what happened to Farkhunda."
Days after we speak, an appeals court – which was heard in secret – quashed the death sentences imposed on four of Farkhunda's killers. Hamidi posted the news to her Twitter followers, expressing her outrage. A friend commented: "It is time to go to the streets again."
Join our new commenting forum
Join thought-provoking conversations, follow other Independent readers and see their replies