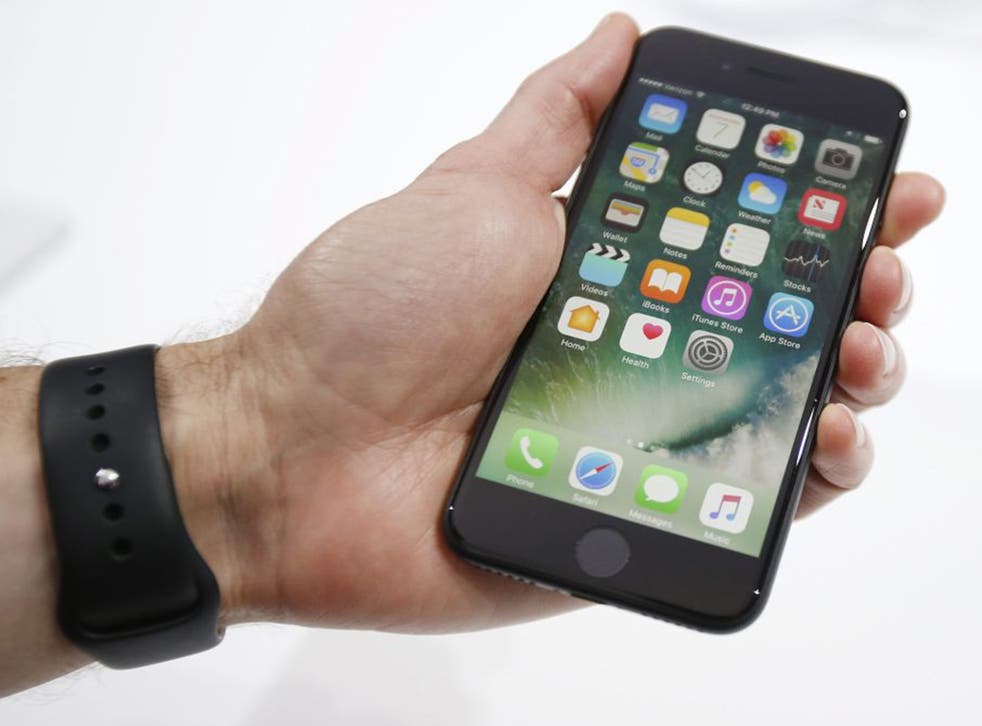 iPhone 7 review: New Apple phone packs inspiring features into an old but still stunning box
The new phone looks familiar – but it is deceptively powerful, and deceptively beautiful
The latest iPhones hit the shelves on Friday this week. The Independent has had early access to both handsets since they were announced last Wednesday.
This is the fourth year in a row that there have been two iPhones announced. And this is the third time there have been two sizes, one (iPhone 7) with a 4.7-inch screen, the other (iPhone 7 Plus) with a 5.5-inch display. In this review I'll start with some elements that apply to both phones and then focus on the smaller of the two. I'll separately look at the iPhone 7 Plus, as this time the bigger brother has features that really set it some distance apart from the iPhone 7.
Design
Okay, let's start with a contentious issue. Apart from the very first iPhone, Apple has followed a two-year design cycle with a wholly new design followed by a similar-looking model with beefed-up internal specs. So this handset should have looked radically different from the iPhone 6s, right?
Instead, Apple has announced the iPhone 7 as "our most deliberate evolution" in design, emphasising the company's desire "to continuously simplify".
In pictures: Apple iPhone 7 launch event

Show all 13
Some will be disappointed that it looks so much like last year's model but let's remember there have been previous evolutionary changes. The iPhone 5, really, was like the iPhone 4s but stretched and flattened.
And the design of the iPhone 6 and 6s remains the most attractive and popular Apple has come up with, so the design here is as eye-catching as ever.
Here the principal changes to the styling include a couple of new colours, black and jet black. The first is matte, the second as shiny as a Jeff Koons mirror-finish inflatable sculpture. It's true, the jet black is a fingerprint magnet, but, oh boy, with a little satisfying polish with a cloth it looks stunning. It also feels great in the hand, so expect it to need that loving polish regularly.
It's hard to even know what it's made of, it gleams so much. Glass, you might think. It's aluminium, Jim, but not as we know it. The new iPhone looks good in all its colour versions: silver, gold and rose gold are also available.
But in jet black it is probably the most beautiful smartphone Apple, or anyone else, has made. Which in my eyes justifies the fact that the design is broadly similar to last year.
There are more changes, though. The antenna arrangement on the back and edges of the iPhone has been significantly restructured so that it's less dominating or, in the case of the black models, near-invisible. This is a real improvement and looks great.
Note that the Apple website points out that the jet black may attract micro scratches. This is not because it's more delicate than the other iPhones. It's just as tough, it's that because it's so highly polished, little scratches show up more. In the week I've been using it, I've had no problems with any marks.
The Home button, that springy device which serves to take you back to the apps screen from wherever you are, which unlocks the phone and includes the fingerprint sensor, has been completely overhauled. It's no longer mechanical so if you press on it when the iPhone is switched off it's flat and unyielding, which just feels weird.
The evolution of the iPhone

Show all 11
But when it's turned on, it moves again. Except it doesn't – Apple is using the same kind of haptic feedback it employs in the Apple Watch and the latest MacBook trackpads to give the impression of movement when it's really just vibrating.
Haptics have been in rival handsets for way longer than Apple has had them, but here the Taptic Engine, as the company calls it, is far subtler and expressive than elsewhere. You can set it to three levels of feedback. Each is enjoyable, though I've gone for the biggest response, level 3. And it really does feel like it's moving.
This is the first iPhone that's water-resistant (IP 67). That means it's not quite waterproof, but can survive more water on it than before – capable of lying in 1 metre of water for 30 minutes, apparently. Still, best not to go swimming with it. It's also more dust-resistant than before.
Headphone socket
This is the final design change, but it's an important one. The bottom of the iPhone no longer sports a headphone jack. The EarPods that come supplied with the phone have a Lightning connector that matches the audio quality previously heard on the iPhone.
If you have favourite headphones with a conventional 3.5mm tip, you can still use them as Apple has bundled a 3.5mm to Lightning adaptor in the box. This can stay connected to your headphones so you don't lose it. If you need more, they're available to buy for £9 – about the cheapest product Apple has ever sold.
5 things we learned from Apple event
Of course, it's not so easy to charge your phone while listening to music any more as it's all the same socket. You'll need a different adaptor or dock with multiple connections to make this work.
Sales of Bluetooth headphones have reportedly shot up since the iPhone 7 was launched and this could be the best way to go. And other manufacturers are already coming up with Lightning connector headphones.
The Lightning dock was designed from day one, back in 2012, to deliver more than sound – they can dispense power, too. So the advantage of Lightning for audio becomes evident when you choose, say, noise-cancelling headphones with Lightning connector. Models like the JBL Reflect Aware have this connection and it means that the cumbersome battery pack required for active noise-cancelling is absent as the earphones draw power from the iPhone. This is a neat development.
The absence of a headphone socket leaves more real estate for a bigger battery and more.
This combines with the speaker at the top, where the earpiece sits, to provide stereo speakers for the first time on an iPhone. Other brands, most notably HTC, have had stereo speakers for years. Here it's best for casual viewing of videos, say. Headphones still sound better, obviously.
Display
There's no increase in the resolution of the display on the iPhone 7 which has the same pixels-per-inch as before, 326ppi – the iPhone 7 Plus stays at its previous resolution, too, 401ppi. But now the Retina HD screen is brighter than before and has a wide colour gamut for vivid, realistic colours.
The differences are quite subtle, but if you compare the iPhone 7's screen and that of the iPhone 6s they are visible. The new screen has colours which look just that bit more vibrant.
Camera
The pixel count on the main camera hasn't changed this time around, it's still 12 megapixels but now with a larger aperture which at f/1.8 is designed to let in more light and so work better in lower light conditions. On the iPhone 7 there's now optical image stabilisation – a feature previously restricted to the bigger Plus models – which also helps in darker situations.
Apple's cameras have consistently been good performers and this model builds on that pedigree. There is minimal or absolutely no shutter lag and results are routinely good. The new flash is brighter than before and has four different LEDs against the previous two. These allow the flash colour to change to match the colour temperature of the surroundings. It's something Apple had a couple of years ago and many other cameraphone makers are now adopting.
Some have complained that iPhone photographs are too processed, with too many adjustments, although it's fair to say that those adjustments almost invariably make the photos look pretty amazing. For most people the balance of simplicity and great quality is more than enough.
But say you wanted extra control, to be able to look at the image before it's fiddled with by algorithms. Now, with the arrival of iOS 10, there will be support for shooting in RAW – expect developers to customise their camera apps soon.
Performance
A new iPhone means a new processor. The A9 of the iPhone 6s is updated to the A10 Fusion which, Apple says, has greater speed and better efficiency. The company has given a fair amount of detail about how there are four cores, two high-performance and two high-efficiency, which bat tasks between them as needed.
In practice, the experience of the iPhone 7 is that it's recklessly fast and utterly responsive. That was true of the last iPhone, too, but now the processor is doing more and with less energy draw, so it's more impressive. And that also contributes to the battery life…
Battery
This is a key improvement which every smartphone user will applaud. Although Apple doesn't declare the battery size, the company says it will last two hours longer than the iPhone 6s. I've only been testing it for a few days but it's clear this is an improvement, sailing through a full day with ease. The bigger iPhone adds an extra hour of usage a day, though its battery was already longer-lasting.
Verdict
If you're keen on novelty and change, as I am, you might have been disappointed that the design of the new iPhone has barely changed. But the fine tuning that has been done, like the less obvious antenna line, really improve an already attractive phone. Then there are the new colours. In my opinion the jet black is, as mentioned above, the most beautiful smartphone yet.
But the real changes are under the hood and are substantial. Faster processor, much-improved camera and – hallelujah – a battery that really lasts. I haven't even touched on the new operating system which is full of both delicate tweaks and full-on transformations to make the new phone feel even more whizzy.
In all, this is a solid, handsome upgrade to a phone which was already at or near the top of the smartphone pile. Now, Apple strides ahead again.
Join our new commenting forum
Join thought-provoking conversations, follow other Independent readers and see their replies