Master of the house: Google's 'home of the future' is an on-message eye-opener

Show all 4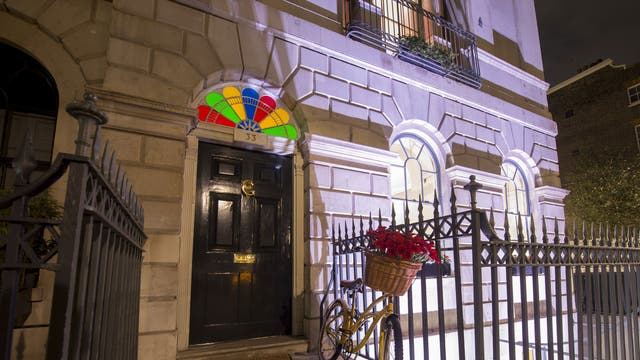 Master of the house: Google's 'home of the future' is an on-message eye-opener
Cooking using your voice, watching films with a dongle and improving snaps with an app...Simon Usborne visits the house in London that the company has chosen as a showcase for the way it wants to run your life
Simon Usborne
Thursday 07 November 2013 22:30 Comments
Stepping into the domain of those select companies which present an ethos that requires relentless smiling (see also: Disney) can feel less like drinking the Kool-Aid than receiving a Kool-Aid enema in a Kool-Aid carwash; you leave feeling cleansed but shaken and a tiny bit violated.
Which brings us to Fitzroy Square in London on Wednesday afternoon. A Georgian townhouse there was once a hangout for the Bloomsbury Set in which to show off the art and design of the time. Picasso popped in for tea. It's now a posh house for hire and, for two days only this week, a four-storey showcase for the way Google wants to run your life.
When the black door with its Google "G" knocker opens under a fanlight stained in Google colours, Googlers pounce with rictus grins. They and we know what a Google office looks like – the slides, scooters and breakout spaces have slipped into cliche – but what about a Google house?
In the Google kitchen, Ben and Jamie cook Google sweet potato bhajis. They are part of a collective of cooks who run a Google-owned YouTube channel called Sorted Food that has half a million subscribers.
"Convert 250 grams into ounces," Jamie tells his tablet. "250 grams is 8.82 ounces," a robotic woman replies (a big screen linked to his device shows 8.818 ounces, which is very precise in bhaji terms).
Voice searches like this one are not new but Google wants to show it's winning a vocal arms race with smarter search technology released this week on its updated search app for iOS 7. It wants to outwit Siri –Apple's tablet and iPhone devices – on her own turf.
"Remind me to buy some turmeric next time I'm at Tesco." Ben's tablet registers his spice shortage, as well as the location of his nearest Tesco. The next time he's there, his tablet will know it, ping and tell him to buy turmeric.
In the sitting room, where a vast TV streams The Great Gatsby via a Google Chromecast dongle, a nameless Googler hosts a Google/Siri search-off. "How old is the Queen?" Both get it right (87). "Who is she married to?" The Duke of Edinburgh, Google says confidently.
A silent Siri shows a random selection of similar results. "How many children does she have?" Google displays pictures of them all and says they "include Charles and Anne". Siri offers the Wikipedia entry for "child." Hopeless.
Elsewhere, two Googlers stage a real-time, slightly cringey German-English roleplay using Google Translate. One takes a photo of a restaurant menu and translates a dish by stroking it with her finger.
They demonstrate Auto Awesome, a new photo app that automatically excludes duplicates and duds from a gallery of holiday pics, and takes the smiles from a series of photos of the same people and pools them into one, perfect shot.
After an hour of Google immersion, before Team Google packs up and heads to Paris and then Hamburg, the rain-splattered pavement outside represents a welcome return to the present. But in a final test, can Google show me the way from Google House to my house? "What's the best way to get home?"
At last, Google is stumped. The first result it offers is a Yahoo Answer to the question: "What's the best way to get rid of mice in your home?" I turn back to ask a Googler for directions to the nearest station, and put my phone in my pocket.
Register for free to continue reading
Registration is a free and easy way to support our truly independent journalism
By registering, you will also enjoy limited access to Premium articles, exclusive newsletters, commenting, and virtual events with our leading journalists
Already have an account? sign in
Join our new commenting forum
Join thought-provoking conversations, follow other Independent readers and see their replies