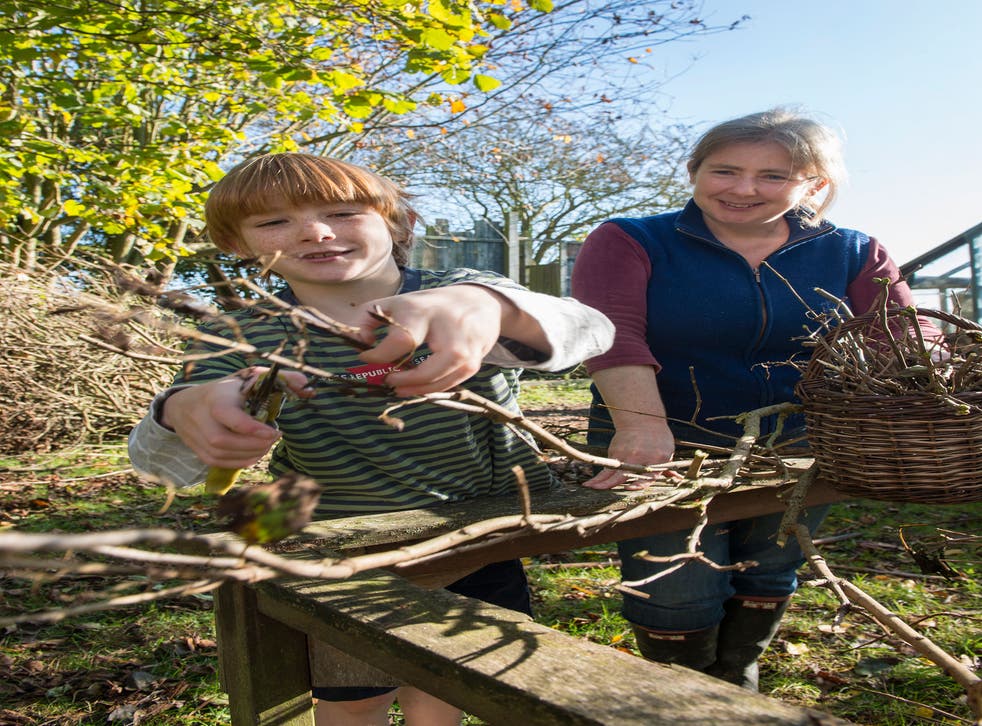 Parenting in the digital age: Should we be handing our laptops to our children?
Do you let your young offspring find their online feet with a tablet - or should they be learning creative and life skills away from screens? Here, a mother and father explain their different approaches
Rebecca Mitchell, 44
Kindergarten teacher and mother of four
I was brought up on the beautiful north coast of Cornwall, walking my dog and spending time in the woods, on the cliffs and the beach. I felt free. My grandparents had a record player, and when I was a teenager my boyfriend gave me a Walkman, but that was all the entertainment technology we had. I have no abiding memory of watching TV and, when I had my first child, I wanted the same experiences for her.
We now live in a village outside Cambridge, where my partner and I moved to pursue work with trees. It's a rural setting, surrounded by fields and woodland. Molly has turned 18 and we have Rose, 16, Joseph, 13, and Jamie, who's nine. They all went to Steiner kindergarten and primary school, which has an approach to learning that does not include digital technology.
Gadget and tech news: In pictures

Show all 25
Jamie is still at the school and he loves the healthy balance of active, artistic and cognitive learning. Literacy, numeracy and all areas of the curriculum are brought alive through creative play, outdoor activities and movement, exploring the world through the arts and storytelling, and focusing on life skills. This holistic, practical approach really helps the children to develop a creative way of thinking.
Children want to explore and know how the world works. They need to understand cycles and processes, and actively involve themselves to understand their place in them. It is amazing if they can see the farmer planting wheat, see it growing and being harvested. They can take part in threshing and winnowing and grinding the grain to make flour on a small scale. Then, with that flour, they can make bread and eat it.
Digital technology is so abstract for a young child. There isn't any way they can understand how the technology works, so they're always passive in that process. And seeing them in a passive state, even watching TV, can seem very strange to me. Conversely, being actively involved with a child and their wonder and joy when they recognise what is happening and how they can affect it is priceless.
We have had a personal computer for some time, and now we have a laptop. We still don't have a TV, and I don't think the children ever really watched television growing up. But when the older children got to secondary-school age, and went to mainstream local schools, they were allowed mobile phones. They need to use the internet because their homework is on an online system. (My instinct would be to wait until they were 14 and then teach them to build their own computer.)
Every summer we camp in Suffolk and leave all the toys behind, and I have always found that this is when the children seem happiest. I still see it in Joe, who turned 13 this summer. He was off every day, building with friends and making up games, coming back only to eat. They are creative at home, too, turning their hand to making things and especially enjoying modelling or carving wood. They can spend hours building or drawing out whole new worlds and talking about stories they like.
The older ones use social media to communicate with friends. I'm not massively in favour of it but they seem to use it sensibly – and if people are being bullied or sending silly photos of themselves, they talk about it.
We have a few grumbles from the children. One of Jamie's friends has a "watching day" for TV and he asks whether he can have one, too, or sometimes he says it's not fair that the others have phones and he's not allowed one. He can watch some films during the holidays but not during term time. The older ones now watch what they like online, as they have developed the capacity for critical thinking and can be discerning, unlike younger ones who absorb everything without any filters. While they don't say, "Thanks for raising us this way," they sometimes comment that they can see the benefits.
I never felt they were being held back without digital technology, and they learnt how to use it really quickly. Young brains need a sensory environment and human contact to flourish and develop. What might technology be doing to our children? I'm not convinced we have enough evidence to say there is no potential damage from very regular use of it. And anyway, how can a screen compete with the richness of the natural world or the warmth of a loving family and community?
Tom Lewis, 44
Finance director and father of two
I remember my mum buying a Sinclair ZX81 computer and we had to buy a portable black-and-white TV to make it work. I'm not much of a computer geek, and I preferred playing Donkey Kong on my best friend's BBC Micro. But we were also out on our bikes and playing on the street after school. This was still the era when if you didn't see Top of the Pops on Thursday, you had nothing to talk about with your mates on Friday morning.
I work in advertising, where tech is having a huge impact. My wife, Zhanna, is a regional manager for a building society, and we have two children: Christina, 12, and Alexander, who's eight (pictured). We haven't worked out a plan about their use of digital technology – it's more test and learn.
In some ways I'm a laggard. I resisted getting a BlackBerry and we didn't have a computer at home until Christina was four. Both children are at the Stephen Perse Foundation independent school and we gave Christina an old pay-as-you-go BlackBerry when she went to senior school, for texting, and later got her a work-surplus smartphone.
The school also allocated her an iPad. They have rules, such as not being allowed to download games unless they're educational. She has a school email address to communicate with her friends and teachers; she also uses the iPad for extra maths practice and doing some of her homework. She likes Pinterest and has been encouraged by her art teacher to use it; she decided to set the highest levels for safety around who can follow her and send her messages.
When the older one gets one, the younger one doesn't want to wait four years, so we gave Alexander a surplus smartphone with no simcard; it's wi-fi only. He's into games: Minecraft, Clash of Clans and Boom Beach are favourites. Before you know it, he's downloaded something new; but he knows they must be free and he must ask first. When Christina was around five, I let her help me send text messages on my phone by pressing the keys; I think it helped her to learn to spell. At the same age, Alexander wanted to press the "send" button on my tweets, so I created a Twitter account for him.
On Minecraft, Alexander sometimes interacts with strangers or friends, but often a friend will come round. They each have devices and play in a shared online world, interacting. They're learning how to build links in a sociable, safe way, and that has a value that you perhaps don't get by playing Lego alone, which he also enjoys.
The risk is that you don't always know who he is talking to online. So we talk to Alexander and ask him what questions he gets asked. We teach him the principles (this has also been taught to both children in their digital learning lessons at school). One person online asked if he was a boy or a girl – he just replied "no say" and the person left him alone. Whether it's a physical or digital world, the job of parents is to make sure children can explore in safety.
We live on a cul-de-sac and Alexander often goes out to play football and games with his mates. They need to do a bit of everything: to run and play, and develop motor skills, but they can also develop cognitive and social skills by playing online. We also have a no-screens rule after 7.30pm and during mealtimes.
Within certain limits we encourage them both to explore. We don't monitor everything they do online; rather, we chat to them about what they are up to. When they get into their teenage years I'm hopeful that these principles will stay with them. For me, that's more valuable than simplistic rules.
My kids are in the generation after the one that grew up and shared everything on Facebook. As a society we had to work out what we thought was acceptable and I think we've gone through that phase. I liken this age to the Victorian era of infrastructure building: we're building digital infrastructure and this is part of a multi-generational period of change. I want our children to be aware of what's happening in the world and how tech is changing, because I see these as such important things.
As told to Simon Usborne
Join our new commenting forum
Join thought-provoking conversations, follow other Independent readers and see their replies