The really free schools are online

Show all 4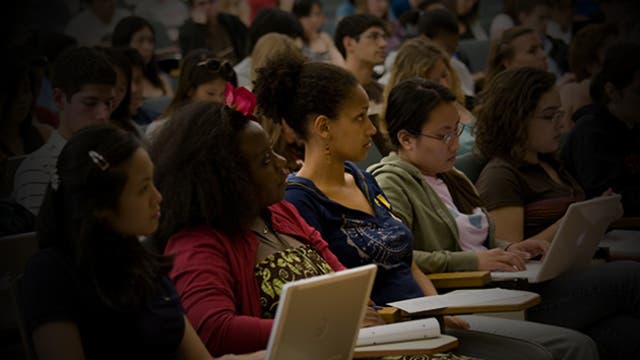 The really free schools are online
An Ivy League degree is worth a fortune, so why is one top US college giving away a course online at no cost? And they're not the only ones, discovers Rhodri Marsden
The internet is often scorned for its wealth of mild amusement and inconsequential distraction, but it's still an incredible source of knowledge.
But can a quality education be delivered online? And, more to the point, how much would it cost? In just over a month's time (10 October), Stanford University is launching three free online courses – Introduction to Artificial Intelligence, Introduction to Databases and Machine Learning – that are open to all, taught by eminent scientists, involve study, homework and exams, and are rewarded with a "statement of accomplishment", should you complete them. It's been described as a "bold experiment in distributed education", and so far more than 135,000 people have signed up to take the Artificial Intelligence class alone.
Professor Sebastian Thrun, one of its teachers, has expressed delight at the prospect of addressing more students in a few short weeks that in his entire career, but what is Stanford's "statement of accomplishment" worth? And does it signal a new direction in the provision of education? Universities began putting course material online using software such as Moodle, while organisations such as the Coventry -based Resource Development International (RDI) extended that by working in partnership with educational institutions to offer complete courses and degree qualifications via the internet. "The internet has been an absolute godsend for our students," says Niall Sclater, director of learning, teaching and quality at the Open University. "There's information instantly at their fingertips, there's the ability to connect with other students and huge administrative benefits in terms of assessment. If the Open University had been founded today, the whole thing would have been formed around the internet."
Stanford's experiment sits midway between two online educational strands. Firstly, the provision of courses (or parts of courses) that are paid for, supported by tutors and from which you emerge with a recognised qualification. Secondly, the archiving of huge quantities of educational resources that the public can consume for free, such as lessons on YouTube or iTunes, The Khan Academy's extensive collection of maths and science lectures, or Yale's Open Courses; no traditional support or qualifications, just world-class teaching material absorbed in your own time. Stanford's project combines that wide dissemination with a marking and support system that's designed to cope with many thousands of students.
"It's almost as easy to deliver an online course to 10,000 people as it is to deliver it to one person," says Stanford's Andrew Ng, associate professor of computer science. But Niall Sclater isn't convinced. "It's an excellent idea, but it's going to be difficult to assure quality." he says. "There'll be any number of opportunities for copying and impersonation. It's a kind of self-certification and to an employer it's worthless." Stanford certainly couldn't be criticised for the quality of its material, however. This is no single camera pointing at a mumbling lecturer. It's interactive, engaging multimedia material, broken up into 15-minute chunks. And while detractors may scorn the way this seems to pander to the supposed decreased attention spans of the internet age, it's widely acknowledged that we simply absorb information better this way.
"Traditional lectures aren't regarded as great ways to impart knowledge to students," says Sclater. "If you test them some time after the lecture, there's very little that they retain." Dr Lynne Harrison, director of teaching and learning at Cambridge University's Institute of Continuing Education (ICE), agrees. "A good lecturer will change the tempo after 15 minutes and the internet allows that to happen more naturally. The technology that Stanford has put in place makes lectures more watchable and we're looking at doing a similar thing for our free online courses launching next spring."
Those free courses from Cambridge's ICE will be intense and informative, but won't have assessment – unlike its current paid-for courses that offer full teaching support.
"That constant communication channel is really important for our current students, who are part-time and have to balance workloads and families," says Harrison. "It marks the difference between offering free resources to people and actually teaching them."
Stanford has emphasised that technology is in place to allow students to feed back and ask questions of their teachers. "They'll be able to answer each other's questions," says Ng, "and vote others' questions up and down. Instructors will personally answer each of the top-rated questions." But with 135,000 students or more, that process doesn't feel particularly nurturing. "The mechanism seems more designed to help Stanford improve the course," says Harrison, "than to help the students." Support, then, will be driven by the student community, something most free online courses have failed to harness.
"People tend to delve into Open University's 600 free online courses for specific information and don't necessarily want to be part of a learning community," explains Sclater. "But as soon as you have some kind of assessment and a cohort of students going through the course at the same time, viable communities develop."
Open University's virtual learning environment, for example, has more than 50,000 users hitting it every day at peak times and Stanford's dedicated forums promise to be very busy during the next few weeks. But is this kind of interaction comparable to the social experience of being at university? Students of the future may well end up discussing topics via chatroom and webcam and the impact of that on the learning experience is hard to quantify. Phil Hallam, CEO of distance learning veterans RDI, acknowledges that it's a very different life experience to attending a bricks-and-mortar institution, but stresses its increasing importance in the education sector. "99 per cent of our students are employed," he says. "The majority pay for themselves, so they take the whole process very seriously. And with fee increases in England, many are considering online learning as an alternative. We deliver courses much cheaper – £6,000 to £10,000 for the full three years." Susannah Marsden, director of academic services at City University London, agrees with Hallam's prediction. "As technology is such an integral part of teenagers' lives, choosing a course which is delivered solely online may well become a more attractive option," she says. "A number of universities may also consider developing such online-only provision as a way of expanding their potential markets, as the landscape after 2012 is somewhat unknown."
But while universities might make savings on buildings and infrastructure, Marsden's colleague Susannah Quinsee, professor of learning and teaching development, stresses the importance of producing well-structured online material, which is by no means cheap. "Merely putting up a load of PowerPoint presentations on the web isn't enough to engage people," she says. "We've seen with courses taught in blended mode – a mixture of online and classroom-based interaction – that if the online elements just replicate or repeat face-to-face sessions, attendance can become a problem.
"Designing good online material requires a different approach and skillset from teaching face to face."
The developments at Stanford, Yale, Cambridge and Open University raise the question of where the value of education really lies; whether content is secondary to the interaction between students, their fellow students and their tutors. The thousands of enthusiasts taking Stanford's three courses this Autumn will receive quality instruction from eminent thinkers and many will finish it with a burning enthusiasm to investigate more deeply; in that sense the "statement of accomplishment" is neither here nor there. But those who, on receiving it, realise that it's not worth the PDF it's contained within, only need ask themselves how much the course cost them. As with everything in life, you get what you pay for.
Join our new commenting forum
Join thought-provoking conversations, follow other Independent readers and see their replies