The 10 Best outdoor speakers

Show all 10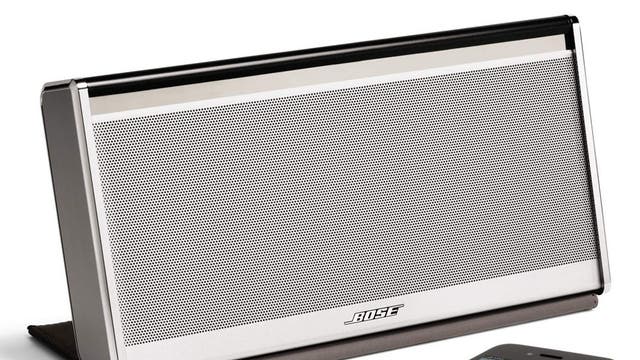 The 10 Best outdoor speakers
It might not be worth risking them in the June drizzle, but when the sun's out this lot will brighten up your BBQ...
£300, amazon
Requiring a power supply, this one won't fare well if it rains or if you are in a park. But it packs a punch in terms of volume and bass.
2. SpeakerCraft OG Three Outdoor Satellite Speakers
£175, ceiling-speakershop
Despite appearances, this is not a garden lamp – it's a discreet speaker encased in aluminium.
£13, amazon
Instead of electricity, this uses acoustic amplification, so you can listen all afternoon with no thought of AA batteries.
£225, audiovisualonline
Pretty, these certainly aren't – but looks aren't everything. They're tough, waterproof and heat resistant with great treble and bass.
£18, zazzle
Not the most powerful or pitch perfect of speakers – but perhaps the prettiest. Each one comes with a coloured fabric cover.
£14, amazon
This is fine for an inexpensive and portable Bluetooth speaker that you can run off your iPad, iPod or smartphone.
£40, johnlewis
Go all 1980s Brooklyn with your very own boombox. Just slot your iPod into the front of the battery-powered player and you're away.
£149, amazon
The odd rain shower doesn't scare Yamaha. These two-way 120-watt speakers are nearly – but not quite totally – waterproof.
£429, amazon
Part-time audiophiles need not apply, this is a serious bit of "weather resistant" outdoor kit and that's reflected in the price.
£109, amazon
The most enviable speaker in the park this summer is the ice-cool Jambox. It's light, fits into your bag and recharges via a USB port.
Join our new commenting forum
Join thought-provoking conversations, follow other Independent readers and see their replies