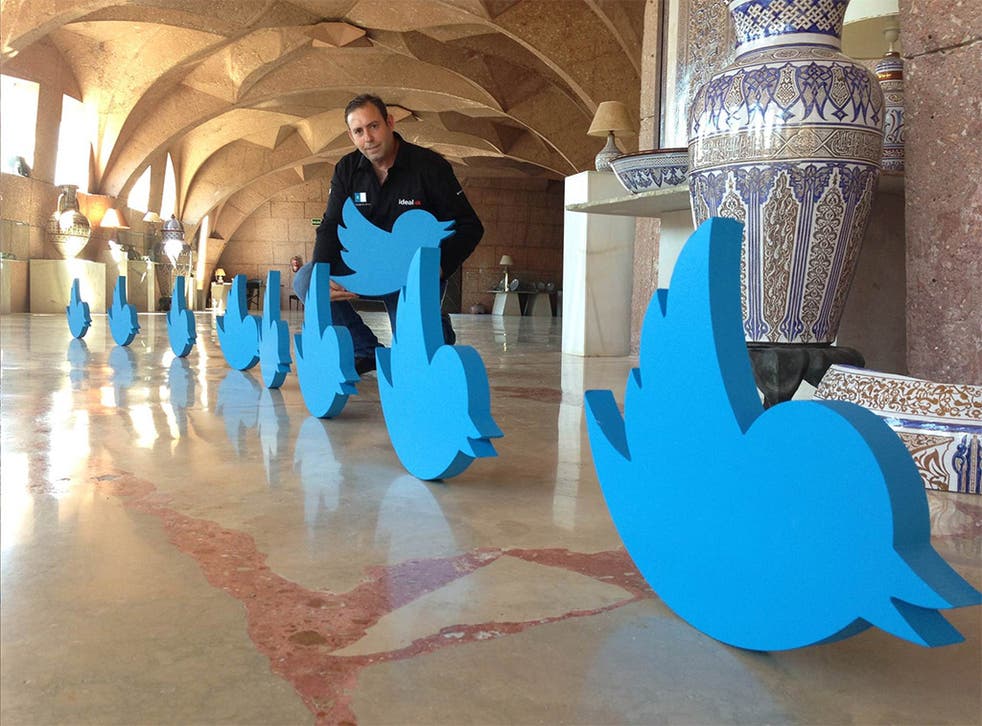 The town that runs on Twitter: Jun's residents tweet to report crime and chat to their mayor
Is this the future of public services? Genevieve Roberts meets some of the Spanish town's local characters...
A portrait of the King of Spain once hung in the office of José Antonio Rodriguez Salas, mayor of the small town of Jun in Granada, Spain. Now, the blue bird of the Twitter logo sits in its place, symbolic of the status of the social networking site locally.
Jun, home to 3,500 people, is believed to be the first town worldwide to adopt Twitter as the dominant method of communication between local government and residents. For the past four years, it has acted as the town's community noticeboard: sharing obituaries, news, school-dinner menus. Residents use the social-networking site to report crime, problems with civic services and to book doctors' appointments.
The mayor chats to residents in messages of 140 characters or fewer, while all public offices have an official account and police vehicles have @PoliciaJun painted on their bonnets. Now researchers at the Laboratory for Social Machines at the Massachusetts Institute of Technology Media Lab are studying the town, to see if social networking holds the key to improved public services on a wider scale.
Rodríguez Salas – or @JoseantonioJun as he's known to his 330,000 followers – describes Twitter as "the social network of our immediate society", enabling efficient responses to problems. "We've broken through the heavy, creaking bureaucracy that has occupied public office in Spain for the past 300 years, with the use of a single bird named Larry," he says. He is writing a book titled The Theory of Complaining in which he asserts that residents traditionally don't participate in local government because they believe their opinions don't count. "They have the perception it's a waste of time," he explains.
"The Spanish, and in general people from the Latin world, do not known how to complain effectively. When we have a problem we usually go to the nearest bar and grumble about the mayor or president, but the problem remains. Thanks to Twitter, people can complain directly, which helps us grow as politicians."
The speediest time for a problem to be resolved so far is three and a half minutes, from a resident tweeting about a faulty streetlamp to it being replaced by the electrician, with a photo posted online. "The employees, whose work was previously not appreciated, now take pride in achieving their tasks," Rodriguez Salas says. "It brings residents closer to the administration at the same time."
The town's street cleaner, Francisco Javier Garcia Roldan, 36, has gained a following with his tongue-in-cheek tweets, declaring for example, "What rhythm my brushes have today – Hurricane Sweeper". He believes that Twitter offers "transparency in public services, in response to residents demanding more of this, above all because of the economic crisis". He says, "I can show my work, building trust in public services. This has made people more conscious of what they have, and more considerate of each other."
Justo Ontiveros, 44, the town's sole police officer, believes "immediate interaction" encourages public involvement in crime prevention. Twitter provides him with an immediate snapshot of what is happening, with images and geotagging so that he knows exactly where the incident has occurred. He believes the image of the police has improved. "People now see the police as a force that wants to help rather than punish," he says.
Running a town on Twitter is not an approach that tolerates skivers; instead, it rewards the conscientious. Deb Roy, director of the Laboratory for Social Machines at the MIT Media Lab, and William Powers, research scientist at the Laboratory for Social Machines and author of Hamlet's BlackBerry, wrote in The Huffington Post that this "mutual visibility" serves as both a carrot and a stick:
"On one hand, the government's performance comes under greater public scrutiny. If a broken streetlight isn't fixed, everyone knows it and the slacking employee is more likely to be disciplined or, if it becomes a pattern, fired. That's the stick. But the good work done by public servants is also now visible to all and thus more likely to be recognised and rewarded. Carrots can be as small as a message being favourited or retweeted… or as great as winning the esteem of one's neighbours and new status in the community."
But could there be problems with being ever-accountable online? Could residents forget government officials and the police may be dealing with sensitive cases and unavailable? Rodriguez Salas admits, "When a resident asks me something on Twitter and it takes more than an hour to respond, people sometimes think something must have happened to me, but that's because I usually always answer within minutes". But, he adds, "I don't feel pressure to be always online. It would worry me more not to know what's going on."
He is keen to make sure social media is inclusive. Jun declared internet access a universal right of citizens in 1999, and created a digital-literacy programme for the over-65s. "Many grandparents follow Jun's school cafeteria Twitter account to find out what their grandchildren will be eating," he says. Sergio González Naveros, 39, head of education and sports in Jun, appreciates the directness of Twitter, believing it "eliminates hierarchies and empowers residents because it's a horizontal system where everyone's opinions are as important as the mayor's".
He says there are downsides: "When you have children, a family or are studying, being connected all day is hard. Being seen all day, mobile in hand, it's not the example I want to set. But it's our work, we believe in the project and try to make time… we've put innovation at the heart of our mission." In an ideal world, he would choose when to connect online. "I value my personal freedom, especially outside working hours," he adds.
Psychologist Tom Stewart, founder of System Concepts business and technology consultancy, cautions that "always on, always instant is not always right". He says: "We need common sense to stop it becoming its own burden. If it creates an additional pressure that can be distracting." But psychologist Dr Jon White, visiting professor at Henley business school, specialising in management and public communication, has no concerns, "We integrate different technologies into our lives. Society and government evolves accordingly," he says.
Voters go to the polls later this month in Spain, and Rodriguez Salas, who has held office for 11 years, is hoping to be re-elected for a third term. While the Spanish Socialist Workers Party suffered a resounding defeat in the 2011 elections to the conservative People's Party, Rodriguez Salas retained his mayorship. "I think it was largely because I was having conversations with residents on Twitter who were unhappy at the economic situation," he says. But Rodriguez Salas is not universally popular: in the last election, one resident urged people to vote "for a real mayor, not a virtual one".
Though there may be concerns over virtual governance, Rodriguez Salas believes that Twitter and social media networks will transform towns and cities across the world in the future. "Society will transform its archaic and backward structures," he says. "Politicians and governments that are not incorporated in this process will become less credible in a society that doesn't want to do without active listening and active response." He says the MIT Social Media Lab is investigating how the direct communication in Jun could work in larger cities. "It is very likely that a big city like London could join in using direct communication: it just needs the political will to put it into practice."
Join our new commenting forum
Join thought-provoking conversations, follow other Independent readers and see their replies