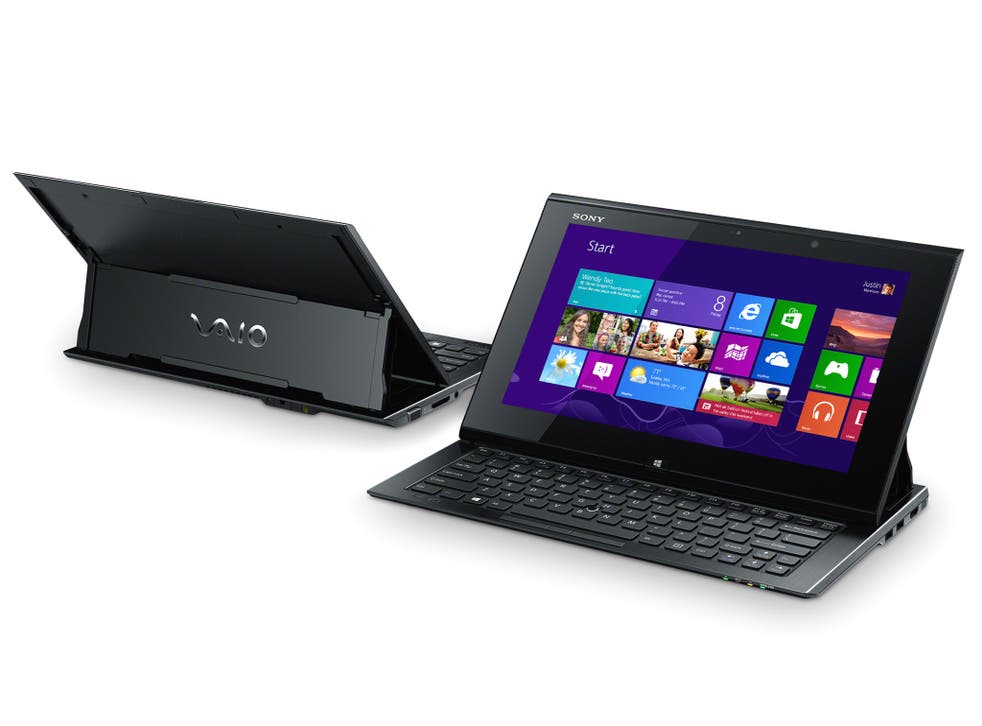 A Week With: Sony Vaio Duo 11 - a hybrid identity crisis
It's either an overly bulky tablet or a fiddly laptop. Neither is ideal
What is it?
The latest in a swath of new hybrid tablet-laptop Ultrabooks fitted with Windows 8, a high-resolution touchscreen and a powerful Intel Core processor.
This split personality means it can sit flat as a tablet or slot into an upright position to reveal a laptop-style keyboard. And because it runs on Windows 8 you can either run it in tablet mode and have all your apps or opt for the standard Windows interface in laptop mode.
The entry-level model gets an Intel Core i3 processor, a 128GB hard drive and 4GB of memory but upgrade those and opt for a Core i7 processor fitted to my lightning-fast test model and you'll need to part with nearly £1,500 (that's MacBook Pro price territory). That's serious cash even with the luxury of a laptop-and-tablet combo at your fingertips. Thankfully, though, and like most Sony products, it's stylish to look at, and all models boast a 1,920x1,080-pixel screen. It's well connected, too, with VGA and HDMI ports if you want to hook it up to a bigger screen at home, plus two USBs and a multicard reader.
Does it work?
First impressions aren't good. The flip mechanism doesn't feel completely well put-together and sure enough it soon starts to come loose. Paradoxically it can be a real pain to "open" into laptop mode without setting it down and using both hands firmly. When you do manage finally to prise it open, you'll reveal a keyboard that's too small for any serious work and a naff BlackBerry-style pointer instead of a proper trackpad. There's a retro stylus to compensate for this, but for some unfathomable reason, there's no place to store it. A replacement will set you back £49 but I wouldn't bother if you misplace it. It really isn't very useful for anything other than the Fresh Paint drawing and painting app.
Another major gripe is that it feels quite heavy when resting on your lap or being held up as a tablet. Watching a film in bed, for example – surely a key tablet function – is a tiring experience. In fairness it works well as a tablet once you've got over its physical defects and the Core i7 processor is more than powerful enough to watch films while running a number of apps and programs in the background. The Windows 8 app store is still a little sparse and many of the client apps – such as Facebook and Twitter – are rather slow, but this will presumably improve over time.
Is it worth the money?
No. Not at all. It's a neat idea and I wanted to like this hybrid tablet-laptop combo but I just can't see whom it works for. It's an overly bulky tablet or a fiddly laptop. Neither is ideal. What's more, doesn't the current range of powerful tablets with attachable keyboards, such as the Microsoft Surface, make all of this sliding nonsense redundant?
Price: £1,101.01
Operating system: Windows 8
Processor: 1.9GHz Intel Core i7
Memory: 8GB 1,600MHz SDRAM
Hard drive: 128GB SSD
Screen: 11.6in touchscreen/1,920x1,080 pixels
Join our new commenting forum
Join thought-provoking conversations, follow other Independent readers and see their replies